What America Looked Like: 4-Year-Old FDR
Before the day that lived in infamy, before the New Deal, Franklin Delano Roosevelt was just a typical four-year-old, dressed up in a military-inspired kilt, coat, cape, and bow tie.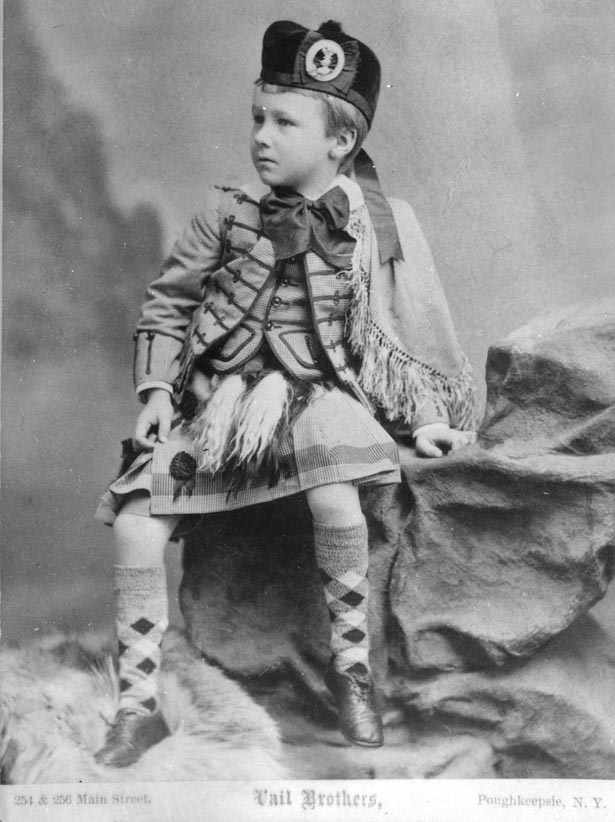 MORE WHAT AMERICA
LOOKED LIKE
Gazing into the distance, the young FDR poses with a confidence that suggests he knows he's destined to save the world from Nazis. This image, along with the revelation that FDR paid $10,000 a month (in today's dollars) for an elaborate multi-room suite while he was at Harvard, reminds us that he was was born to noble stock. He grew up at Springwood, a sprawling estate in New York's Hudson valley. According to the Franklin and Eleanor Roosevelt institute, he even had a governess:
FDR enjoyed a privileged but solitary boyhood, where, under the doting eye of his mother, he pursued his many outdoor passions, including riding, fishing, ice-boating, and wandering the woods and fields of his father's estate. The family also owned a town house in New York City, where they spent much of the winter, as well as a summer cottage on Campobello Island, Canada.

Like many of the children of the old-money Hudson Valley Aristocracy, FDR's early education was undertaken at home, first by a governess, and later by a private tutor. At fourteen, FDR was sent to Groton, a prestigious boy's boarding school located in Massachusetts, where he would remain for four years.
So how did such an aristocratic youth become the "New Deal" president, the one who called for a more equal distribution of wealth in America? From an early age FDR understood the luck of his privileged upbringing and the need to give back to others. At Harvard, he wrote about his family:
One reason -- perhaps the chief -- of the virility of the Roosevelts is this very democratic spirit. They have never felt that because they were born in a good position they could put thier hands in their pockets and succeed. They have felt, rather, that being born in a good position, there was no excuse for them if they did not do their duty by the community.
FDR was also heavily influenced by his strict Groton Headmaster, Endicott Peabody, who taught the value service to others and did not allow any student to have more than a 25 cent weekly allowance. Of Peabody, FDR later said, "As long as I live his influence will mean more to me than that of any other people next to my father and mother."