Third Grade Again: The Trouble With Holding Students Back
When a student repeats a grade, it reflects positively on the district. But for the individual, it can be an irreversible step backward.
When a child repeats a grade, it reflects positively on the district. But for the individual, it can be an irreversible step backward.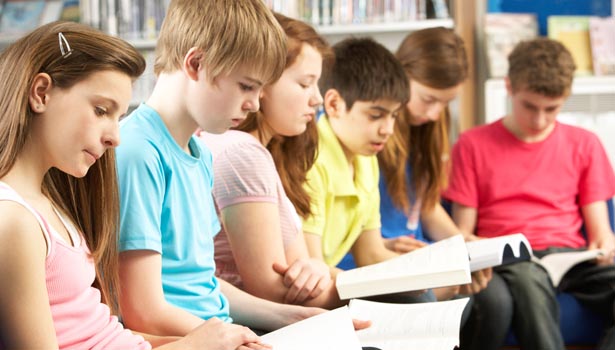 When it comes to education reform, lawmakers and teachers often find themselves at cross-purposes. Lawmakers want to enact sweeping legislation aimed at overhauling what is often perceived as a flailing system. Teachers want to help individual students who are actually in their classes -- right now.
This short term vs. long term dichotomy is playing out in the debate over how to best address the nation's literacy gap. Lawmakers in at least four states (Colorado, Iowa, New Mexico and Tennessee) want to hold back students who aren't reading at grade level by the end of third grade. But educators and researchers say while that might seem like a short-term solution, it could do long-term harm to a child's social and educational development.
The often-cited research makes it clear that the third grade is a watershed of sorts. One study found that students who are not reading at grade level by then have only a 20 percent chance of ever catching up to their proficient peers. A recent study by the Annie E. Casey Foundation found students who were below grade level in the third grade  were four times more likely to drop out of school.
But, as the Wall Street Journal's Stephanie Banchero points out, the findings on whether retention is good for students is more of a mixed bag. Florida implemented a third-grade retention initiative in 2002, and saw its fourth-grade reading scores soar. But reading scores for the state's eighth grader have flatlined.
Arizona, along with Indiana and Oklahoma, recently passed legislation to hold back third graders who are not reading at grade level. When asked where he stood on his state's initiative to hold back third graders, educational psychologist David Berliner -- the Regents Professor of Education at Arizona State University -- was blunt in his assessment.
"It seems like legislators are absolutely ignorant of the research, and the research is amazingly consistent that holding kids back is detrimental," Berliner said. "Everybody supports the idea that if a student isn't reading well in third grade that it's a signal that the child needs help. If you hold them back, you're going to spend roughly another $10,000 per child for an extra year of schooling. If you spread out that $10,000 over the fourth and fifth grades for extra tutoring, in the long run you're going to get a better outcome."
Retention rates vary widely from state to state, and recent national statistics are hard to come by. Researchers have estimated that 15 percent of the nation's K-12 students are retained each year. (The National Association of School Psychologists put the figure at 2 million in 2004.)
Research has shown that minority students attending inner-city campuses are more likely to be held back a grade than their white peers at more affluent neighborhood schools. Boys are also more likely to be retained than girls.
Berliner believes that for the overwhelming majority of students who are held back, it was the wrong decision.
"There are stories where it was clearly the right thing, and the student moves up to the next grade more confident -- I don't want to negate that," Berliner said. "But it's the wrong move for the vast majority of students. And since we don't know in advance which kids won't benefit, it's simply the wrong policy decision."
There's plenty of evidence that the nation's students are struggling with literacy. On the most recent National Assessment of Educational Progress, often referred to as "The Nation's Report Card," reading scores had stagnated.
Ralph Smith, managing director of the Campaign for Grade-Level Reading, a collaborative effort of political, education, business and advocacy leaders to close the nation's literacy gap, said "We shouldn't be at all surprised by the NAEP scores... we can point to nothing substantial in terms of interventions or programs that would have made that number different."
While lawmakers wrangle over whether to hold back struggling students, the Campaign For Grade-Level Reading is focusing on three key factors aimed directly at improving the next set of NAEP scores -- readiness, attendance, and summer learning. The overarching goal is to have students arrive at school with the fundamental reading readiness skills they need to be successful from the outset.
Many younger students miss too many days of class and never develop what Smith called "a culture and habit" of regular attendance. Investments in early childhood education and literacy programs have long-term benefits for society as a whole, Smith said, and not just individual students.
"If we allow students to get developmentally off track, we will continue to pay for it -- sometimes for the rest of their lives," Smith said. "By not fixing the problems early on, we put ourselves in a position where we're continually diverting a large portion of the resources that should go to development and enhancement into remediation."
There's no reason to draw a line in the sand and choose sides, Smith said.
"Neither the advocates for retention nor the advocates for social promotion have enough evidence on their side to be overly righteous on this issue," Smith said. "What our campaign is seeking to do is encourage thoughtful conversation, and avoid simple answers to a complicated challenge."
---
This post also appears at The Educated Reporter, an Atlantic partner site.