The Mysteries of Barack Obama: Cervical-Thoracic Edition
Here's one good reason to Subscribe!™: it keeps us in business. Another: for our current issue, which really is good*, many subscribers got their in-the-mail issues a few days before the magazine went online or appeared on newsstands. As a rule it's nicer to read long articles on a page than on a computer screen. And, the clinching argument, in this month's physical magazine (or iPad subscriber version) you get to see the unusual photo below, on page 67.
It was taken a year ago, at the White House, and it shows President Obama next to President Hu Jintao of China. I invite your attention to the side of President Obama's neck.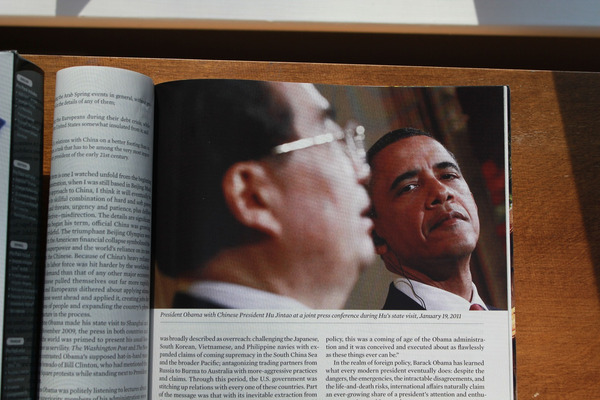 The effect is more puzzling in print than it appears here. On paper it looks as if the president's neck has somehow levitated past the boundaries of his collar. Or, alternatively, as if a triangular section of his neck has disappeared.
We went back to our production house, which assured us that they had done no digital retouching of the photo whatsoever. They in turn asked Reuters, original source of the photo, about its bona fides. The editor there replied, "Thanks for checking but no retouching or manipulation was done. It's really just neck flab draping over his collar!"
If you look at the picture really carefully, you can see the source of the illusion. Having studied it carefully enough, I now understand what I'm seeing -- but as soon as I stop concentrating on what's "really" there, my mind instantly switches back to considering it odd. I guess that is the trademark of a good
optical illusion
. But to get close enough to study it, you'll need the paper copy -- or the iPad subscription, as shown below. The choice is yours.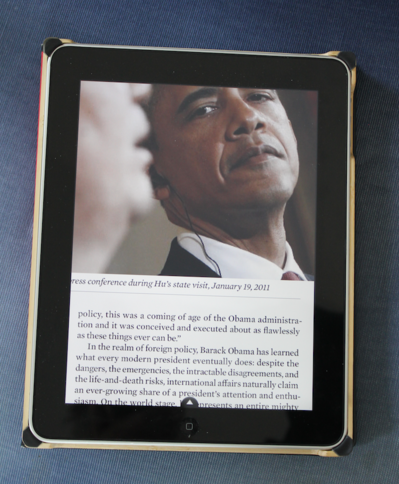 * If you don't want to dig into one of the long articles or essays in this issue, by all means start with Tim Heffernan's "Iron Giant," a wonderful brief evocation of one of the biggest machines in the world.