Some 'Three Dot Journalism' in Honor of Herb Caen
In homage to the legendary San Francisco columnist who died 15 years ago this week, a round-up of recent news on Guantanamo Bay... Texas gerrymandering... Proposition 8... Geico's Rescue Panther... the Super Bowl...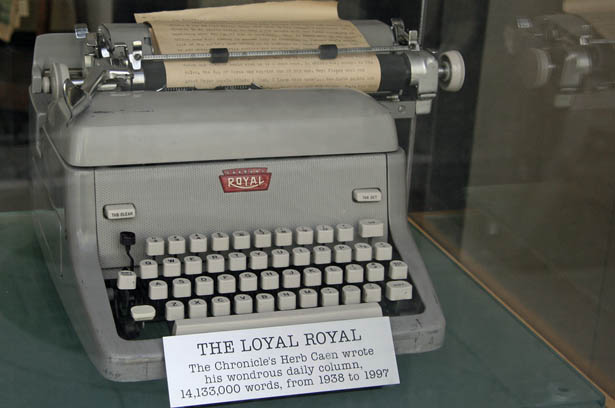 mk94577/Flickr
You may or may not remember Herb Caen, the great and prolific newspaper columnist, the beloved and respected Pulitzer-Prize winner, who wrote for the San Francisco Chronicle and the San Francisco Examiner for nearly 60 years. Caen, who died 15 years ago this week, often strung together his columns in a style widely described as "three-dot journalism": a series of short items separated by ellipses. I thought it might be appropriate on this first Friday in February to pay tribute to the wonderful man by offering up a column in the old-school Caen style. Here goes...
Did you read Sen. Saxby Chambliss' comments about a gently proposed White House plan to send five Guantanamo Bay detainees to Qatar in advance of peace talks with the Taliban in Afghanistan? "These are five of the meanest, nastiest killers in the world," the senator said, even though he doesn't know the names of any of the men... The senator's reaction was sadly reminiscent of all those false and disingenuous "worst of the worst" labels placed on the Gitmo detainees by members of the Bush Administration...
... It will cost you an hour, but you should spend the time and watch this panel discussion  (click on link that says "Journalism Panel") from a recent Brigham Young University Law School program on how some of the country's best Supreme Court reporters cover their beat... So unemployment now is down to 8.3 percent, and I'm waiting for another brilliant political journalist to write yet another definitive column linking that number to President Barack Obama's re-election chances. How low does it have to go?...
... Back in Texas, the judges now responsible for coming up with a new redistricting plan for the Lone Star State evidently have their doubts about the Republican gerrymander. From the Associated Press: "It's hard to explain changes to the map 'other than doing it on the basis of reducing minority votes,' said the presiding judge, Rosemay M. Collyer."... And, a little further south and east, we mark today the 50th anniversary of the American embargo on Cuban cigars and other goods...
There was a ton of coverage this week over a court ruling that kept video recordings of California's long-ago Prop 8 trial secret. Having followed that case closely, and seeing how one-sided it was, I can understand why same-sex marriage proponents want the world to see it... Meanwhile, back in Washington, Attorney General Eric Holder took some serious heat on Capitol Hill this week for his testimony about the "Fast and Furious" fiasco. This tense moment was particularly interesting. Yikes...
The ACLU sued the government this week, under the Freedom of Information Act, seeking documents relating to the Obama Administration's drone program. The ACLU says the feds can't have it both ways -- boasting about the program in public and then arguing in court that it's too secret to have its legal justifications exposed... The suit came just a few days after Leon Panetta, appearing on CBS News' 60 Minutes, tap-danced around the question of what legal basis existed for the killing of U.S. citizen Anwar al-Awlaki...
Oklahoma is giving New Hampshire a run for its money for craziest state lawmakers. In New Hampshire, the Death Penalty Information Center reported that lawmakers are bucking a national trend by trying to expand the state's death penalty regime... And in Oklahoma, State Senator Ralph Shortey is spending state taxpayer money on these projects to nowhere. From the guy who proposed a bill to ban the use of human fetuses in food comes a measure that would strip the Oklahoma's supreme court from evaluating the constitutionality of certain state statutes...
California this week marked Fred Korematsu Day (kids, look him up)... It looks like the state of Washington will be the latest jurisdiction to recognize the legality of same sex marriage,  a legislative achievement that prompted the National Organization for Marriage to financially back candidates who would run against the four Republican lawmakers who voted in favor of the measure... Back in New Jersey, meanwhile, Gov. Chris Christie  called a gay state lawmaker "numb nuts" and pledged to veto same-sex marriage legislation...
On the bright side, if you get a chance this Super Bowl weekend, check out the new Geico commercial with the " rescue panther." It may be my favorite commercial ever... I also loved HBO's Joe Namath documentary, mostly because Namath himself seemed so comfortable and candid in explaining some of the ups and downs in his life. A straight shooter, that Broadway Joe... And so was Angelo Dundee, who trained Muhammad Ali and Ray Leonard. Wouldn't you want to hear just some of the stories that Dundee never got around to telling?...
***
Okay, clearly, I'm no Herb Caen. Day after day, week after week, year after year, he churned out columns in this style. Like Mike Royko and Jimmy Breslin he owned the beat in the city where he worked. And that's why I think Herb Caen is worth remembering today. I hope some commenters here, especially those of you in or from the Bay Area, will take a little time below to share their recollections of Caen's work. You can read some of his columns, and many tributes to him, here, among other places.