Should Parents 'Pull the Trigger' on Failing Schools?
Legislation in Florida would allow parents to vote to restructure a public school into a private or charter model.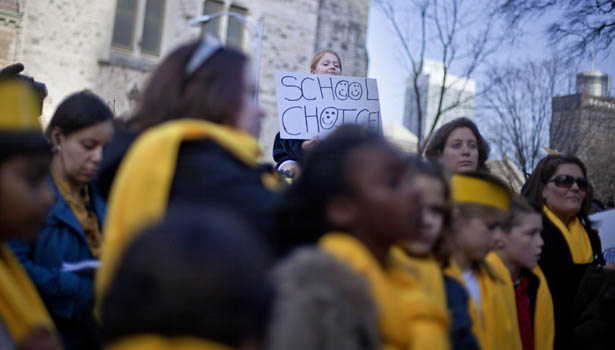 AP Images
There's a significant buzz out of Florida regarding proposed legislation that would enact a so-called "Parent Trigger:"  Dissatisfied families could vote to have a local public school undergo significant restructuring including being converted to a charter school or turned over to a private operator.
Similar legislation has passed in California and Texas, not without controversy and ensuing conflict, and Indiana is also considering enacting a parent trigger.
Here's part of the problem: There's no clear picture of what happens once the trigger is pulled or much hard evidence that the students would ultimately benefit from the intervention.
Florida is ranked third in the nation for its charter school laws, according to the latest report from the National Alliance for Public Charter Schools. Among the elements that earned the Sunshine State high marks is its lack of a cap on the number of charter schools permitted. Florida also allows state universities and community college boards to authorize specific types of charter schools, opening up additional avenues beyond the local school board.
Charter schools were always supposed to be the "Next Great Idea" in public education, allowing seeds of innovation to flourish without the perceived distractions attributed to collective bargaining agreements and district regulations. The idea was that with charter schools blazing the trail, public schools could follow.
But when well-meaning parents and community groups launched some of these independently operated schools, what they quickly discovered is that the business of education is more difficult than they had ever envisioned.
Into that wide breech stepped education management organizations, often promising the moon plus a rocketship to get there. The moon has yet to be delivered. Or even the rocketship, really. There are certainly examples of strong charter schools. But there are significant gains still to be made. (For more on how for-profit and nonprofit-managed charter schools are performing compared with traditional public schools, click here. Time Magazine, via the Hechinger Report, also has an excellent story on what happens when charters are forced to close .)
In California, actual attempts to pull the parent trigger appear mostly to have fired blanks. A Compton public school was the first to test the new law and survey parents about what they wanted to happen to a struggling campus. What resulted,  according to an editorial from the Los Angeles Times , was the "stuff of high educational drama -- claims of intimidation from both sides, an intransigent school board that put parents through ridiculous hoops to verify their signatures and, eventually, legal defeat when the petition was found lacking on largely technical grounds."
The editorial board at the Sun Sentinel  has significant reservations  about Florida's proposed legislation, warning that "private education companies could chum the waters in beleaguered districts with political campaigns to tilt parents toward privatization." The editorial also raises concerns that parents who are "often too busy even for PTA meetings would face a steep and brief learning curve in making such a game-changing call."
Florida lawmakers are considering additional legislation that targets some of the concerns outlined in the Sun Sentinel's editorial. (Click  here  for the Orlando Sentinel's story.) A proposed law would require schools to issue report cards for parents of students in grades K-3, grading them on the quality of their participation in their children's schooling.
---
This post also appears at The Educated Reporter, an Atlantic partner site.