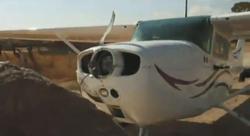 Today's Atlantic Wire has a fascinating item about a pilot-and-flight-instructor duo who landed their small plane safely, in Mexico, after its propeller broke off (right). The original YouTube video, from a little more than a year ago, is here; it shows the in-cockpit view when things suddenly became very quiet inside a single-engine Cessna 172, and the pilots glided the plane to a safe landing on an empty road.
The video itself is interesting enough, but there were two extra items I thought worth highlighting. One is the headline on the Atlantic Wire item: "Superhuman Pilot Lands a Plane After Propeller Falls Off." The pilots certainly were level-headed and skillful in doing what they needed to do -- with two very frightened passengers in the rear. But this was "superhuman" only in the sense that everything involving aviation is. Any person who has earned a pilot's certificate has been forced to practice for this kind of emergency countless times. And glider-plane pilots of course land this way after every single flight. [*See update below.]
I mention this because it underscores the difference between what is actually hard / dangerous / problematic in the flying world, and what seems hard or dangerous from the lay perspective. If an engine fails when you're flying, that is never good. But contrary to what most people would assume, it is an immediate, life-threatening emergency only if it happens soon after takeoff, when you are closest to the ground and have the least time to respond. The higher up you are, the better -- because then you have the longest time to set up the plane to descend as slowly as possible, as a glider, and pick out the site you would like to aim for.