Occupying the 'Wall Street Journal'
The protest movement is appropriating the names and logos of corporate-owned publications. Is it copyright infringement or satire?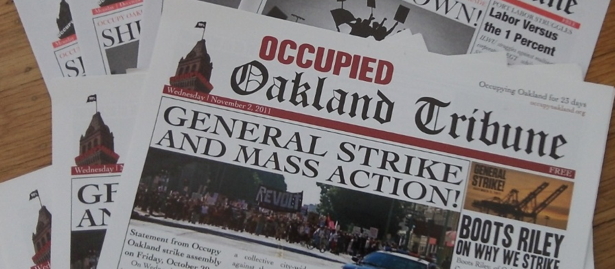 Courtesy of Scott Johnson
Scott Johnson had published only two issues of his Occupied Oakland Tribune when he received a cease and desist order from The Oakland Tribune's parent company, the Bay Area News Group.
"The first thing I thought was, Is this real? The whole thing just kind of blew me away," he says.
The Oakland Tribune contends that Johnson's use of their name, albeit "Occupied," and an altered Tribune tower logo are infringements on the company's trademark. In their letter and The Oakland Tribune's own subsequent coverage, the Bay Area News Group's lawyer Andrew Huntington states that Johnson must stop publication and hand over his occupiedoaktrib.org URL immediately or face a lawsuit.
Huntington, who did not respond for comment, said that Occupied Oakland Tribune's name and logo were "a problem," though the Bay Area News Group was considering dissolving the Oakland Tribune until late 2011 amidst a round of heavy cutbacks.
"As soon as I had any time to think about it, it became more and more clear that we can win this thing," says Johnson. "I never wanted to give in on it. I never wanted to roll over and give up."
As one Twitter commenter quipped, after donating $100 to Johnson's Kickstarter campaign to fund the paper, "BANG is the sound you hear when you shoot yourself in the foot."
From the Occupied Los Angeles Times to the Occupied Washington Post, more than a dozen "Occupied" branded independent newspapers have sprouted since that ever-tented movement took root across America last fall. Many of them take the names of the biggest corporate-owned newspapers in their hometowns. Some, like the Occupied Boston Globe, opted to change their names (they are now the Boston Occupier). But most have stood their ground.
"I think it is great how it became a meme so quickly," says Arun Gupta, one of the founders of The Occupied Wall Street Journal. "Like many other aspects of Occupy Wall Street, this idea just spread rapidly across the country." The Occupied Wall Street Journal, a project originally put together by Gupta and a collective of other Occupy Wall Street activists, raised more than $75,000 in a Kickstarter campaign.
"It's direct action -- another form of occupying," says Gupta of the newspapers -- physical protest objects, and historic artifacts. "They make the movement real in a way digital media never can."
To Gupta's knowledge, The Occupied Wall Street Journal hasn't received any complaint -- or praise -- from the original Wall Street Journal. "In fact, all the media reports would actually say the WSJ declined to comment," says Gupta.
The Occupied Chicago Tribune has had a less easy time of it.
"The Chicago Tribune might not be pleased by our use of the name, but right now we have no plans to change it," says Joe Macare, one of the journalists and publishers with The Occupied Chicago Tribune. "We're confident that no one could confuse the two, but just in case, we want to stress that we don't have any association with the billion-dollar Tribune Company corporation or their reporting for the 1%. The Occupied Chicago Tribune name clearly constitutes political speech and satire, protected by the First Amendment."
The Occupied Chicago Tribune has not received a formal cease and desist order from the Chicago Tribune -- at least not yet. A source with knowledge of to the Occupied Chicago Tribune's legal situation who preferred not to be identified said the Chicago Tribune's lawyer had pushed hard in the company's demands in informal negotiations. "Occupied Chicago Tribune said okay, we'll use 'Chicago's Occupied Tribune.' The lawyer objected. So they said okay, we'll change it to 'Occupied Tribune,' and the lawyer objected. They said okay, we'll change it to 'Occupied Chicago Times.' The lawyer objected again."
"Then he allegedly said something like, 'You cannot have anything that has a T in the name.' And that's when finally it had reached such a point of absurdity that they decided to fight back."
Corynne McSherry, attorney and Intellectual Property advisor to the Electronic Frontier Foundation, says attempts at quashing perceived trademark infringement often fail on both legal and public relations grounds -- and even backfire. "They call more attention to the kind of satire that's happening in the first place," says McSherry.
The Oakland and Chicago Tribunes say they are attempting to protect their trademarks from infringement, for which the basic test is "likelihood of confusion" in the marketplace. These papers must prove that their "spinoffs," as the papers call them, used their trademarks "in connection with the sale, offering for sale, distribution or advertising of goods and services" in a way that is likely to confuse potential consumers.
That confusion relies on another set of tests: the strength of the original trademark and similarity of its alleged copy, the proximity of the products in distribution, similarity of marketing, evidence of actual consumer confusion, and the Occupied newspapers' actual original intent. The fair use of trademark infringement for the purposes of criticism or comment, including parody, relies on individual case analysis by the courts as opposed to "bright-line rules," according to the Copyright and Trademark Law.
Many trademark holders pursue cease and desist letters in all matters of potential trademark infringement less as a matter of just cause against the accused infringer, but in order to bolster their case against possible actual future infringement by a possible actual future fake newspaper.
"But it doesn't really accomplish that much -- especially for a newspaper," says McSherry. "Newspapers should be committed to fair use and free expression, and it really doesn't look right if they're trying to shut that down." McSherry defended the Yes Men, who created fake copies of The New York Times and distributed them all over New York City. The Times declined to pursue legal action.
"This is why I say it's political," says Gupta. "Occupy Wall Street had such a huge kind of ideological and political presence that to go after them this way actually validates everything the movement is talking about: that the 1% is trying to use their power and wealth against the 99%."
"Because they're on such weak legal ground, to bring suit would come across as a case of bullying. They have nothing to gain from it," says Gupta. "I think, though, when you get into other cities, people freak out when they're being approached by lawyers with intimations of legal action."
While The Occupied Chicago Tribune has remained relatively quiet about their legal problems, Scott Johnson and The Occupied Oakland Tribune are taking a different sort of tack -- embracing the First Amendment for all its potential protections, as they did when they printed their first issue back in November.
"I am dealing with the lesser tribune," Johnson concedes. "As an institution, the Chicago Tribune is a much more serious, powerful institution, and better connected in Chicago. I don't think people are really scared of The Oakland Tribune."
But of Oakland's Occupy? They may well be.
"The fact that I'm part of Occupy Oakland gives me a lot of confidence," says Johnson. "There are people who have my back. In a way, I'm representing them. I don't want to let Occupy Oakland down. We're Occupy Oakland! We don't just get pushed around. Maybe [BANG] isn't reading their own paper about Occupy Oakland, because we tend to not just stop when someone in power tells us to stop, if we think what we're doing is right."
"There was just an assumption that there was no way we could be doing anything wrong. We're just trying to provide a service to people," says Johnson.
The Occupied Oakland Tribune plans a multi-pronged legal defense, including a stance that their paper and The Oakland Tribune are significantly different enough in cost, content and appearance so as not to confuse consumers. One of the strongest legal arguments Occupied newspapers might have in their defense is "nominative fair use" and "parody," protecting the papers for their criticism and comment. And if all else fails: first amendment protection of political speech.
In the meantime, Oakland Tribune reporters continue to reach out to Johnson for comment on Occupy actions. At best, he's amused. "I don't know if the right hand knows what the left hand is doing -- or cares," says Johnson.
"As good a job as the staff may be trying to do, their corporate side is hijacking them."