Mash-Up Nation: How Genes Built America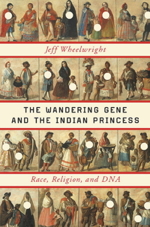 It's hard to tell what Jeff Wheelwright's new book is about by glancing at the cover. The title, 
The Wandering Gene and the Indian Princess, 
suggests a story about ethnic identity. But the book is also a history of Colorado's San Luis valley, a primer on Jewish genes, and a true tale about a young Jehovah's Witness with breast cancer. Elie Dolgin,
writing for The Forward
, called the book a "mash-up," and Wheelwright doesn't disagree, though he prefers to think of it as a work of cubism: blocks of science and storytelling assembled into interlocking chapters.
Wheelwright, former science editor for Life magazine, lives with his wife on the central coast of California. We spoke over the telephone about the characters in his book and the puzzle of ethnicity in America.
---
Your book is about an ethnic group in the Southwest with a very colorful history. How unique is their story?
The people I write about are called Hispanos. That means that they have a longer tenure in the United States than recent immigrants. But if you look at Hispanics everywhere, they're a mix of just about everything in the world, except Asian. Puerto Ricans, for example, have a lot of African in them. So it's all about how finely you want to peel the onion.
How did these descendents of American Indians and Catholic settlers end up with a Jewish gene?
I think it's because of the period when the colonists came to the area. New Mexico is the longest-running extant colony in the United States. That means it was colonized the closest in time to the 1492 expulsions. For the Jews and Crypto-Jews who left Spain and went to the New World, New Mexico would have been one of the earlier places they would have gone. California, where I live, was colonized by the Spanish 200 years later, so there were 200 more years for things to get diluted, both genetically and culturally.
Related Story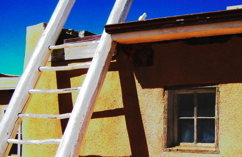 You write that Jews, more than any other ethnic group, have been willing to have their genes studied and their traits defined. That's sort of surprising, considering the sinister fascination Nazis had with Jewish biology. 
And that point is certainly always discussed. But I think the willingness came from a medical need to get a handle on Jewish genetic disorders, starting with Tay Sachs. Also, the people doing the research are largely Jewish scientists and doctors. So they're going right down the street in their own communities saying, "We think we can figure out how to eliminate Tay Sachs. Won't you volunteer?"
Besides, if you're a good Jew, you're trying to repair the world. I learned a bit about Judaism when my daughter married a Jewish man and converted. From what I understand, if you're a faithful Jew, you're not only motivated to figure out the genetic disorders of your own tribe. You also want to provide information that could help all of humankind.
One of the characters in your book remarks that genetics are an equalizer across socioeconomic lines. What does he mean by that?
When you have a country of immigrants, the world's peoples come here for whatever reason and bring their genetic baggage with them. We all call ourselves Americans, but what's in our particular genetic suitcases? You end up with all these genes that just happened to find their way here. So you have this group in the rural Southwest dealing with this medical issue and translating it through own cultural background. Yet that same piece of DNA is active in social circles that include highly educated, sophisticated urban people.
A lot of the families in your book gave up Catholicism to become Jehovah's Witnesses. Why did that religion attract so many people in this particular group? 
When you look back through their family history, you see Pueblo Indians who were forced to convert to Catholicism. If they didn't, their feet were cut off. They ostensibly became good Catholics, and in fact many of them became quite fervent in the 19th century, almost in reaction to the American Protestant regime. But when the 20th century came along, there was a loosening of religion everywhere. You saw that even out in the little villages, people just going through the motions. Some of their children and grandchildren wanted something deeper, stronger, and more powerful in the faith department.
As for why it ended up being the Witnesses, I think it's really a class thing. These people are just as smart as you and me, but a higher education isn't particularly valued in their society. Something has caused them to step back a little bit from the world. So when they found the Witnesses, that made it easier for them to create their own world. It's not as easy to do that when you live in a big city. You step out your door into a life that's supercharged with different people and experiences and opportunities. Becoming a Witness generally presupposes a slower pace of life.
Your story hits on a paradox about culture. When a group remains insular for generations, it can develop a lot of richness. But seclusion can also have negative effects.
That's right. You can turn within and burnish your traditions -- I suppose a "ghetto mentality" might be another way of phrasing that way of life. You do build a cultural richness, but you also develop a wariness of outsiders. And in this medically aware day and age, you can't get away with ignoring the genetic implications. In the San Luis valley -- and also in the Orthodox Jewish community -- there's a lot of shame about genetic disorders. But even in that rural area, people are starting to learn about genetic testing and realize that centuries of inbreeding can have consequences.
By that logic, America should be one of the healthiest societies in the world, since there's so much opportunity for different ethnic groups to mix.
Yes, in another 50 years or so, we're all going to be homogenized, from sea to shining sea.
Won't something be lost if that happens?
Well, what I realized is that when your family tree gets more diverse, the math starts to enable all kinds of possibilities. On a personal level, we're used to thinking about our own parents, grandparents, and great-grandparents. That's how we draw our own ancestry and identity. But if you go back biologically just 400 years, you'll come up with 1000 different ancestors for you personally. That opens up a lot of choices.
For instance, when some of the people in the San Luis valley discovered that they had a Jewish gene, they started to really identify as Jewish. Most said, "That's not for me." But all it takes is one family line, and that can bend your identity in a whole new direction. It's really about where you are in life. Do you need a new identity? Do you want some new clothes? And the more we look into our own genes, the more stories we can create.