In Minnesota, a School District Overturns Its Policy of Silence
After a scathing exposé about gay students and suicide, a school board struggles to protect students from bullying without irking social conservatives.
After a scathing exposé about gay students and suicide, a school board struggles to protect students from bullying without irking social conservatives.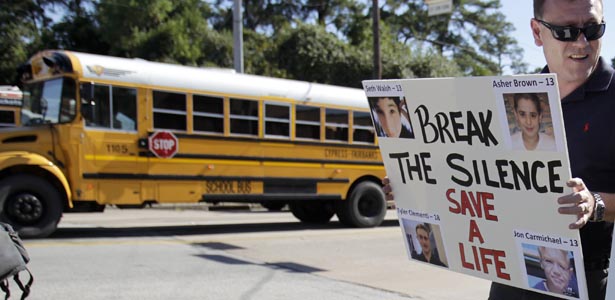 AP Images
In the wake of a Rolling Stone story that depicted its campus communities as terrifying places to be a gay student, the school board of Minnesota's largest school district has overturned a policy that required teachers to remain neutral during classroom discussions related to sexual orientation.
Some critics of the policy said it was actually feeding the flames of homophobic cruelty in the Anoka-Hennepin School District, which was stunned by a rash of student suicides by teens whose families say were victims of intense bullying.
Rolling Stone reporter Sabrina Rubin Erdely's  comprehensive and emotionally charged narrative painted a picture of a school system where students openly mocked their peers who were thought to be gay. For some of the students, the hostile environments seemed to have become unbearable: Nine students committed suicide during a two-year period, beginning in 2009.
According to Erdely's reporting, the district's now-overturned policy had been crafted "to not only help teachers navigate a topic as inflammatory as homosexuality but to appease the area's evangelical activists."
The story prompted a backlash by the Anoka-Hennepin administration, which argued it had been unfairly depicted as unresponsive to allegations of bullying and failing to help students in crisis.
Erdely also focused on the Parents Action League, organized by conservatives living in the Anoka-Hennepin district, which opposed dropping the so-called "neutrality policy." In a written statement posted on the Parents Action League's website, the group states that "the theme of 'school safety' is being used as a pretext to advance a much broader agenda: the legitimization of homosexuality and related conduct to impressionable schoolchildren."
Parents Action League president Laurie Thompson said Erdely "offered no proof that evangelicals or the district's policy had anything to do with the student suicides or bullying," according to a St. Paul  Pioneer Press story about how the local community was handling the unflattering glare of the national spotlight. (In the same story Erdely defended her reporting, which encompassed dozens over interviews over a four-month period. The mother of one of the teens who committed suicide also told the Pioneer Press she believed Erdely's story was accurate.)
But Thompson told the Pioneer Press that Erdely had "repeated and amplified the most biased and unverifiable rumors regarding bullying" to reflect "another agenda altogether -- attacking evangelical Christians and portraying them as unreasonable bigots."
I asked Erdely what she thought of the school board's decision to drop the controversial policy, and replace it with one intended to support considerate classroom discussions when volatile topics arise.
"They're finally digging out from their denial," said Erdely. "I think they've been trying for a long time to convince themselves that the neutrality policy was harmless, but it was actually anything but harmless."
Hopefully, Erdely said, the new policy "sends a signal they intend to do better."
School districts nationally are struggling to craft anti-bullying policies that address the underlying societal issues without becoming a burden for educators to implement. That's a tough balance to strike, as lawmakers are discovering.
In New Jersey, the state's school administrators' union has pushed back against a new law that sets comprehensive mandates not only to prevent bullying but also to sanction educators who don't do enough to stop it.
Under the Anti-Bullying Bill of Rights, New Jersey schools must have an "anti-bullying specialist" designated to investigate allegations, and each district must have an "anti-bullying coordinator." Efforts at the campus and district level will be monitored by the New Jersey Education Department, and educators who fall short will be putting their licenses at risk.
"I think this has gone well overboard," Richard G. Bozza, executive director of the New Jersey Association of School Administrators,  told the New York Times . "Now we have to police the community 24 hours a day. Where are the people and the resources to do this?"
To be sure, schools are being asked to do more with less. However, campuses are microcosms of society, and what students learn in their classrooms and hallways  -- as well as at home --  is reflected in their behavior in the outside world. For educators, this responsibility might well be an unfair burden. But for students struggling to respect each other's differences, that effort could be their best hope.
---
This post also appears at The Educated Reporter, an Atlantic partner site.