Clash of the Titans! Airport-Security Culture vs. Brazilian Carnival Culture
Two powerful forces. When they collide, which will prevail?
As it turns out, it's no contest. A reader writes about what played out at this year's Carnaval:

This video touches on two of your themes: airport security and cross-cultural differences. It's a bloco, or parade dance party, at Santos Dumont the city airport for Rio de Janeiro. Minute 1:30 to 2:00 has the best sambaing. [JF: Yes, by all means see at least that part. And here is more on the namesake Alberto Santos-Dumont.]

I doubt that the same joie de vivre is possible in a TSA-sanctioned environment.
I share such doubts. On a more positive note, soon I will offer a declaration of peace, at least on one front, between my own personal preferences and the rules of the modern TSA. Meanwhile, Viva Brasil!
__
Update. A reader who travels very frequently in and out of China's main airports was in Beijing Capital airport today. He sends a shot of the security line a few hours ago at what is now the second-busiest airport in the world.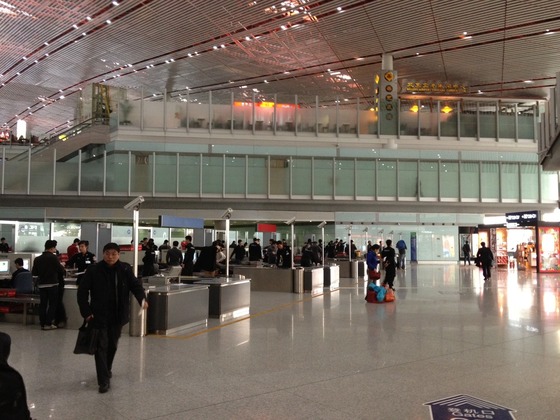 Passengers are entering the screening queue from the left of the scene above and passing through metal detectors there. Then they head toward their planes (including the man walking toward the camera at the left). The reader writes, under the subject line "Beats TSA":
Greetings from Beijing Airport! Last year I sent you a photo of the TSA equivalent and it's still so much better than TSA! You could say in software terms it's a much better UX! [User Experience.] Every time!