At the Supreme Court, Odds Lie Against Affirmative Action
The justices will hear a case on whether universities can encourage diversity at the classroom level, but court conservatives may use it as an opportunity to set a new precedent.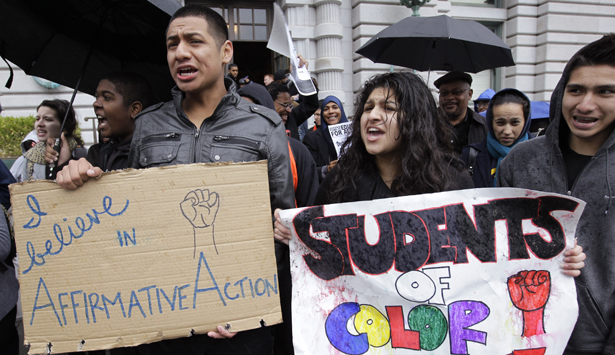 AP Images
If you believe in the value of affirmative action in high academics -- "that student body diversity is a compelling state interest that can justify the use of race in university admissions," to use United States Supreme Court Justice Sandra Day O'Connor's phrase from the last big case on the topic -- then you should know from the get-go that little good is likely to come from the court's choice Tuesday to add a new school admissions case to its docket for consideration next fall, right around the presidential election.
Instead, the best you can reasonably hope for in Fisher v. University of Texas is that the court will produce a narrow, fact-driven decision that does no more than strike down UT's admissions policy because it goes beyond where Justice O'Connor said such academic policies could go when she wrote the majority opinion in Grutter v. Bollinger. That's the 2003 affirmative action case out of the University of Michigan Law School, decided by a 5-4 vote, which stands as the controlling legal precedent here.
Here's how Scotusblog's Lyle Denniston explains how such a result might be justified.
But the Texas plan goes considerably further than [Michigan did in] seeking diversity across the entering class of students; the plan also seeks to achieve that goal among the major fields of study, and at the classroom level. That extension of what might be called the "Grutter principle" of diversity is a key issue in the case taken to the Court by Abigail Noel Fisher, a Sugar Land, Texas, student who did not gain admission to the Texas campus and contended in her lawsuit that she was denied because she is white. Minority students with lower grade averages than hers got in under the plan, she has contended.
And here, instructively, is how a dissent at the 5th U.S. Circuit Court of Appeals last year framed the difference between the University of Texas' policy and the Michigan Law School policy. Criticizing the 5th Circuit ruling upon which Tuesday's action was based, a decision that upheld UT's admissions policy, 5th Circuit Chief Judge Edith H. Jones wrote:
The panel's opinion, however, extends Grutter in three ways. First, it adopts a new "serious good faith consideration" standard of review, watering down Grutter's reliance on strict narrow tailoring. Second, it authorizes the University's race-conscious admissions program although a race-neutral state law (the Top Ten Percent Law) had already fostered increased campus racial diversity. 

Finally, the panel appears to countenance an unachievable and unrealistic goal of racial diversity at the classroom level to support the University's race-conscious policy. This decision in effect gives a green light to all public higher education institutions in this circuit, and perhaps beyond, to administer racially conscious admissions programs without following the narrow tailoring that Grutter requires.
A limited ruling in Fisher, which strikes down UT's policy while keeping alive the rationale and formula endorsed by the majority in Grutter, would likely be seen as a victory of sorts for the tens of millions of Americans who are in favor of affirmative action in academia. But at the same time, such a ruling would likely be seen as a major disappointment to the tens of millions of Americans who believe that the time has come for higher education in America to do away with such policies in all their forms.
Why would the anti-"quota" crowd be disappointed with a ruling that strikes down UT's race-based admissions policy? Because there are signs here that point to the possibility of a more sweeping pronouncement from the court's conservatives, one that would gut both the Texas policy and the court's precedent in Grutter. It's all about the math. First, Justice O'Connor is gone from the court, replaced by the far more conservative Justice Samuel Alito, who already has expressed hostility to race-based policies.
Moreover, Justice Elena Kagan has recused herself from Fisher, meaning that only eight justices will determine the case. This means, in turn, that Justice Anthony Kennedy would have to change his mind, and substantially so, to save both UT's admissions policy and the court's precedent in Gutter. Justice Kennedy dissented in the Michigan case and his skepticism toward the sorts of admissions policies in play in Fisher practically drips from his writing. Here is just a part of what Justice Kennedy wrote in the Michigan case:
To be constitutional, a university's compelling interest in a diverse student body must be achieved by a system where individual assessment is safeguarded through the entire process. There is no constitutional objection to the goal of considering race as one modest factor among many others to achieve diversity, but an educational institution must ensure, through sufficient procedures, that each applicant receives individual consideration and that race does not become a predominant factor in the admissions decision making. The Law School failed to comply with this requirement, and by no means has it carried its burden to show otherwise by the test of strict scrutiny.
MORE ON THE SUPREME COURT
It's conceivable, I suppose, that Justice Kennedy could do an about-face and declare that he is willing to save affirmative action in higher education out of precedential respect for Grutter. But don't bet your Kennedy Bobblehead Doll on it. The much smarter action presumes that Justice Kennedy is going to see in the UT case what he saw in the Michigan case -- and, for that matter, what he also saw when he wrote the majority opinion in Ricci v. DeStefano, which struck down New Haven's firefighter employment policy because it was race-based.
The University of Texas -- and affirmative action advocates everywhere -- desperately need Justice Kennedy's vote to achieve a 4-4 tie at the Supreme Court in the Fisher case, a result that would keep in place the 5th Circuit ruling that upheld the UT admissions policy. But there is no logical reason to think the justice, or any of his conservative colleagues for that matter, are going to be willing to save the Texas policy or to be particularly loyal to Justice O'Connor's conclusions in Grutter.
This isn't the O'Connor Court anymore. It's the Kennedy Court. And he's shown himself to be no friend to these sorts of admission policies. So 50 years or so after black students couldn't get admitted to Southern universities because of the color of their skin, the Supreme Court is poised to end, or at least dramatically limit, affirmative action in higher education. The only real question between now and next winter, when Fisher likely will be decided, is how far the Court's conservatives are willing to go.