Why Joe Paterno Was Fired
After the legendary coach offered his apology on Saturday, Penn State struck back.
After the legendary coach offered his apology on Saturday, Penn State struck back.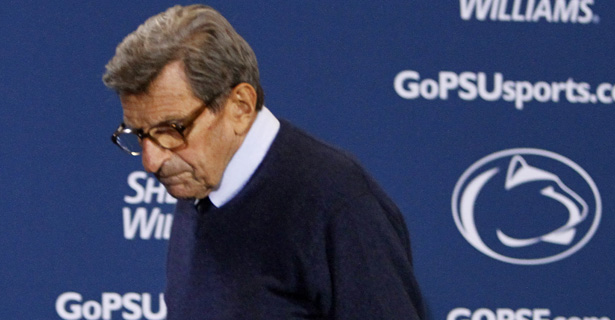 Reuters
On Saturday afternoon, just as the National Football League playoff games began, The Washington Post put online Sally Jenkins' long apologia on behalf of Joe Paterno, the legendary football coach of Penn State University, whose tenure ended late last year amid allegations of sexual abuse on the part of his longtime assistant, Jerry Sandusky. The memorable Post piece portrayed the ailing Paterno in many ways as a victim, especially of Penn State treachery.
On Wednesday, the University struck back in The New York Times, courtesy of a long take by Pete Thamel and Mark Viera. Here's the nut graph from the Times piece explaining why Paterno was fired:
"To me, it wasn't about guilt or innocence in a legal sense," the trustee Kenneth C. Frazier, the chief executive at Merck, said of Paterno's decision not to go to police. "It was about these norms of society that I'm talking about: that every adult has a responsibility for every other child in our community. And that we have a responsibility not to do the minimum, the legal requirement. We have a responsibility for ensuring that we can take every effort that's within our power not only to prevent further harm to that child, but to every other child."

Every side in the looming Battle of Sandusky wants to make public its talking points. And it's certainly in Penn State's interests to answer Paterno by explaining its decision to fire the coach who was synonymous with the university. Everyone is going to blame everyone else, of course; that's what happens when a scandal like this breaks into public view. But Frazier's quote here is notable because it goes to the heart of the matter. It eloquently explains why so many people are so disappointed with Paterno regardless of his legal exposure.
Paterno can successfully argue that he did not violate the letter of Pennsylvania's reporting law when he reported to his superiors in 2002 what he had heard about the allegation that Sandusky was sexually assaulting a young boy in the shower of the Penn State locker room (exactly what he was told about the incident, and exactly what he told his superiors, is a contested matter at this point). He can say, through his tribunes, that he did what the law required him to do. But the law is often a floor, not a ceiling, is it not?
As Frazier points out, Paterno cannot plausibly argue that he did what we would want our friends and neighbors to do when faced with the choice he was faced with in 2002. Paterno told Jenkins that he now believes that he should have done more back then -- exactly what he did not say. It's a regret, alas, that comes ten years too late. When it comes to this awful scandal, and the impact it had on so many people, Penn State has a lot to answer for in the next few years. Far down the list, it seems to me, is its decision to get rid of Paterno.