Where the Birds Are: Remapping for a Warmer Future
As feathered flocks move further and further north, the National Audubon Society is using data from nature enthusiasts to predict where they'll find new homes.
As feathered flocks move further and further north, the National Audubon Society is using data from nature enthusiasts to predict where they'll find new homes.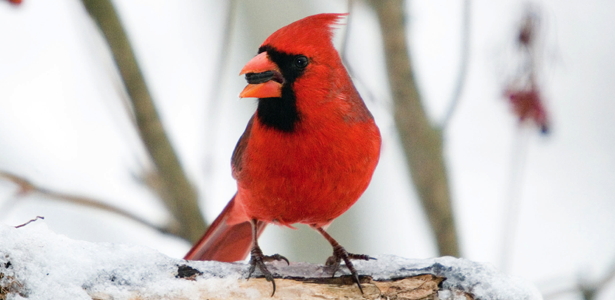 Jerry Acton/National Audubon Society
On a recent winter morning, shortly after sunrise, Catholic University awoke to a leaden silence, punctured occasionally by the rattle of suitcases rolled across the tawny-green campus by students heading home for the holidays. The only people who seemed intent on staying behind were roaming the D.C. school with quiet purpose, binoculars hanging heavily from their necks and faces buried in upturned collars.
Their leader, 69-year-old Anne Anderson, had given them straightforward instructions: Slowly and methodically sweep your gaze up the length of every tree, leaving no piece of bark unscanned for movement. When you finally spot a bird, call out  cues so that the rest of the group can confirm the sighting (e.g., "Male cardinal, 3 o'clock, two hands up"). Every bird must be accounted for: That run-of-the-mill mockingbird over there, insouciantly prodding something on the pavement, represents a data point -- a small one, yes -- that may have scientific implications of global magnitude.
An outsider might have mistaken the activity at hand as everyday "birding," but the term is not precise enough. Anderson's team was "counting" birds, which is exactly what it sounds like ("How do you count 'em?" a young team member was once asked by a friend; "Like I count everything else!" she'd responded). For over a decade now, Anderson has been shepherding compact teams of birdwatchers through parts of D.C. for the Christmas Bird Count. The National Audubon Society recruits tens of thousands of volunteers every year for the CBC, dispatching them into regional "circles" all over North America to conduct a census of birds during the period between December 14 and January 5. CBC data has been used for hundreds of scientific studies, and by groups ranging from the U.S. Department of the Interior to the Cornell Lab of Ornithology. But much of the work has been retrospective, focused on retracing changes that have already happened -- such as the swath of destruction left by the West Nile virus in the 1990s, and the decline of common birds like the Northern Bobwhite since 1967.
A small team of Audubon scientists recently embarked on one of the most groundbreaking projects to have emerged from the Christmas Bird Count yet -- and this study, unlike the others, turns its gaze decidedly forward. For about six months now, the team has been analyzing how birds have responded to climate change over the past few decades, in order to predict how they will respond to changes in the future. The study provides the first-ever look into how climate change will affect the distribution of North American birds: Where will they go when their habitats have transformed too much for their liking? Gary Langham, chief scientist at Audubon, describes the potential end-result of the project as a "bird guide for the future" that -- instead of showing the current geographical range of a bird species -- depicts its range in the years 2020, 2050, and 2080.
The project depends significantly upon the Christmas Bird Count, whose long history makes it an unparalleled repository of data on bird distribution in North America over time. The CBC began in 1900, when an ornithologist named Frank Chapman proposed that people put down their guns for the traditional holiday bird hunt and pick up their binoculars for a different kind of shooting altogether -- a "bird-census." Chapman's inaugural count sent 27 birdwatchers into 25 count circles.
Over the next 112 years, the Christmas Bird Count expanded its reach by vast measures: Now, more than 60,000 volunteers cover over 2,000 count circles, each encompassing a 15-mile radius. These circles are scattered throughout all 50 states and Canadian provinces, and parts of Latin America, the Caribbean, and the Pacific Islands. Taken together, the surface area surveyed by the CBC is well over 1.4 million square miles. The Christmas Bird Count is not only the longest running citizen survey in the world, but produces the most comprehensive data set depicting the fluctuation, range, and movement of bird populations across the continent.
At the conclusion of a counting season, "compilers" assemble and finalize data for their respective circles and ship it off to scientists at the Audubon Society, who are now able to add a stratum of data onto those of prior years. The past and present interlock in a thick archaeological bed, revealing patterns and breaks in birdlife that have occurred over the course of a century.
Such precise documentation is what now enables Audubon scientists to predict how climate change will alter the geographical ranges of bird species. The project draws from two pools of data. One pool consists of the Christmas Bird Count and the non-Audubon-affiliated Breeding Bird Survey, which together describe the winter and summer distributions of birds. The other pool is outside climatology research that specifies the climate variables -- e.g., the mean annual temperature and annual rainfall -- of a given time and place. Using modeling algorithms, the Audubon team can draw a statistical association between these two pools to determine the "climatic niche model," or the type of climate a species has preferred. Scientists can then predict where the animal will move under different climate scenarios of the future. The idea is that as the climate continues to change, regions once considered hospitable to a species will undergo ecological shifts that are significant enough to evict the bird, forcing it to find a new home.
The climate change project is a forward-thinking follow-up to a February 2009 study published by the Audubon Society. A few years ago, Christmas Bird Count participants relayed "surprising" sightings of species north of their expected ranges, spurring Audubon scientists -- who were already alert to concerns about climate change -- to analyze 40 years of CBC data to see if and how birds were responding. The results rang clear. The scientists found an average northward shift of approximately 35 miles for the wintering range of the 305 species observed -- 60 of them travelled more than 100 miles north. In other words, birds were found in areas made increasingly accommodating by rising winter temperatures. "While causation is nearly impossible to prove, global climate change is by far the most probable explanation," the report stated. Or, as Langham says, birds have "voted with their wings" on the question of climate change.
But why should the opinion of birds, of all creatures, matter so much? First, there's the simple fact that they are ideal subjects of study. According to Justin Schuetz, an ecologist at the Audubon Society, censuses like the Christmas Bird Count could potentially be done with other animals, but the avian world is an especially good fit because its members are highly visual and vocal, accessible to the average viewer in a way that mammals (especially nocturnal ones) are not. For that very reason, the feathered creatures have spawned a huge network of birdwatchers who have self-trained -- under no duress whatsoever, but for the pure pleasure of it -- to find and identify hundreds upon hundreds of species. An additional, and perhaps even more crucial, boon is that birds are highly sensitive to climate and weather, making them apt indicators of environmental change -- or proverbial "canaries in a coal mine."
The Audubon team, whose research is funded by the U.S. Fish and Wildlife Service, hopes to finish the modeling by July and have a public release early next year, according to Langham. At a time when funding and time are constrained resources, the Audubon team hopes that its predictions will help guide the allocation of conservation efforts. The current approach to bird conservation focuses on protecting areas with high bird diversity and density -- a method that will probably fail as the climatic conditions of those habitats change over time. But if the Audubon team can pinpoint areas that will likely remain stable for bird species to inhabit, despite climate shifts decades down the line, then conservation groups should be encouraged to prioritize the preservation of those spaces.
"We're trying to tap into this huge network that is interested in birdwatching, and leveraging that for some pretty hardcore science and planning for the future," says Schuetz, a member of the team. "It's taking the observations of the layperson and turning them into something that could potentially affect conservation management on the continental scale. That's pretty cool to think about."
Schuetz says that the project -- "big and hairy," in his own words -- has occasionally kept him awake at night. The very premise of the enterprise, as he notes, involves a great deal of uncertainty: not only is it difficult to know how exactly climate will change in years to come, but one must also account for different global emissions scenarios and ameliorative responses to climate change. To mitigate these concerns, the Audubon team is using a variety of climate scenarios generated by different modeling groups, so that its predictions address a range of possibilities. "Sometimes people get frustrated with the use of forecasting models, but we must realize that with the future, models are all we have," Langham says. "A model of 'no future change' is also a model of the future, and the only one we are certain is wrong."
Back at Catholic University, the manicured and barren lawns of the school are not what you would call a birder's paradise -- dramatically different from the ecological troves of the Pantanal. But the census has a deliberately exhaustive sweep, and giving areas like Catholic University equal play indicates a mission fundamental to the Christmas Bird Count. "We're in an urban environment, but we're still very dependent on the natural world around us. That's part of why I stay in my neighborhood," says Anderson, who lives only six blocks away from the university. "It's really important to help people understand the larger connection."