What America Looked Like: Girls Practice Marksmanship in High School Hall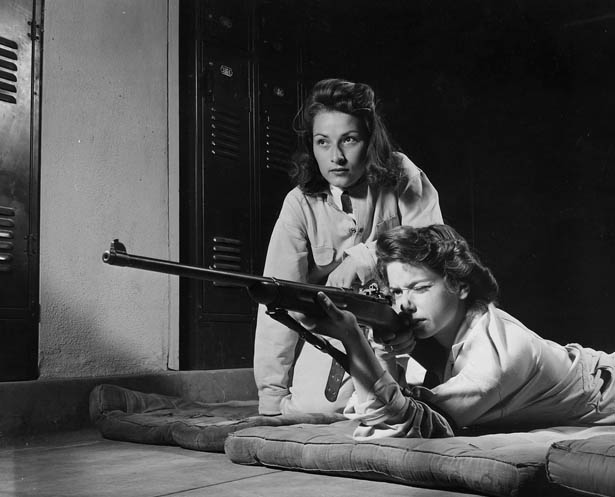 FDR Presidential Library
It's August 1942 and girls, well, are starting to man up. Pictured here are two students from Roosevelt High School in Los Angeles, who, under the guidance of the Victory Corps, are learning how to operate a rifle. (Although the presence of lockers in the background is suspect. Why are they shooting in the hall? What are they shooting at? Isn't the photographer in harm's way? Why is the scene so dramatically lit?)
This is most likely a photo op, but the image does illustrate a reality of the early WWII era. The original caption reads, "Training in marksmanship helps girls ... develop into responsible women." Upon graduation, these girls' male peers faced conscription, leaving them to carry on life in America. They needed to learn how to protect themselves, and in some cases, that included the operation of firearms.
The Victory Corps was a nationwide education initiative charged with the task of preparing students for life in wartime on the fronts or at home. This included a strong focus on physical fitness but also studies in "war useful" subjects and an increase in academic rigor. "A bomber navigator who does not get the correct mathematical answers does not bring his plane and crew back," the nation's education commissioner told the New York Times in 1942.
A Time article from October of 1942 explained the basics of the Corps function:
All 6,500,000 U.S. high-school and prep-school youngsters are eligible but not required to join the Corps. To wear a plain red V on his sleeve, a student must take courses in physical fitness and a war-useful subject (e.g., math), must enroll in at least one home-front job (e.g., air warden, scrap collector, farm worker).

High-school juniors and seniors may join one of five special branches of the Corps -- depending on whether they are preparing respectively for the Army, Air Forces, Navy, war industry or professions. War veterans are to be enlisted to supervise drill and teach marksmanship; even parents will take part, as members of policy-making councils.
Seventy years later, young Americans are still fighting wars overseas. But in a culture where schools are outfitted with metal detectors, a nationwide initiative teaching teenagers to shoot is difficult to imagine.