The Supreme Court Chief Justice Cops Out
John Roberts is defending the Supreme Court's indefensible refusal to follow ethics rules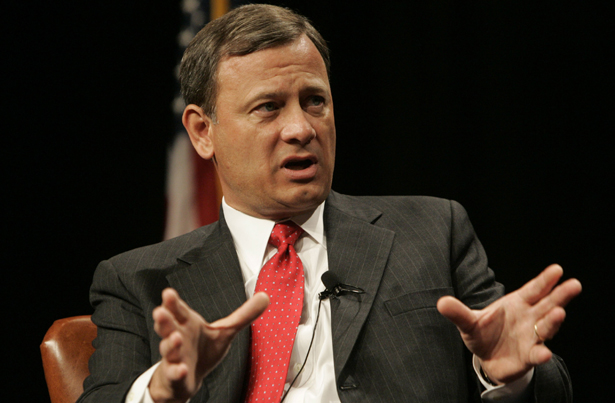 Chief Justice John Roberts speaks at a 2006 conference in California / AP
The Chief Justice of the United States, John G. Roberts, Jr., wants you to know that his colleagues on the Supreme Court "are jurists of exceptional integrity and experience whose character and fitness have been examined through a rigorous appointment and confirmation process." So, naturally, he wants all you haters out there, on the left and the right, to back off your demands to have Justices Clarence Thomas and Elena Kagan recuse themselves from the Court's monumental health care case now docketed for argument in late March.
The Chief Justice spent nearly all 16 pages of his annual report on the federal judiciary (which was released at 6 p.m. on Saturday night) defending the Court's largely indefensible refusal to formally abide by the ethical rules and guidelines which apply to lower federal court judges. For example, he wrote:

Although a Justice's process for considering recusal is similar to that of the lower court judges, the Justice must consider an important factor that is not present in the lower courts. Lower court judges can freely substitute for one another. If an appeals court or district court judge withdraws from a case, there is another federal judge who can serve in that recused judge's place. But the Supreme Court consists of nine Members who always sit together, and if a Justice withdraws from a case, the Court must sit without its full membership. A Justice accordingly cannot withdraw from a case as a matter of convenience or simply to avoid controversy. Rather, each Justice has an obligation to the Court to be sure of the need to recuse before deciding to withdraw from a case
The debate over Supreme Court recusals is mostly a tiresome one but the Chief Justice's report is just as interesting for what it does not include as it is for what it does. Inexplicably, Chief Justice Roberts did not mention, much less decry, the many "judicial emergencies" around the country which directly impair the rights of litigants. Nor did the Chief Justice mention, much less decry, the attacks upon the independence of the judiciary, which echo this election season through the halls of Congress. Instead, we got this pablum:

I end this year once again with gratitude to our federal judges and court staff throughout the country for their selfless commitment to public service in the face of demanding dockets and tightened budgets. I am also grateful to Congress, in these times of fiscal constraint, for its careful consideration of the judiciary's financial needs. Despite the many challenges, the federal courts continue to operate soundly, and the Nation's federal judges continue to discharge their duties with wisdom and care.
The Chief Justice's predecessor and mentor was William Rehnquist and it's interesting to compare Roberts' message in 2011 with Chief Justice Rehnquist's end-of-the-year report in 2005, which turned out to be the last one he ever issued (Rehnquist died in September 2005). Neither man directly confronted attacks on judicial independence. But Chief Justice Rehnquist at least mentioned them. And he also mentioned the ways in which Congress could better help fund the work of the judiciary-- a problem in 2005 that still persists today.
I criticized Chief Justice Rehnquist back then for being too timid. By contrast, his report reads like a jeremiad compared to the mash note Chief Justice Roberts came up with this year. No one expects the Chief Justice to use his annual report as a sword. But how about as a shield? Roberts' tepid note must send a sad, frustrating message to all those federal judges out there working their butts off, amid an atmosphere of political hostility, to make up for all the judicial vacancies that exist because of Senate intransigence.
If the Chief Justice won't speak up for these jurists, and for the millions of litigants burdened by the "judicial emergencies" created by scores of empty benches, who will?