The Sea Fight That Inspired a Longfellow Poem
During the War of 1812, only one ocean battle was witnessed by civilians on land. A six-year-old boy named Henry later immortalized the smoke, the thunder, and the two young captains who lost their lives.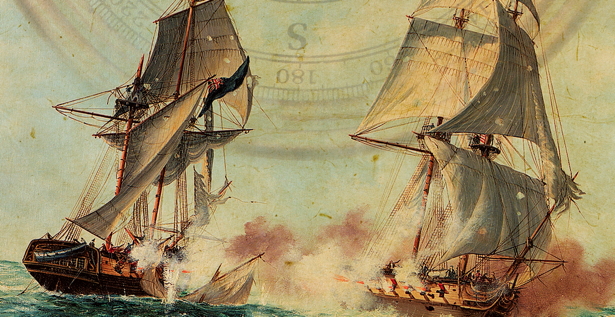 Knights of the Sea/NAL Hardcover
William Burrows assumed command of the USS Enterprise on August 22, 1813. The strip of coastline for which he and his crew were now responsible was essentially an open maritime zone where merchantmen and privateers from both sides sailed at their leisure--and at their peril. Word of Britain's Boxer and its commander, Samuel Blyth, prowling Maine waters had added a new element to the mix.
There is no doubt that William Burrows and his men already knew something of Samuel Blyth. The Boxer's commander had gained a reputation not just for his depredations on merchant vessels in Maine waters, but also for his chivalrous nature. As Theodore Roosevelt later recounted, he "had not only shown himself to be a man of distinguished personal courage, but was equally noted for his gentleness and humanity."
Burrows, a Philadelphian, had no experience with Maine or its long, serrated coastline, but he had personal connections to Portland. In the wars with the Barbary pirates he had been a messmate of Henry Wadsworth aboard the Constitution. Wadsworth's young six-year-old nephew, Henry Wadsworth Longfellow, and his parents were living in the city, but Burrows would not have time to call on them. However, the events of the next few days would deeply affect the little boy.
Sunday, September 5, dawned clear and calm. The wind was light, from the north-northwest. Events unfolded in a deliberate, slow-motion-like manner. Blyth fired first at approximately 8:30 a.m. The shot was meant as a challenge, but Burrows was in no hurry. He sensed that the wind would shift to a more advantageous southwesterly breeze in the afternoon, and his prediction proved to be spot-on.
A deafening explosion of sound broke the late afternoon calm. The British crew fired high and inflicted minimal damage. Burrows and the crew of the Enterprise replied instantaneously. With three cheers, they poured their larboard (port) broadside into the Boxer.
Samuel Blyth, who all of his life had heard stories of naval heroes falling gloriously in battle, lost his life in that moment. An 18-pound cast-iron cannonball exploded out of one of the Enterprise's guns, hit Blyth in his midsection, and kept going. Flesh and bone is obviously no match for that kind of force, and valor counts for nothing. Blyth was nearly torn in two. The desperate fight continued. But his life slipped swiftly away, and he was gone.
The two ships sailed slowly on, paired in a death struggle. Following the third broadside from the Enterprise, Lieutenant Burrows, exposed to enemy marksmen as well as cannonballs, helped haul a gun back into place that was functioning poorly. At that moment, with his left leg positioned on a bulwark, he was struck in the groin by a musket ball. The ball "passed up into his body, and out of his back, cutting off the neck of the bladder." Burrows kept his head clear enough to provide First Lieutenant McCall with a recipe for victory--outsail the Boxer, get ahead of her, cross, and fire on her bow, then heave to and come about and rake her with a fresh starboard broadside.
Just as it seemed the Boxer might successfully ram the Enterprise and force a battle of boarding parties, the Enterprise slipped past her bow. The nine-pounder sticking out of Burrows's cabin found its mark as she did so. The British ceased firing and called out to the Enterprise, but their ensigns, nailed in place, still flew. The battle was over. It was not yet four o'clock in the afternoon.
Blyth's second in command, Lieutenant David McCrery, came aboard the Enterprise and presented the victor with his fallen commander's sword. Burrows politely refused it, with a request to return the sword to Blyth's family in England. Finally, before consenting to be carried below to what would be a lingering twilight death, Burrows exclaimed, "I am satisfied, I die contented." He was 27 years old.
The joint funeral of William Burrows and Samuel Blyth on September 9, 1813, stands as a testament to the resonance that the battle had for the people of Portland. There was something about the deaths of these two young commanders that touched people deeply. Longfellow's poem of many decades later illustrated how even a six-year-old boy was somehow able to grasp the gravity and melancholy of the event:
I remember the sea-fight far away
How it thundered o'er the tide!
And the dead captains as they lay
In the graves o'erlooking the tranquil bay
Where they in battle died
And the sound of that mournful song
Goes through me with a thrill
"A boy's will is the wind's will,
And the thoughts of youth are long, long thoughts."
Each of the bodies was placed in a mahogany casket and rowed in solemn procession to the foot of Portland's Union Wharf. Thunderous salutes echoed down the hill from volleys of muskets, and across the water from ships' guns. Church bells tolled and a young boy named Henry Longfellow had the moment imprinted onto his being forever.
Adapted from David Hanna's Knights of the Sea (NAL Hardcover, 2012).