The Cost of Cutting High School Athletics
Sports may be expensive and "extracurricular," but schools that eliminate them to save money may end up paying an unintended price.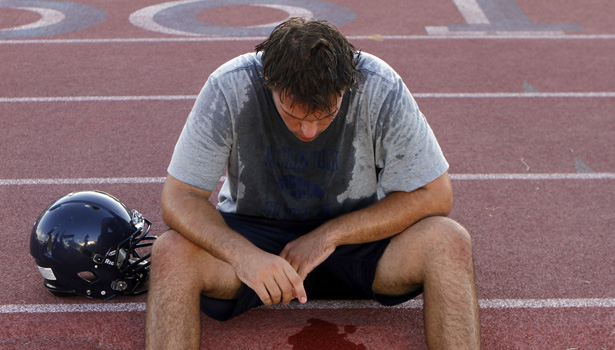 Reuters
For one school district in rural south Texas, there will be no Friday Night Lights.
Facing a state takeover due to slumping student achievement, Superintendent Ernest Singleton has canceled athletics -- including football -- for the Premont Independent School District, which serves the town's 2,700 residents. According to this terrific story by Christopher Sherman of the Associated Press, the Texas Education Agency was scheduled to assume control of the the district July 1. Premont won a brief reprieve, and is trying desperately to improve its shaky standing. Singleton intends to focus all of the district's limited resources on academics.
As the AP story makes clear, the picture is bigger than just disappointment and heartbreak for this year's varsity players at Premont High School. The future of the entire community might well be riding on whether Singleton is able to save the district -- one of the town's largest employers -- from closure. Frank Davila, a county constable who grew up in the area and also works as a school security officer, made this blunt assessment to the AP: "The school shuts down in this town, the town dies... This is all we have."
We know school districts nationally are struggling on many fronts: to satisfy the federal academic demands of No Child Left Behind, to prepare students for the demands of an ever-changing workplace, and to continue the business of education despite significant cuts to education funding. All of those elements are factors in what's happening in Premont. By eliminating the spring and fall sports schedule, Singleton estimated he would trim about $150,000 -- a significant savings, given that the district owes $400,000 on a line of credit..
One of the ironies here is that there is no shortage of research showing a positive connection between athletics and academics. Studies have long supported the notion that participating in organized sports improves students' attention spans, motivation and achievement. (For more on this topic, check out "The Case for High School Activities," published by the National Federation of State High School Associations.)
When I told Keith Lee -- chief operating officer for the National Consortium for Academics and Sports -- about what was happening in Premont, he was disappointed but pragmatic.
"We recognize that academics have to be the first priority," said Lee, from his office on the campus of the University of South Florida in Tampa. "I hope that all other options were explored, because the athletic experience of children in high school is very important to the educational health of students. It goes beyond just being an extracurricular activity. It's about character building and teamwork."
Lee knows something about teamwork. A football standout at his high school in Gardenia, Calif., Lee played defensive back professionally from 1980-86, spending the bulk of his NFL career with the New England Patriots.
He also knows the value of academics. When he was a senior and quarterback at Colorado State University, Lee was elected student-body vice-president, the school's first black student to hold a student government position.
While the AP story understandably focused on football given Texans' legendary passion for the game, Lee said he was concerned about all of the students who would also miss out on athletic opportunities. The research in support of school sports is particularly strong for girls, Lee said.
"When young ladies participate in sports, they have a higher level of self-esteem, self-confidence and self-worth," Lee said. "The experience of sports is beneficial beyond the scoreboard."
---
This post also appears at The Educated Reporter, an Atlantic partner site.