Spooks and Scribes: A Case of How the CIA and Media Can Get Too Cozy
An indictment accuses a former agent of sharing the names of an undercover agent and high-value terrorists with reporters.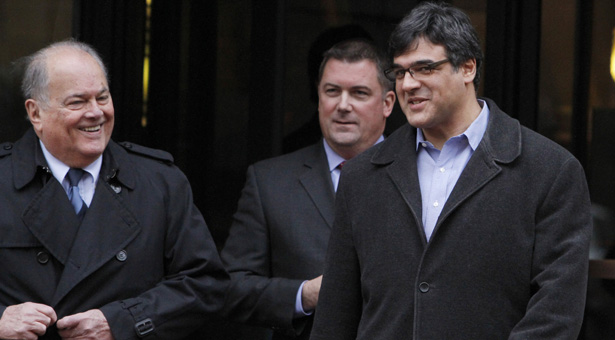 [Former CIA officer John Kiriakou, right, and his lawyers Plato Cacheris, left, and John Hundley, leave federal court. AP Images.]
The Justice Department has indicted a high-profile former CIA agent, John Kiriakou, accusing him of providing classified information to journalists and misleading the CIA while trying to get permission to publish a memoir about his time with the intelligence agency.
The 26-page indictment accuses Kiriakou of giving an unnamed journalist the name of a covert CIA agent, threatening the intelligence officer's safety and ability to work abroad. He is also accused of helping Scott Shane, the intelligence reporter for The New York Times, identify a second CIA agent and confirm the operative's role in interrogating a Qaida suspect named Abu Zubaydah.
The indictment shines a light on the shadowy, and sometimes legally questionable, communications between journalists, CIA operatives, and lawyers in high-profile terror trials. As National Journal first reported last November, the Justice Department is also investigating whether the CIA's former general counsel, John Rizzo, improperly disclosed classified information about the CIA's secretive drone campaign to Newsweek. Rizzo has yet to be indicted.
Kiriakou made a brief appearance at federal court Monday afternoon with his new attorney, Plato Cacheris, a well-known attorney who had once represented Monica Lewinsky. Kiriakou was released on his own recognizance after he surrendered his passport, agreed not to travel outside the Washington metro area, and co-signed a $250,000 bond with his wife and brother. Cacheris didn't reply to an email seeking comment. Eileen Murphy, a spokeswoman for The Times, declined to comment on Shane's role or any other aspect of the indictment.
In a letter to employees, meanwhile, CIA Director David Petraeus said he couldn't comment on the specifics of the Kiriakou case because it was an ongoing legal matter, but said "unauthorized disclosures of any sort--including information concerning the identities of other agency officers--betray the public trust, our country, and our colleagues" and "may put lives in jeopardy."
The Justice Department's charges against Kiriakou lay out, in detail, the former agent's allegedly extensive cooperation with a pair of journalists. They also raise new questions about the integrity of Kiriakou, who first achieved notoriety in 2007 for a television interview claiming that a top terror suspect had cracked within 35 seconds of being subjected to waterboarding. It later emerged that the suspect, Abu Zubaydah, had been waterboarded 83 times before cooperating, and that Kiriakou had no firsthand knowledge because he was thousands of miles away from where the interrogations took place.
The new indictment, based in part on e-mailed communications between Kiriakou and a pair of reporters, says that Kiriakou had initially told an unnamed journalist that he didn't recall the full name of a covert agent whose identity has been kept secret for two decades. Kiriakou later e-mailed the reporter with the agent's full name, the indictment maintains. "It came to me last night," Kiriakou wrote, according to the indictment.
The indictment acknowledges that the reporter never publicly identified the covert agent, but it accuses the journalist of e-mailing the operative's full name to a defense attorney for several of the high-value terror suspects held at Guantanamo Bay. Journalists routinely trade information with lawyers in exchange for details about the trials, but it's not clear in this case why the reporter would share a covert agent's full name or what, if anything, he or she received in return.
In the case of the second agent, Kiriakou is accused of helping Shane identify an operative involved in the capture of Zubaydah. Although the agent's name was not a secret, his participation in the operation had been classified. Shane--unnamed in the indictment but easily identified as "journalist B"--drove past the agent's house and called his wife in an effort to interview the operative. The indictment notes that The New York Times later named the agent, Deuce Martinez, in a front-page article by Shane in 2008. Several aspects of the indictment are unusual, including the accusation that Kiriakou--an experienced CIA agent himself--would identify a covert operative knowing the possible risks to that agent if his name became public. More prosaically, it's also strange that Kiriakou would be sloppy enough to send such information over e-mail, which can easily be recovered by government investigators.
The indictment isn't the first time that Kiriakou has received unflattering attention. In 2007, he told ABC reporter Brian Ross that Zubaydah had cracked within "30, 35 seconds" of being waterboarded --a form of torture which simulates drowning--and that "from that day one he answered every question." During the interview, Kiriakou strongly implied that he had first-hand knowledge of the interrogations.
Kiriakou repeated the claims in subsequent interviews with media outlets such as The Times and NPR, and his repeated assertions that waterboarding had quickly broken a hardened terrorist providing a boost to conservatives trying to argue that waterboarding was an effective and safe form of interrogation. "It works, is the bottom line," Rush Limbaugh said on his popular radio show the next day. "thirty to 35 seconds, and it works."
Kiriakou was hired as a paid terrorism and intelligence consultant to ABC News less than a year after the interview and later took a job with the Senate Foreign Relations Committee.
But a New York Times article in 2009 made clear that Kiriakou's claims were, at best, misleading. Zubayhah didn't talk after one short instance of waterboarding; he spoke after being subjected to it 83 times. Kiriakou didn't take part in the interrogations or even witness them in person. Instead, the paper reported, "He was not actually in the secret prison in Thailand where Mr. Zubaydah had been interrogated but in the CIA headquarters in Northern Virginia. He learned about it only by reading accounts from the field."
Kiriakou himself recanted most of the ABC News interview in a 2010 memoir, acknowledging that "I wasn't there when the interrogation took place; instead, I relied on what I'd heard and read inside the agency at the time." He also said it was unclear "how much useful information [Zubaydah] actually supplied." In the indictment, the Justice Department says Kiriakou tried to mislead the CIA's "by trick and scheme" before the publication of the book.
The indictment flatly accuses Kiriakou of lying on multiple occasions, including during an FBI interview last week. According to the indictment, FBI agents spoke to the former agent on January 19 and told him that the covert agent's name had been relayed to defense attorneys at Guantanamo Bay. Kiriakou denied helping journalists identify the agent or giving the reporters his name.
"How the heck did they get him?" Kiriakou told the agents, according to the indictment. "His entire career was under cover ... once they get names, I mean, this is scary."