In Alabama Case About Bad Lawyering, It's Ginsburg v. Scalia
The two old friends on the High Court disagree about how far justice should reach when a client is abandoned by his lawyers before appeal.
The two old friends on the High Court disagree about how far justice should reach when a client is abandoned by his lawyers before appeal.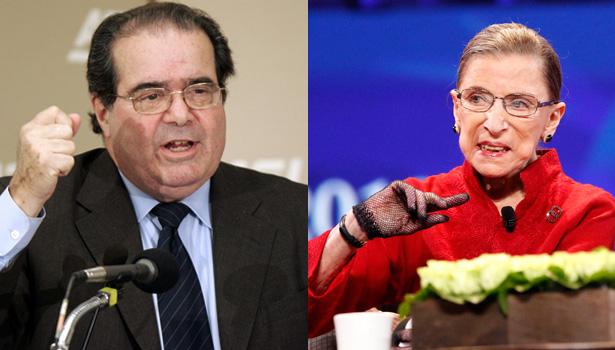 Composite Image/Reuters
Supreme Court Justices Antonin Scalia and Clarence Thomas dissented Wednesday from a capital case involving a death row inmate, Cory Maples, whose appeal was barred from substantive review because his lawyers had not timely filed a required "Notice of Appeal." The reason for the bad mistake was simple: the young lawyers who had been representing Maples had left the legendary law firm at which they had worked, Sullivan and Cromwell, without ensuring that Maples was adequately represented on appeal by their replacements.
(Colleague Garrett Epps has a great post here on the details of both the case and the ruling).
The Court's 7-2 majority opinion in Maples v. Thomas was written by Justice Ruth Bader Ginsburg and it is a straightforward affair. It's worth the read, after you've read Garrett's piece of course, for no other reason than it highlights to the world just how little states like Alabama do to ensure adequate representation for their capital defendants. But it was the short concurrence by Justice Samuel Alito which most concisely set forth the reasons why the Court decided that Maples deserves another shot at appealing his murder conviction and sentence.
Justice Alito wrote:
I join the opinion of the Court. Unbeknownst to peti­tioner, he was effectively deprived of legal representation due to the combined effect of no fewer than eight unfortu­nate events: (1) the departure from their law firm of the two young lawyers who appeared as counsel of record in his state post conviction proceeding; (2) the acceptance by these two attorneys of new employment that precluded them from continuing to represent him; (3) their failure to notify petitioner of their new situation; (4) their failure to withdraw as his counsel of record;


(5) the apparent failure of the firm that they left to monitor the status of petition­er's case when these attorneys departed; (6) when notice of the decision denying petitioner's request for state post­ conviction relief was received in that firm's offices, the failure of the firm's mail room to route that important communication to either another member of the firm or to the departed attorneys' new addresses; (7) the failure of the clerk's office to take any action when the envelope containing that notice came back unopened; and (8) local counsel's very limited conception of the role that he was obligated to play in petitioner's representation.
All of this was not enough to convince Justices Scalia and Thomas to give Maples another shot at making his appeal. So Justice Scalia turned his famous pen upon Justice Ginsburg, his pal, fellow elephant rider and opera enthusiast, and wrote this vintage dissent:
One suspects that today's decision is motivated in large part by an understandable sense of frustration with the State's refusal to waive Maples' procedural default in the interest of fairness. Indeed, that frustration may well explain the Court's lengthy indictment of Alabama's general procedures for providing representation to capital defendants, ante, at 2-4, a portion of the Court's opinion that is so disconnected from the rest of its analysis as to be otherwise inexplicable.

But if the interest of fairness justifies our excusing Maples' procedural default here, it does so whenever a defendant's procedural default is caused by his attorney. That is simply not the law--and cannot be, if the states are to have an orderly system of criminal litigation conducted by counsel. Our precedents allow a State to stand on its rights and enforce a habeas petitioner's procedural default even when counsel is to blame.

Because a faithful application of those precedents leads to the conclusion that Maples has not demonstrated cause to excuse his procedural default; and because the reasoning by which the Court justifies the opposite conclusion invites future evisceration of the principle that defendants are responsible for the mistakes of their attorneys; I respectfully dissent.
Here we see evidence of one of main ideological fault lines on the Court. Justice Scalia wants certainty and finality on appeal -- even if it means injustice to a capital defendant. Even Justice Alito's litany of errors -- eight of them! -- wasn't enough to convince Justice Scalia that Maples deserved more from his attorneys, the justice system, the High Court and the Constitution. Last week we saw how far Justice Thomas will go to skew the balance between prosecutors and defendants. This week we see how far lawyers must go in abandoning their capital clients before Justice Scalia will take notice and do something about it.