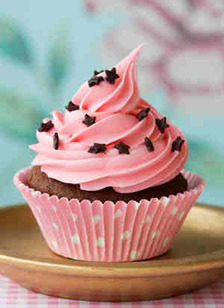 1) Thanks to all who sent pointers to last week's story of a woman whose cupcake was seized by an alert TSA screener in Las Vegas because its frosting was "gel-like" and therefore a potential threat. The woman, Rebecca Hains, was quoted as saying:

"The TSA supervisor, Robert Epps, was using really bad logic - he said it counted as a gel-like substance because it was conforming to the shape of its container."

"We also had a small pile of hummus sandwiches with creamy fillings, which made it through, but the cupcake with its frosting was apparently a terrorist threat...I just don't know what world he was living in," said Hains, speaking of the TSA officer.

Hains said she had flown from Boston to Las Vegas with two cupcakes without any problems....
"You'd expect them to be consistent. If they're doing what they claim to be doing and actually protecting travelers, they would be applying their rules using critical thinking. He gave no indication that really thought the cupcake was a threat."
That the story involves cupcakes -- and unthreatening hummus! -- makes it seem preposterous. But of course the underlying illogic and random-seeming combo of hyper-vigilance and "oh, never mind" attitudes defines "security theater" more generally.
2) Thanks to Steve Clemons of the Atlantic for his reference to my ongoing TSA struggles, plus his explanation of the bigger picture.
3) Thanks to Charles Mann, frequent contributor of excellent Atlantic articles over the years, for a piece in the new Vanity Fair about security theater, featuring a trip through an airport with Bruce Schneier, the man generally credited with coining the term "security theater." The Atlantic's Jeff Goldberg took a memorable similar trip a few years ago. Mann's conclusion:

To walk through an airport with Bruce Schneier is to see how much change a trillion dollars can wreak. So much inconvenience for so little benefit at such a staggering cost.

4) Thanks to Michael Grabell and Pro Publica for an ongoing series of tough investigative articles about the TSA's rushed approval of the new "enhanced" X-ray scanning machines. I'd meant to write about Grabell's first story when it appeared; it emphasized how these machines were being installed and used on a broad scale, far ahead of epidemiological data about possible radiation risks. Eg:

[An X-ray scanner's] inventor, Steven W. Smith, assured the panelists [back in 1998] that it was highly unlikely that the device would see widespread use in the near future. At the time, only 20 machines were in operation in the entire country.

"The places I think you are not going to see these in the next five years is lower-security facilities, particularly power plants, embassies, courthouses, airports and governments," Smith said. "I would be extremely surprised in the next five to 10 years if the Secure 1000 is sold to any of these."

Today, the United States has begun marching millions of airline passengers through the X-ray body scanners, parting ways with countries in Europe and elsewhere that have concluded that such widespread use of even low-level radiation poses an unacceptable health risk.
Grabell has followed up with reports on new testing of the machines' safety, a delay in those tests, and doubts about their efficacy in detecting real risks.