Will Massachusetts Legalize Physician-Assisted Suicide?
A measure on the 2012 ballot could mark a major step for the right-to-die movement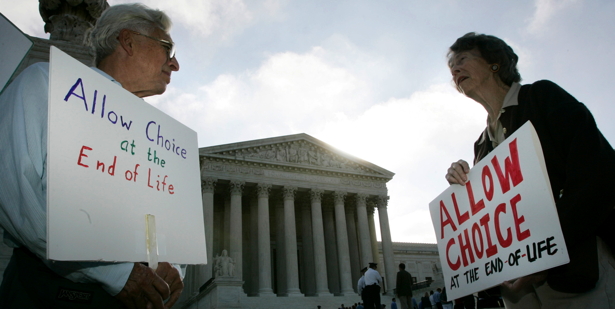 Reuters
It may end up on the ballot in Massachusetts next November, a question that has already polarized many in the state. It's short, yet not so simple: Should the terminally ill have the right to physician-assisted suicide? Some think the question would give voters the opportunity to play God. Others think it's long overdue.
The legislation is titled the Death With Dignity Act. It would allow adults who have been given less than six months to live by two different doctors the opportunity to terminate their lives. There are many hurdles that a patient would need to clear. For starters, the first request by the patient must be in writing, and then it must be made verbally -- twice . The patient must be advised on alternative options, such as hospice care. And if the patient ultimately decides to go through with it, someone other than a doctor must administer the prescription. (Involving the medical profession would raise a completely different set of legal issues.)
If the Death With Dignity Act passes, it will make Massachusetts the fourth state in the country to permit physician-assisted suicide. (Washington and Oregon have laws on the books, and Montana's court ruled that it not be expressly forbidden.) This small but distinct trend marks a shift for a country where, for the past two decades, physician-assisted suicide has been a very long four-letter word of sorts. Since the 1990s, when Dr. Jack Kevorkian helped 130 people end their lives using a death machine of his own invention, the concept of euthanasia for the terminally ill has brought shudders to countless people. However, the efforts in Massachusetts suggest that not all Americans view physician-assisted suicide as something sinister.
It may help that other countries have begun legalizing the practice. There are currently six nations that permit physician-assisted suicide: Luxembourg, Belgium, the Netherlands, Albania, Colombia, and Switzerland. Each nation has its own unique rules dealing with the process. However, Switzerland--which has legally permitted physician-assisted suicide since 1940--remains the only country that allows foreigners to receive help in terminating their lives. A Swiss assisted-suicide clinic called Dignitas has accepts foreigners, even those who have untreatable clinical depression. (See the March 2010 Atlantic feature story "Death Becomes Him.")
As Dignitas has gained mainstream attention, residents of other countries have been moved to overturn their own laws. In a case that opened Tuesday, the British Columbia Civil Liberties Association is challenging Canada's prohibition against helping mentally competent adults commit suicide. The lawsuit includes four other plaintiffs, including the daughter of Kathleen Carter, an 89-year-old woman who had to travel all the way to Switzerland to receive physician-assisted suicide. Carter had been diagnosed with spinal stenosis, a narrowing of the spinal column. According to her daughter, the pain was debilitating, her life was spent in a wheelchair, and it was not long before she would be confined to a bed. Dignitas provided Carter with a lethal dose of medicine, which she took herself. While her family was relieved to see her pass away peacefully, it cost a total of $30,000, including travel fees, to achieve that result. The case was filed in British Columbia's Supreme Court, though it's expected to wind up with the Canadian Supreme Court.
In the UK, the right to physician-assisted suicide has been a hotly contested issue for years. Scottish Parliament member Margo McDonald has taken steps towards introducing legislation that would legalize physician-assisted suicide. A similar bill was sponsored by McDonald last year, though it was ultimately defeated in Parliament. In England and Wales, the penalty for assisting a suicide is up to 14 years in prison. Other countries are taking small steps in the same direction: Australia passed a law in its Northern Territory to permit physician-assisted suicide, though it was repealed after nine months in 1997. And just three years ago, Mexico passed a law that allows doctors to withhold life-sustaining medicine with a patient's consent.
In America, the debate over physician-assisted suicide has been going on since 1906, when Ohio debated whether to make the practice legal. But serious efforts to legalize the practice began in 1994, when voters in Oregon passed the state's Death With Dignity law. There was an attempted repeal, but the legislation was finally enacted in 1998, and in the 2005 case of Gonzales v. Oregon, the Supreme Court upheld the legislation by a vote of 6 to 3. The court ruled that the Attorney General couldn't prohibit doctors from prescribing lethal medicines in a state where physician-assisted suicide was allowed.
For nearly a decade, Oregon was the only state with physician-assisted suicide laws on its books. But over the past three years, that has changed. Washington state passed its own Death With Dignity Law, available to residents who have fewer than six months to live. Just one year later, the Montana Supreme Court dealt with the issue. By a vote of 4 to 2, its court found that nothing in the state law prohibited physician-assisted suicide.
While no other state court has handed down a ruling as explicit as Montana's, there are 11 states in the U.S. that have no laws expressly forbidding physician-assisted suicide, and Massachusetts is currently among these. But there are many vocal opponents within the state. In a recent press release from the Archdiocese of Boston, the state's Roman Catholic Bishops asserted that they "stand firm in the belief that a compassionate society should work to prevent suicide, which is always a terrible tragedy, no matter what form it may take." In their view, helping to terminate a life under any circumstances is anything but compassionate.
For now, advocates of physician-assisted suicide have their work cut out for them. In order for the measure to end up on the ballot, they'll need to gather nearly 70,000 signatures and clear a number of other hurdles. If they succeed, Massachusetts voters may soon play a key role in determining the fate of physician-assisted suicide, both in America and around the world.