What America Looked Like: '70s Hitchhiker Longing for a Ride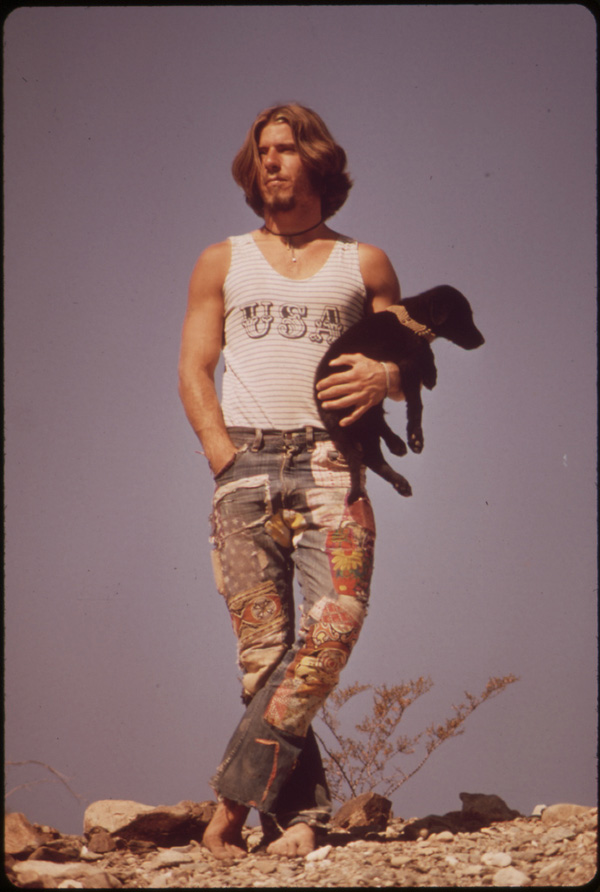 National Archives
It's a warm May day in Arizona, and this man, wearing patchwork jeans and holding a puppy name Tripper, is hoping to catch a ride from a stranger. The year is 1972, and even in the waning days of hippie culture, this hitchhiker appears free-spirited to his core, foregoing shoes in the hot desert sands on the side of Route 66.
Today, images like this -- of longhair, carefree 20-somethings waiting for the generosity of a stranger on the side of the road -- are rare.
Hitchhiking first became popular during the Great Depression, when vehicles were scarce and transients were numerous. But those were simpler times. Once romanticized by Jack Kerouac and the beat generation, hitchhiking has since been cast in a darker light.
Horror stories
 told from the viewpoints of both drivers and hitchers abound. Because of this perceived risk, hitching has lost nearly all of its value and romantic image. In a recent
Freakonmics
podcast, statistician Bill James 
explains
 that hitching
drove itself out of existence. Basically nobody hitchhikes anymore. ... And the real danger was not hitchhiking; it was the fact that you had a certain number of random crazy people who will hurt you. As long as you have the same number of random crazy people you have the same number of violent crimes, and eliminating hitchhiking doesn't, in my opinion, do anything to change that. So, it was a social change that protects the individual.*
This, combined with the expansion of a well-patrolled, pedestrian unfriendly interstate highway system, curbed the practice. And also let's not forget that today's 20-somethings were trained as school children not to get into cars with strangers. So it's likely that the carefree and adventurous days of thumbing for a ride are road dust.
*Correction: an earlier version of this post
mistakenly attributed this quote to Steven Levitt.