What America Looked Like: 1920s Airmail Pilot Suited-Up in Winter Gear
In the 1920s, airplane pilots enjoyed something of a celebrity status, which might explain why U.S. Mail Service pilot William C. Hopson posed here as he would for the cover of a magazine. But he had no glamorous job. Pilots had to fly in all types of weather, and in its first two years of operation, the service lost 20 members. The airmen were well-compensated for their risk; the average pilot earned $3,600 a year and was also paid five to seven cents for each mile he flew. (The average family income hovered around $1,300 a year.)
Story continues after the image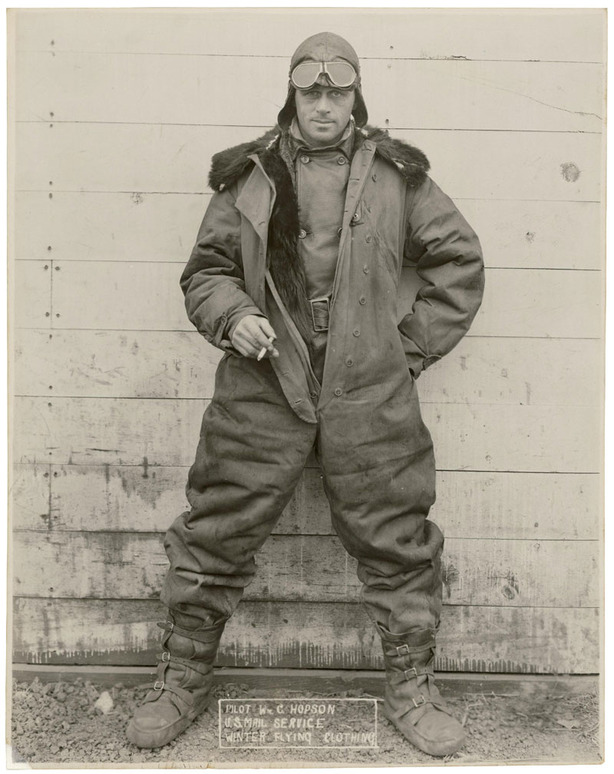 In 1918, the first air mail route was established between New York and Washington, D.C. In two years' time, the advantage over rail-mail became significant, as the
New York Times
reported:
The Air Mail can be twelve hours behind its schedule from New York to San Francisco and still beat the train mail into the Golden Gate City by twenty hours if the train connection is made at Chicago, and by forty-four hours if that connection is missed.
In the service's early days it was even suggested that airplanes deliver to post offices directly, either by dropping packages onto their roofs or taking off and landing on the roofs. In 1918, Superintendent of Mails E. M. Norris told the Times about a merry-go-round rooftop plane launcher in the works:
Some time ago... representatives from two airplane factories measured the roof of the Post Office and said that it was practicable for airplanes to start and alight there. They wanted a fifty-thousand-dollar apparatus built, something like a merry-go-round, by which the airplanes could be spun around until their propellers attained sufficient speed and then be released.