Wanamakers at 100: The Glory of Commercial Romanticism
The early 20th century department store was more than a retailing machine. It was almost a house of worship.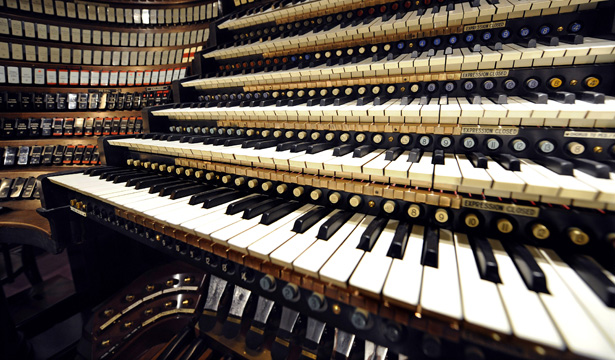 The console of the Wanamaker Grand Court organ, which has six keyboards as well as a pedal board that is played with the feet, controls the world's largest playable pipe organ/ REUTERS
The Philadelphia Inquirer celebrates the centenary of one of the world's most notable retail buildings, Wanamaker's. Although retailing space has been downsized to a Macy's in the original grand first three stories, and most of its 1.9 million square feet are now filled with private offices, the once legendary department store edifice retains its unique aura as a proud survivor.
"It's a fantastic building . . . one of the most incredible," said Stephen J. Gleason, executive vice president of Amerimar Enterprises Inc. in Philadelphia, whose company owns the building and who visited the famous Wanamakers light show as a child.

"It's a cliche, but they don't build buildings like this anymore," Gleason said. "From the gold leaf in the lobby to the beautiful column capitals and the dentil moldings throughout the space, the ceiling height, it would be cost-prohibitive, if not impossible, to replicate."
The early 20th century department store was more than a retailing machine. It was almost a house of worship, a form of material uplift, built with the supreme confidence that art and craft would inspire traffic and sales. (A short history of the founder and his successors is here.) If this sounds exaggerated, listen to one of the organ concerts that are still presented, thanks to restoration by Macy's and the support of music lovers. It took 13 railroad cars to bring parts for the assembly of the original instrument, originally built for the 1904 St. Louis World Fair, and a triumph of electro-pneumatic control.

Capitalism is supposed to be rational, despite recent evidence to the contrary. What was glorious about late 19th and early 20th century America was how many individuals, families, and companies literally pulled out all stops for the sake of glory and civic pride, assuming buildings and organizations would go on forever. We shouldn't forget the organ's builder, Murray Harris, so committed to the project that his company went bankrupt.