Should History Be Black-and-White?
Monochromatic images are still a viable medium for recording present-day events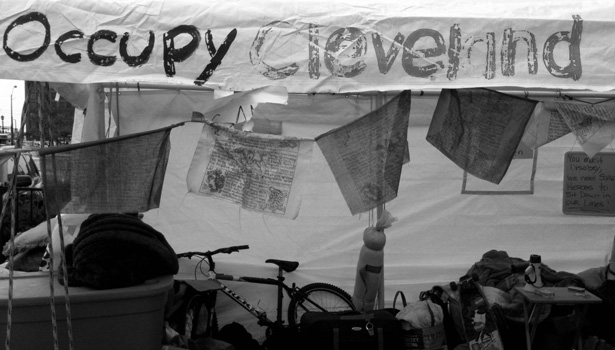 historianseye.commons.yale.edu
Under the headline "The 1930s -- Sexiest Decade in Clothing?" the
New York Times
considers the fashion of the era in a new production:
"Everybody imagines the Dust Bowl era in sepia and gray," says Tobin Ost, the scenic and costume designer for "Bonnie and Clyde," which opens on Broadway tonight at the Gerald Schoenfeld Theater. "But dyes certainly existed back then, color was very much alive and well."

This reminded me of a question asked of the Yale American Studies professor Matthew Frye Jacobson, when he lectured at Princeton this week on his new online documentation project, "Historian's Eye." Most of his own photographs of the Occupy movement and of signs of economic distress were in black and white. As the Daily Princetonian reported:
Jacobson . . . said he had been criticized for only using black and white photographs, because "color is data." But he explained that, in our cultural and advertising landscape, to use black and white is to "announce [that the images] are requesting a certain kind of attention."

"It's an important aesthetic to the website," he said.
This is true, but I don't think the problem is just a matter of lost or retained data. It's really the cultural conditioning and framing of black-and-white and the selection of what has become a niche aesthetic, which black-and-white was not in the 1930s. People not only in the 1930s but a even hundred years ago yearned for all the color images they could get, sometimes through hand tinting. Even perceptive black-and-white photographers recognized a hopeful and resilient side of the 1930s that is certainly present in the Farm Security Administration work of masters like Dorothea Lange and James Agee. My own favorite from the decade is the German-Jewish refugee John Gutmann, whose European perspective let him see the exuberant and hopeful side of America alongside its distress. Gutmann didn't present a rosy Chamber-of-Commerce view, yet he had a genius for showing not just suffering and protest (which he documented abundantly) for recognizing humor and creative adaptation. Above a gathering of unemployed men in New York is a sign announcing opening of a Polish operetta.
I live in the Route 1 Corridor, and while there is certainly blight, with empty stores in malls, the main problems along much of it are sprawl and traffic. Any future Martians looking at the Historian's Eye page would think we were instead a ghost town. In fact, as Professor Jacobson himself noted, today's chronically unemployed might be applying for jobs with WiFi laptop in a Starbucks. But every era has its own challenges for creative photography, and open-source projects like "Historian's Eye" are an excellent way to encourage them.