More Holiday Gift and Giving Ideas
Inspired by The Atlantic's 2011 Holiday Gift Guide in which our food and culture senior editor Corby Kummer curated gift idea offerings from the great and the good, I have some ideas of my own.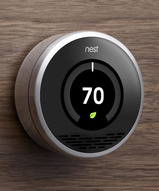 But to remind,
Arianna Huffington
wants an
old-fashioned analogue alarm clock
; former Blogger and Twitter CEO
Evan Williams
wants a Nest
learning thermostat
;
Nora Ephron
wants an extra freezer; former Senate Majority Leader Tom Daschle
a kayak
; British Ambassador to the US
Nigel Sheinwald
Bose headphones; and
Zeke Emanuel
(yes, the other brother) wants a
Yemenite mezuzah
.

I've already suggested two Civil War related ideas given the 150th anniversary this year of that national, bloody tear -- first The Atlantic's special commemorative issue titled The Civil War as well as Adam Goodheart's brilliantly crafted 1861: The Civil War Awakening.
But one of the gifts I just received from one of my colleagues (but there is no bias in this recommendation) is an attractively labeled bottle of Bully Boy Massachusetts concocted organic vodka.  Here are the online retailers for Bully Boy.  Great stuff.  Mixes well.
When we asked Arianna, Ambassador Sheinwald, Senator Daschle, Evan Williams and others what they wanted for the holidays -- we also asked them to let us know what their favorite charity was.
Zeke Emanuel told us he supports Mazon, a Jewish charity that distributes food.  Arianna focused her spotlight on the Acumen Fund which invests in start-ups from Karachi to Kenya.  Tom Daschle gives to Southwest Youth and Family Services of Seattle.
Awesome.  In that spirit, my significant other and I host a fairly large, DC-style holiday party each year, asking all who come to bring with them canned food and other non-perishables which we donate to Food and Friends, which helps foster a community of care for those living with HIV/AIDS, cancer and other life-challenging illnesses.

The folks at Food & Friends do a terrific job preparing and delivering meals -- and some of these non-perishable items in packages -- to those on their care rosters.
Last night, when Andrew and I were packing up the pick-up truck bed full of cans and boxes, we found a check for $1,000.00 from a friend made out to Food & Friends saying that this might be more help than then cans.  Thanks so much Walt.  Moving.
Giving and getting need to go together.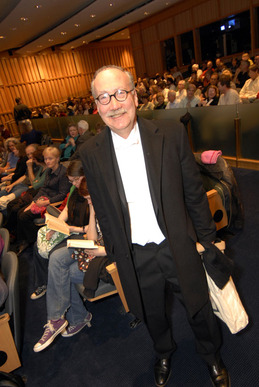 Ok, back to what I'd like to have on my holiday gift list -- or what I might suggest for yours.
Among those interesting people who showed up at our holiday party was Marc Pachter, long time and former director of the National Portrait Gallery in Washington who is simultaneously brilliant and humble -- and just knows so much.  I didn't get to spend enough time with Marc at the party -- so one of the gifts I want for the next year is a long dinner and night cap with this amazing intellectual.  He not only spent much of his life collecting and curating the images of our nation's great and good -- but interviewed J. William Fulbright, convinced Julia Child to allow her kitchen to appear as an avant-garde portrait en masse of her life and contributions, and engineered the hanging of Stephen Colbert's picture of himself near the bathroom door of the Portrait Gallery.
I do a lot of interviewing of folks -- sometimes on camera and some times just to learn.  Watch this TED interview with Marc Pachter who shares wonderful insights about the art of the intimate interview.  It's been watched 150,000 times -- three times by me.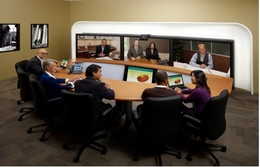 This gift of quality time with Pachter is probably one I can arrange on my own -- but what I need some help on and probably won't get but would love is
Cisco's TelePresence System 3010
.  I'm not sure what this costs rack rate, but have been told for friends and family, it's around $30k.  I know, pricey -- but it completely changes the way one interacts with others who are 7,000 miles away.  I do love video skype, but when one is sitting across from three screens that have life-sized images of the people sitting at the same height and level you are -- and you can share data and drawings and smiles and photos in real time, almost as if in real life -- you would always prefer that over getting on a plane and spending a day or two traveling no matter how much you loved the miles.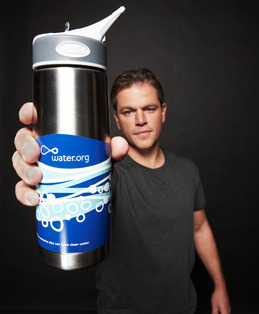 I went to see how the Cisco TelePresence system worked the other day and told them that they should start an affinity program of points given to people for miles they didn't fly by using the system.  I'm sure that there are some downsides with this system that some informed tech writer might have pointed out -- but I can't find any.  I love this system and want one.  I wonder if President Obama has one.
If I did get a Cisco platform like this or was even able to borrow it now and then, I'd organize live chats with Matt Damon on his global work with Water.org; would chat about Brazil's demands to play a larger role in global governance with the very impressive Brazilian Foreign Minister Antonio Patriota; and would talk with women active in the Nablus, Palestine-based Tomorrow's Youth Organization that I think is doing amazing work in an area of the world too many are ignoring.
So that's what I want.  Maybe Cisco will just let me visit one of these things now and then;  And maybe get Matt Damon on line on the other end.  I'll even see the movie.
Merry Christmas, Happy Hannukah, Happy New Year!