Iconic Imagery and The Atlantic's Civil War Coverage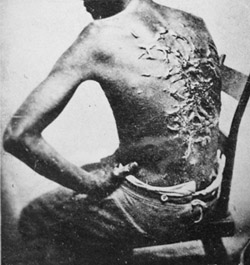 Perhaps the most striking photograph in The Atlantic's commemorative Civil War issue is a grainy sepia print of a slave sitting with his back exposed, revealing a lattice of raised marks that look more like tree bark than skin. By itself, the portrait tells a horror story of enslavement and it was widely circulated as propaganda among abolitionists, but not in The Atlantic itself.
In a recent segment on NPR's
All Things Considered
,
Atlantic
 editor James Bennet tells Michele Norris that one of the goals of this issue was to juxtapose the magazine's archival essays with provocative images from the time:
NORRIS: Though The Atlantic Monthly did not carry photos in the mid-eighteen hundreds, James Bennet says the photo of that slave called Gordon captured something early editors tried hard to convey through words.

BENNET: The editors of the magazine were trying to combat a particular image of Southern propaganda about the life of slaves, that this was a fundamentally benign institution, that the slaves benefited from the master-slave relationship and actually liked it, and they were out to do everything they could to expose the horror of this institution the way this photograph does.

NORRIS: Essays about the Civil War from before that war was history are what give the commemorative issue of The Atlantic so much weight. Louisa May Alcott spins a tale about the grim reality of life inside a Union hospital. Oliver Wendell Holmes, Sr. writes about the desperate search for his son, the future Supreme Court justice who'd been shot through the neck.

But almost absent are the voices of slaves, even though their bondage was at the heart of the Civil War.  
Listen to the whole segment on NPR