Christopher Hitchens Dead at 62
He's the only writer that I've ever written a fan letter to. It was a year and a half ago, give or take a couple of months, and I was on the train heading deep into the suburbs of Chicago to visit my parents when I was moved to tears by a first-person account of his struggle with cancer that he had written for Vanity Fair. Over the years, he had put together some stunning first-person accounts: getting waterboarded, reading his way through the Girl With the Dragon Tattoo trilogy, and subjecting himself to audiobooks—but nothing like this. Dealing with esophageal cancer, Hitchens kept on doing the only thing he was certain he knew how to do: write. He wrote his way through the disease. Unfortunately, some things, it turns out, are more powerful than words.
He fought, though, to prove that wasn't the case. His columns would appear (almost) every week in Slate. His first-person essays in Vanity Fair every month. And, on occasion, he would turn up to critique a new release (or releases) in the Books section of The Atlantic. His essays, as powerful as ever in terms of quality of writing and strength of argument, would feel like something else entirely because dear reader knew that his or her narrator was fighting to push out the words, to craft the sentences.
Related Story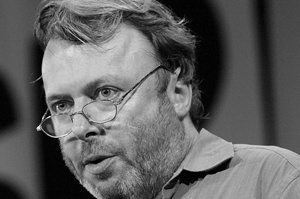 This shouldn't be surprising. Anybody bothering to read this knows that Hitchens's work ethic was legendary, his abilities unmatched. During lengthy interviews, the interviewer would ask for a break—to visit the bathroom and fetch a glass of water—and Hitchens would scurry off to his in-home office in Washington, D.C.'s Dupont Circle to pound out a piece (or two!) on his keyboard. In his last piece for Vanity Fair, Hitchens looks as gaunt and tired as ever, clearly fighting an unbeatable disease. But I was naive enough to think that he would never leave us—and I don't think I was alone.
I have been more moved tonight over Twitter than ever before. I write this from a hotel in Austin. I had just finished drinking a very smoky scotch at the hotel bar with a fine lady from Minnesota (Hitchens, I think, would approve), when I returned to my room to learn of this news. And I cried. For the first time in a long time, I cried. I saw the messages pour in and realized that this man will be sorely missed. But he will not be forgotten.
---
4:00 p.m.: This post originally indicated that The New York Times stopped the presses to redraw A1 on the news of Hitchens's death. While the paper did accommodate this late-breaking news into a later edition, it did not, in fact, stop the presses. We regret the error.