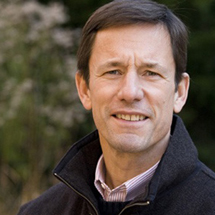 President and CEO of the Nature Conservancy Mark Tercek admits that he was a late bloomer when it came to nature. A city kid from Cleveland, Ohio, his passion for nature didn't fully develop until an eye-opening trip to Costa Rica with his wife and kids. From there, Tercek decided to learn as much as he could about the threats to nature that he saw firsthand on his travels with his family.
In 2008, Tercek took the full leap into the conservation world, leaving a 24-year career at Goldman Sachs that included leading the firm's efforts to develop and promote market-based solutions to environmental challenges. Since taking the helm at the Conservancy, Tercek has emphasized a sharp focus on priorities and finding new, innovative ways to maximize the organization's conservation return on investment. Here, Tercek discusses conservation that pays for itself; expanding conservation's appeal; and how protecting nature can help us solve the biggest challenges of our time.
What do you say when people ask you, 'What do you do?'
The Nature Conservancy conserves the lands and waters on which all life depends.
What new idea or innovation is having the most significant impact on the sustainability world?