A Conversation With Mark Tercek, CEO of the Nature Conservancy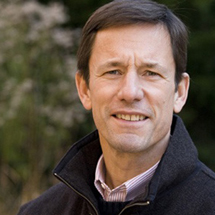 President and CEO of the Nature Conservancy Mark Tercek admits that he was a late bloomer when it came to nature. A city kid from Cleveland, Ohio, his passion for nature didn't fully develop until an eye-opening trip to Costa Rica with his wife and kids. From there, Tercek decided to learn as much as he could about the threats to nature that he saw firsthand on his travels with his family.
In 2008, Tercek took the full leap into the conservation world, leaving a 24-year career at Goldman Sachs that included leading the firm's efforts to develop and promote market-based solutions to environmental challenges. Since taking the helm at the Conservancy, Tercek has emphasized a sharp focus on priorities and finding new, innovative ways to maximize the organization's conservation return on investment. Here, Tercek discusses conservation that pays for itself; expanding conservation's appeal; and how protecting nature can help us solve the biggest challenges of our time.
What do you say when people ask you, 'What do you do?'
The Nature Conservancy conserves the lands and waters on which all life depends.
What new idea or innovation is having the most significant impact on the sustainability world?
Conservation that pays for itself. In Latin America, for example, we developed an innovative mechanism through which utility companies, breweries, and other downstream water users voluntarily provide funding for the conservation of forests and watersheds upstream. The companies save money by preempting the need for more costly water treatment activities, while water resources are kept healthy and flowing for local communities. The concept is so elegant and powerful that we are now replicating it throughout Latin America and beyond.
What's something that most people just don't understand about your area of expertise?
Conservation of nature is sometimes viewed as a luxury afforded only by the affluent. We need to better measure and articulate the many ways our work benefits people. Nature is not a luxury. It provides vital services -- food, clean water, shelter, income -- essential to everyone's health and well-being.
What's an emerging trend that you think will shake up the sustainability world?
Businesses and governments are beginning to realize that conservation isn't just good for nature, it's good for people. There is a growing understanding of nature as a kind of infrastructure that underpins human well-being and economic prosperity. It's a powerful idea that I believe will lead to greater investment in nature as a solution to some of the world's most pressing global challenges --  climate change, water scarcity, food security, and sustainable infrastructure and energy development.
What's a sustainability trend that you wish would go away?
Vilifying big business. In my view, environmental organizations can play an important role in guiding companies whose decisions affect the places we want to conserve. It's companies with big environmental footprints whose behavior we ought to help change.
What's an idea you became fascinated with but that ended up taking you off track?
I like to write songs and sing them and play guitar. I've even performed at clubs a few times. But fortunately I never quit my day job.
Who are three people or organizations that you would put in a Hall of Fame for your field?
E.O. Wilson (biologist), the late Wangari Maathai (activist), and Bob Wilson (philanthopist).
What other field or occupation did you consider going into?
I considered a second career in global development. In fact, I think there is a big opportunity for the conservation organizations to work more closely with groups like Oxfam or CARE.
What website or app most helps you do your job on a daily basis?
Blogs like Grist keep me up-to-date on the latest environmental news.
What song's been stuck in your head lately?
"Boom," by Wild Flag.