A Conversation With M. Sanjayan, Nature Researcher and TV Host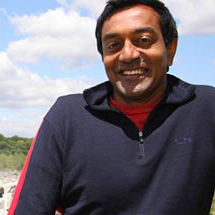 A frequent guest on NBC's
Today Show
and host of several documentaries for the BBC and the Discovery Channel, including
Mysteries of the Shark Coast
and
Expedition Alaska
, M. Sanjayan is the lead scientist at the Nature Conservancy and a faculty researcher at the University of Montana. His scientific work has been published in
Nature
,
Science
, and other journals, and he serves as Catto Fellow with the Aspen Institute. Here, Sanjayan discusses why his work is about people more than wildlife; how the combination of youth impatient for change and technology will spark a revolution; and the idea that sustainability is no longer relegated to corporate social responsibility, but is simply good business.
What do you say when people ask you, 'What do you do?'
I know that no matter what I tell them they will end up thinking I have the best job in the world. I am one of the chief storytellers for the world's biggest conservation organization, and a thought leader for global conservation. Traveling on all continents, I look at new models for conservation, tweak them, measure the results, scale applications, and tell the world about it. I also host TV documentaries designed to influence how we live on our planet.
What new idea or innovation is having the most significant impact on the sustainability world?
First is the idea that, for big companies, sustainability is no longer relegated to corporate social responsibility but is simply good business. If you want to sell to seven billion, you have to reduce uncertainty and risk around basic natural resources. Second, the rural poor are going to play a bigger role in determining the fate of the planet. The fragmentation of social work (jobs, health, environment) is going to disappear and more holistic approaches will take its place. After all, people simply want the opportunity for a slightly better life without ruining the shared resources we all depend on. What logo is on your hat is becoming irrelevant -- that's the essence of sustainability.
What's something that most people just don't understand about your area of expertise?
My work is about people way more than wildlife. I studied genetics during my Ph.D. I have a research faculty position at a top wildlife school -- The University of Montana. Still, I see managing nature as an oxymoron. It's people who need management. Sure, I do sometimes get the chance to tackle a shark or dodge a rhino -- those are precious moments -- but what's most valuable is the stuff I gain from the folks I meet along the way.
What's an emerging trend that you think will shake up the sustainability world?
Youth and technology. Kids are impatient for change. Alone, they are powerless, but collectively, all bets are off. Technology makes it possible for kids not to just do good, but tell others about it. That's a revolution.
What's a sustainability trend that you wish would go away?
Green. I sort of don't even like the color.
What's an idea you became fascinated with but that ended up taking you off track?
The thing about obsessions is that they don't really take you off track. You just have to bend reality to fit. A decade ago I became obsessed with measures. How do we measure conservation and how do we use those measures to improve business decisions? A mentor of mine, Seth Neiman of Cross Point Venture Partners, first made me realize that measuring performance was everything. I was hooked. Many iterations later, and with help (that had little to do with me), we now have a measures program at the Conservancy that keeps getting better. Currently, I am fascinated with using technology to deliver a social learning experience around nature and science to kids. We are sitting on a ton of science content and the pipeline is already built -- it's just waiting to happen. If you really are fascinated with something and it takes you off track, well, then change the destination.
Who are three people or organizations that you would put in a Hall of Fame for your field?
Scientist Peter Kareiva: a brilliant thinker, makes a profound impact in a subversive way, challenges conventional thinking. Michael Soule, father of conservation biology, who made it OK for scientists to use words like "love" and "empathy." And Wangari Maathai, who showed that saving the world we live in is not just a "white man's burden."
What other field or occupation did you consider going into?
As a kid: zookeeper or pilot. When I grow up: author. Sometimes I can't believe I actually get paid for what I do. I don't think I am smart enough for anything else, so it's all a minor miracle.
What website or app most helps you do your job on a daily basis?
Twitter and nature.org -- but it's hard to beat Google for quick info.
What song's been stuck in your head lately?
Right now, it's "Until You Remember," by Tedeschi Trucks Band. There is not a bad song on their album, Revelator -- the guitar is sublime and the vocals are awesome.