A Conversation With Clay Nesler, Johnson Controls Vice President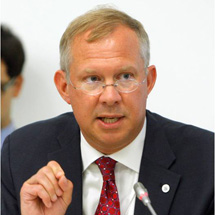 You can save about $180 per year and reduce greenhouse gas emissions by simply monitoring your home's heating and cooling settings, according to the Environmental Protection Agency (EPA).
One of the easiest ways to save money and energy in your house was made possible when Warren S. Johnson invented the electric room thermostat in 1885. More than 125 years later, his namesake company, Johnson Controls, remains committed to sustainability in building efficiency.
Mechanical engineer Clay Nesler has worked for Johnson Controls for more than 30 years and is the company's vice president for global energy and sustainability. A co-inventor on 10 patents, Nesler is now responsible for energy and sustainability strategy, policy, and innovation, and the Johnson Controls Institute for Building Efficiency.
He has traveled the world speaking from Capitol Hill to the European Parliament and in such major forums as the Clinton Global Initiative, the U.S.-India Energy Partnership Summit, the World Climate Summit (Cancun, Mexico), the World Future Summit (Abu Dhabi), the U.N. Climate Change Conference and the U.N. General Assembly.
What do you say when people ask you, "What do you do?"
I am saving the planet for fun and profit.
What new idea or innovation is having the most significant impact on sustainability?
The emergence of software applications to help manage sustainability is starting to have a large impact.
Johnson Controls, like many companies, started using spreadsheets to track our energy use and emissions inventory. When you manage sustainability for a global enterprise with hundreds of facilities around the world, a spreadsheet doesn't really cut it. We are now able to manage our sustainability data on an enterprise basis and can even compute the energy, water, and waste used per unit of manufacture at each factory on a monthly basis.
What is even more exciting is the use of technology to integrate real-time data from different systems, visualize the data in customized dashboards, and then identify opportunities for further reductions. Within our own facilities, we have seen great potential to leverage these technologies to continuously improve our sustainability performance.
What's something that most people just don't understand about your area of expertise?
Most people believe that sustainability costs extra and that you are trading off financial returns for environmental or social benefits. In the area of energy efficiency, it is clear that you can achieve all three of the "triple bottom line" returns from a single investment. Energy efficiency investments in buildings are like bonds producing double-digit returns with the earnings (energy savings) guaranteed when implemented by a credit-worthy energy service company.
What's an emerging trend that you think will shake up the sustainability world?
I am really excited about supply chain emissions reporting. I know that it is going to be challenging, but I think reporting direct and indirect emissions provides an incomplete picture of a company's total environmental impact. We are in a business that makes products that require more energy to manufacture but result in significant energy reduction through use. As we sell more of these products, our direct and indirect emissions increase (which looks bad on the surveys), but the planet's overall emissions decrease dramatically. We need to account for the total impact across the entire life cycle of products and supply chain of companies in a more rigorous and standard way.
What's a sustainability trend that you wish would go away?
That's easy -- sustainability surveys. We spend incredible amounts of time responding to surveys from customers, investors, and NGOs that are 80 percent similar but just different enough to preclude standard responses. This is an area where standardization would make a lot of sense and save companies and organizations a lot of time and money that would be better spent actually improving sustainability.
What's an idea you became fascinated with but that ended up taking you off track?
When I first took my energy and sustainability role, I became convinced that monetizing energy efficiency through energy efficiency certificates would solve all of the industry's energy efficiency financial barriers. Although we have reduced greenhouse gas emissions for our customers by almost 17 million tons since January 2000 through guaranteed energy savings projects, we have unfortunately not been able to monetize more than a tiny fraction of the reductions.
Who are three people or organizations that you would put in a sustainability Hall of Fame?
This is a difficult question because sustainability is so broad. I have been very impressed with cities lately as a model for sustainability leadership and action. Melbourne, Australia, comes to mind as a city that has adopted a series of policies that encourage improved environmental performance both for their own facilities and operations as well as providing "carrots and sticks" for the private-sector to improve their sustainability as well.
In addition to Melbourne, New York City comes to mind as a city with progressive policies to drive sustainability in their own operations and across the private sector. Their PlaNYC, or "Greener, Greater Buildings" initiative, includes retrofitting city buildings, strengthening building efficiency standards, requiring annual benchmarking and disclosure of building performance as well as mandatory audits and cost-effective energy upgrades of large commercial buildings.
I am reserving my third vote for the first country to enact similar policies at a national level and am putting my money on the U.K. or Singapore at this point.
What other field or occupation did you consider going into?
When I was in high school, I seriously considered going into music. My private tuba teacher, who was obviously struggling a bit to make a living, asked if there was anything else I was interested in, and I said math and science. He said, in a very nice way, "Have you heard of engineering?" That was the end of my music career.
What website or app most helps you do your job on a daily basis?
The one website that I visit every day is Greenwire and Climatewire from E&E News. Once a day, they send out links to articles and videos via email and I nearly always click, read, and forward at least one or more articles every day. It is a great way to keep up on policy issues without being in Washington, D.C.
What song's been stuck in your head lately?
"Nessun Dorma," from Puccini's Turandot. The Florentine Opera recently staged a wonderful performance of the opera in Milwaukee, and I saw it twice. Of course I am a bit biased, being the board president.