A Conversation With Brian McPeek, COO of the Nature Conservancy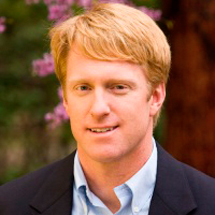 Brian McPeek spent several years with the Nature Conservancy -- working as the deputy director of the Conservancy's Colorado program and then the regional managing director for North America -- before rising to the rank of chief operating officer. In his role as COO, McPeek works closely with the Conservancy's CEO to manage all major organizational initiatives and oversees marketing, philanthropy, and conservation divisions. Before joining the Conservancy, McPeek worked with McKinsey & Company, where he advised start-ups and Fortune 500 companies on corporate strategy.
Here, McPeek discusses why efforts to integrate the value of nature into our economy can transform the way we all do business; why people consistently underestimate how nature affects their life in the city; and why he's frustrated by the idea that nature is fragile.

What do you say when people ask you, 'What do you do?'
I love that I can tell people that I save the lands and waters that we all need to survive. There's nothing better than coming back to that at the end of the day.
What new idea or innovation is having the most significant impact on the sustainability world?
Efforts to integrate the value of nature into our economy have the power to transform both the conservation world and the way that we all do business. There's value in the way that reducing runoff from our lawns can help provide a good catch for fishermen hundreds of miles away, and in the way that clean air keeps workers healthier and reduces the productivity lost to sick days. This value of nature needs to be captured on the balance sheets of corporations and governments.
What's something that most people just don't understand about your area of expertise?
People consistently underestimate how nature affects their life in the city. For millions of Americans, the water that comes out of their tap originates in a river where conservationists are working to keep the water clean. Nature is all around us, wherever we live, and it's affected by the choices that we make every day.
What's an emerging trend that you think will shake up the sustainability world?
Conservation groups are increasingly looking at how their work affects people, and partnering with development groups like Oxfam in the Gulf of Mexico, or Pathfinder International in Africa to create solutions that provide opportunities for people while conserving the places and wildlife that these people depend upon.
What's a sustainability trend that you wish would go away?
I'm frustrated by this idea that nature is fragile. Nature is really resilient and restoration works. Species like the bald eagle have come back from the brink of extinction, and places like the South Pacific Islands where nuclear weapons were tested are now important habitat. We shouldn't underestimate nature's ability to fight its way back with a little help from all of us.
What's an idea you became fascinated with but that ended up taking you off track?
I believe that nature needs to be relevant to the 70 percent of the world's population who will live in cities by 2050, and I often find myself advocating for a shift in perspective. It's off the traditional track of conservation, but our world is changing, and those of us who are working to save it need to adapt and consider the potential of urban conservation.
Who are three people or organizations that you would put in a Hall of Fame for your field?
There are so many. I've always been impressed by the founders of the Nature Conservancy, scientists who had the foresight to try a new strategy of buying land for conservation, risking their own finances to succeed. Gretchen Daily at Stanford's Center for Conservation Biology is taking that approach to the next level with her Natural Capital Project, focused on integrating human development and ecological conservation globally. And Michael Looker, who leads the Conservancy's work in Australia, is bringing new meaning to the connection between land and people by working to both conserve wild lands and return them to the indigenous people whose very culture is tied to these places.
What other field or occupation did you consider going into?
I was going to be a diplomat. I was all set to join the Foreign Service, just waiting for my first assignment, when I started dating my wife. I chose love over adventure, and started down a different career path. But now, when I'm in Africa or China talking to people about the Nature Conservancy, and trying to bring people together to solve problems, it seems like I haven't strayed too far from my first plan.
What website or app most helps you do your job on a daily basis?
I'm not the most tech-savvy guy, but I love Google Earth. It really gives you the ability to see how far-flung places fit together into the wider world. The Nature Conservancy works on very local conservation projects, but within the context of huge natural systems, and being able to zoom out to see those connections really brings our work to life for me.
What song's been stuck in your head lately?
I've been stuck on the Rodney Atkins song, "Take a Back Road." My work with the Conservancy has taken me to countless great back roads that lead to beautiful places all around the world, and thinking about those roads gets me through when I'm in bumper-to-bumper on the beltway.