A Conversation With Andrew J. Hoffman, Professor of Sustainable Enterprise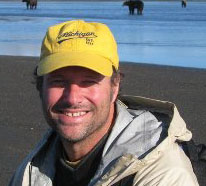 Business and environmental concerns are often at odds with one another. Sustainable initiatives championed by activists often cost more than corporations would like to spend. Andrew Hoffman tries to bridge those interests in his position as professor of sustainable enterprise at the University of Michigan. Depending on which colleague of his you ask, Hoffman is either a green-loving tree hugger or a capitalist sell out. But he contends these divergent interest shouldn't be at odds with one another.
In his research, Hoffman has studied how corporations respond to pressures to get green and has authored nine books in the process. Here, he discusses the harmony between business and environmental interests, the "third wave" of sustainability, and why he hates the term "green."
 What do you say when people ask you, "What do you do?"

I have an unusual position that sits between the Ross Business school and the school of Natural Resources & the Environment. So, I tell people that I study and teach about the relationship between business and environmental issues. They usually look puzzled and ask if there is a relationship. But when I begin to explain that things like climate change and waste disposal add costs and things like hybrid cars and recycling can save money, they get it.

What new idea or innovation is having the most significant impact on the sustainability world?

Hybrid organizations! Organizations that straddle the blurring line between the non-profit and for-profit worlds. These are innovators in business design that are testing new experiments in merging business strategy and sustainability concerns.

What's something that most people just don't understand about your area of expertise?

They see business and the environment as oil and water. If it is good for the environment it must be bad for business and visa versa. In the business community (and some in the business school), some see me as a treehugger. In the environmental community (and some in the environment school), some see me as a capitalist sell out. But to bridge these two communities yields great power of insight and influence.

What's an emerging trend that you think will shake up the sustainability world?

Systems thinking is the next big wave. I see us as presently in the "third wave" of sustainability. The first was in 1970 and was primarily around environment and regulatory compliance. The second was around 1990 and was about corporate environmentalism as corporate strategy. The third is now and it is about bringing the full scope of social and environmental into sustainability. The next wave will be in a decade or so it will challenge us to think systemically -- life cycle analysis, system dynamics, etc.

What's a sustainability trend that you wish would go away?

"Green"! Green is such a politically loaded term, that it has become useless. To many it just means liberal left leaning politics. "Sustainability" as a term is in danger of becoming useless too. Increasingly it means everything to everyone and therefore nothing at all.

What's an idea you became fascinated with but that ended up taking you off track?

I became fascinated by the network linkages between Environmental NGOs and corporations, particularly board interlocks. This led to work on the social and political ecology of the environmental movement. I have several papers from it, but felt it could have gone much farther.

Who are three people or organizations that you would put in a Hall of Fame for your field?

Interface Carpet (Ray Anderson), Paul Hawken, and Aldo Leopold

Ray Anderson really got a conversation going about (a) the legacy of business leaders, and (b) the role of the corporation in society. Paul Hawken wrote the book that got him all started (The Ecology of Commerce) and Aldo Leopold's A Sand County Almanac has had a big influence on my in regards to our relationship with nature. But if you ask me 10 minutes from now, I'll have a different list of 3.

What other field or occupation did you consider going into?

I was a house builder before I was a professor and often long for those days. I built very large custom homes for very wealthy clients in Nantucket and Fairfield County CT. I even wrote a memoir about those days -- Builder's Apprentice (2010, Huron River Press).

What website or app most helps you do your job on a daily basis?

Twitter, The New York Times.

What song's been stuck in your head lately?

"Ants Marching" by Dave Matthews.