Why I Feel Bad for the Pepper-Spraying Policeman, Lt. John Pike
A regular guy named John Pike has become the new face of evil among people following the Occupy protests around the country. The UC Davis police officer's matter-of-fact pepper spraying of seated, obviously peaceful students has provoked justifiable outrage. James Fallows summed up the situation with his usual precise moral compass. "This is what happens when authority is unaccountable and has lost any sense of human connection to a subject population," he wrote. "That's what I think here."
Many are calling for Pike's firing, or worse. He certainly doesn't present a sympathetic figure. What kind of person could do this?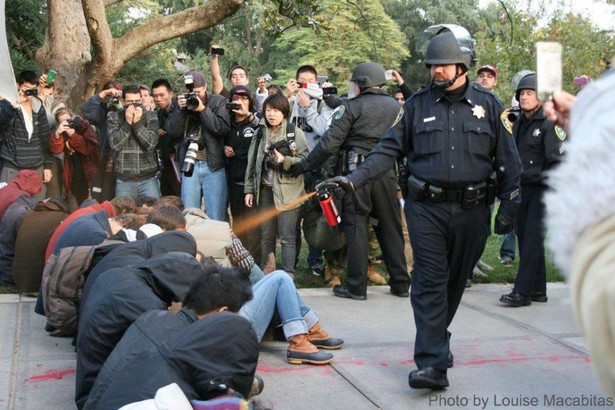 Thinking about the outrage of friends and colleagues, a James Baldwin passage that I've read many times came back into my mind. Here's what he had to say in the
New York Times
about
Jim Clark
, an Alabama sheriff and staunch civil rights opponent whose state troopers viciously attacked peaceful protesters.
[Clark] cannot be dismissed as a total monster; I am sure he loves his wife and children and likes to get drunk. One has to assume that he is a man like me... Something awful must have happened to a human being to be able to put a cattle prod against a woman's breasts. What happens to the woman is ghastly. What happens to the man who does it is in some ways much, much worse.

Baldwin recognized that Clark was merely the endpoint of a system that shaped the sheriff just as it shaped the people the sheriff attacked.
Structures, in the sociological sense, constrain human agency. And for that reason, I see John Pike as a casualty of the system, too. Our police forces have enshrined a paradigm of protest policing that turns local cops into paramilitary forces. Let's not pretend that Pike is an independent bad actor. Too many incidents around the country attest to the widespread deployment of these tactics. If we vilify Pike, we let the institutions off way too easy.
That these changes in the police force have occurred is not in dispute. They've been sufficiently open that academics can write long papers detailing the changes in police responses to protests from the middle of the 20th century to today. They are described in one July 2011 paper by sociologist Patrick Gillham called, "Securitizing America." During the 1960s, police used what was called "escalated force" to stop protesters.
"Police sought to maintain law and order often trampling on protesters' First Amendment rights, and frequently resorted to mass and unprovoked arrests and the overwhelming and indiscriminate use of force," Gillham writes and TV footage from the time attests. This was the water cannon stage of police response to protest.
But by the 1970s, that version of crowd control had given rise to all sorts of problems and various departments went in "search for an alternative approach." What they landed on was a paradigm called "negotiated management." Police forces, by and large, cooperated with protesters who were willing to give major concessions on when and where they'd march or demonstrate. "Police used as little force as necessary to protect people and property and used arrests only symbolically at the request of activists or as a last resort and only against those breaking the law," Gillham writes.
That relatively cozy relationship between police and protesters was an uneasy compromise that was often tested by small groups of "transgressive" protesters who refused to cooperate with authorities. They often used decentralized leadership structures that were difficult to infiltrate, co-opt, or even talk with. Still, they seemed like small potatoes.
Then came the massive and much-disputed 1999 WTO protests. Negotiated management was seen to have totally failed and it cost the police chief his job and helped knock the mayor from office. "It can be reasonably argued that these protests, and the experiences of the Seattle Police Department in trying to manage them, have had a more profound effect on modern policing than any other single event prior to 9/11," former Chicago police officer and Western Illinois professor Todd Lough argued.
No one wanted to be Seattle and police departments around the country began to change. "In Chicago for example, paramilitary gear such as that worn by the Seattle Police was quickly acquired and distributed to officers," Lough continued, "and the use of force policy was amended to allow for the pepper spraying of passive resistors under certain circumstances." (That emphasis is mine.)
9/11 put the final nail in the coffin of the previous protest-control regime. By the time of the Free Trade of the Americas anti-globalization protests in Miami broke out eight years ago this week, an entirely new model of taking on protests had emerged. People called it the Miami model. It was heavily militarized and very forceful. The police had armored personnel carriers.
This is what it looked like on the ground in Miami in 2003. Occupy protests have shown that variations on this unprecedented show of force have now become commonplace.

Brooklyn College sociologist Alex Vitale, who has specialized in tracking police tactical changes, found that the the "broken windows" theory of policing, which was introduced to a national audience by this very magazine, has also had a major impact on protest policing. As we wrote in 1982, broken windows policing did not attempt to directly fight violent crime but rather the "sense that the street is disorderly, a source of distasteful, worrisome encounters."
As Vitale would put it, the theory "created a kind of moral imperative for the police to restore middle class values to the city's public spaces." When applied to protesters, the strategy has meant that any break with the NYPD's behavioral preferences could be grounds for swift arrest and/or physical violence. Vitale described how the theory has been applied to Occupy Wall Street:
Consider what has precipitated the vast majority of the disorderly conduct arrests in this movement: using a megaphone, writing on the sidewalk with chalk, marching in the street (and Brooklyn Bridge), standing in line at a bank to close an account (a financial boycott, in essence) and occupying a park after its closing. These are all peaceful forms of political expression. To the police, however, they are all disorderly conduct.

Add up all these changes in the training paradigms and outlooks of police departments and you have an entirely different kind of policing than we knew during the Reagan and Clinton years. Scholars identified this new approach's salient features in 2007, adopting the name "strategic incapacitation":

But now regular people are identifying this new approach's salient features as well. The large-scale deployment of video recording technologies combined with high-speed media diffusion channels have allowed everyone to see what only a tiny number did back in 2003 in Miami. They are seeing kids getting pepper sprayed and hundreds of protesters getting arrested. They're watching police throw flash grenades into groups of American citizens. These images are coming to them through the same Twitter accounts and Facebook updates that show them photos of their friends' new babies and the score of the USC game.
While it's easiest to note the incidents of police violence, the protesters' cameras also record what's *not* in the images. Authorities have long claimed that they were merely battling the "black bloc" of violent anarchists. But when you look at all these videos, the bogeyman isn't there.
Instead, it's a dozen scared kids and a police officer named John Pike spraying them in the face from three feet away. And while it's his finger pulling the trigger, the police system is what put him in the position to be standing in front of those students. I am sure that he is a man like me, and he didn't become a cop to shoot history majors with pepper spray. But the current policing paradigm requires that students get shot in the eyes with a chemical weapon if they resist, however peaceably. Someone has to do it.
And while the kids may cough up blood and writhe in pain, what happens to the man who does it is in some ways much, much worse.