Why Does a Small Town Have an Armored Vehicle? The Police Chief Explains
Earlier today I posted a message from a reader who had passed through the small town of Galax, Virginia and seen this armored vehicle, with a label on the front saying Galax Police.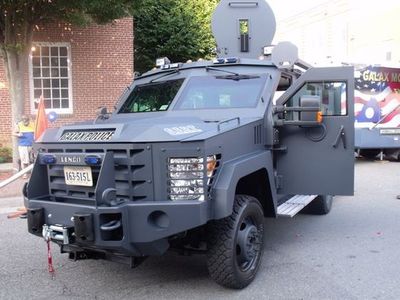 The Galax police chief has written just now to correct my reader's (natural) assumption that the city had purchased the "Bearcat" vehicle for its own fleet. Here is the chief's letter, in full. I thank him for the clarification.

Mr. Fallows,
 
I read your article that referenced the Galax Lenco Bearcat on the internet. I am Chief of the Galax Police Department and wanted to correct one item. The pride of the Galax Police is not the Lenco Bearcat rather it is the young men and women who serve the City of Galax on a daily basis. The vehicle was not purchased by the City of Galax it is housed here as part of a regional partnership. The vehicle is a multi-faceted incident response vehicle that is designed for operation in high risk situations including hazardous material spills, explosions and other disasters.
 
It is not an equipment item that I would have asked the city to consider buying. We did however agree to house the vehicle and deploy it anywhere in this part of Virginia. We have in fact deployed it in high risk situations including one situation this year when two law enforcement officers lost their life when attacked by a sniper.  In all honesty it is not an equipment item that any agency in this part of Virginia could afford to buy on their own.
 
I take offense at the characterization of storm trooper. The vehicle was in fact on display along with police vehicles and fire apparatus at a public safety display during the National Night out Against Crime which was celebrated nationwide. The writer neglected to mention that and I would have hoped that he would have mentioned the attitude and demeanor of the officers that they came into contact with while in Galax.
 
I  realize that the proliferation of cameras in our society has changed the way we view the world sometimes good and sometimes bad. However this situation was a generalization based on an assumption not on the reality of why the vehicle is in the City of Galax.
 
Thanks,
 
Rick Clark, Chief
Galax Police Department