Interview: U.S. Antarctic Program's Youngest Diver, Danielle Woodward
"I had no clue that anyone had ever even considered diving in water that cold."
At 23, Danielle Woodward is the youngest science diver at the U.S. Antarctic Program this season. She's aiding Dr. Samuel Bowers, Antarctic research veteran, by collecting samples of forams which could teach us how to create the types of biological "superglue" that sea life uses to create shells. Earlier this month, she took her first dip under the ice.
I was introduced to Danielle by musician and USAP science diver Henry Kaiser, who produced and composed scores for Werner Herzog's Antarctica films. Henry discovered her when he met with her to take over ownership of her dog while she moved to Hawaii for school. In and interview with the Hawaii Tribune he described her rare affinity with the water that goes beyond that of even most veteran divers.
"When Danielle told me how she had been diving since age 12, and as I appreciated her love of diving and the ocean, I realized that she was that special kind of diver that I only saw every five years or so, in my 17 years of teaching underwater research at UC Berkeley," he said.
Danielle shared her background and what it's like to dive under the ice, where there are few currents and visibility goes on for hundreds of feet.
Who are you and where were you born?
My name is Danielle Woodward and I was born in a small town in northern California called Auburn.
How did you first start your relationship with the ocean and water? 
My relationship started with the ocean long before I was technically in the picture. My parents, being the adventurous people they are, were living on a boat with my older brother, cruising the Hawaiian Islands when I came into the picture. Not many people can say they were conceived on a boat anchored off the west side of Maui.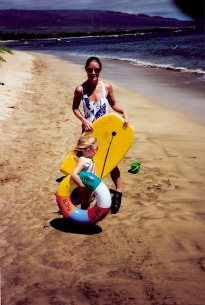 By the time I was five months old, I was a frequenter of the water in my little blow up swimming pool on the beach in Maui. By the time I was three, I had graduated from the blow up pool, I was just starting to snorkel with my dad. He would take me out on my boogie board and pull me everywhere and I would hold on tight and put my mask in the water and was quickly drawn into the amazing world of colorful tropical fish and huge turtles.
My parents exposed me to many types of oceans. Growing up mostly in northern California, my family commonly dove for abalone. My parents would watch the tides and when there were the lowest tides of the season, we would go to Fort Brag and collect our limit of abs each day. The water was freezing and dark, nothing like the waters I was used to in Hawaii.
Not only did my family dive, but were obsessed with water sports. During the early spring and summer, we would load up the roof racks with windsurfing equipment and head down to Sherman Island on the delta flats near San Francisco.
And even on a bad day, I can always go for a swim and feel cleansed of all my troubles.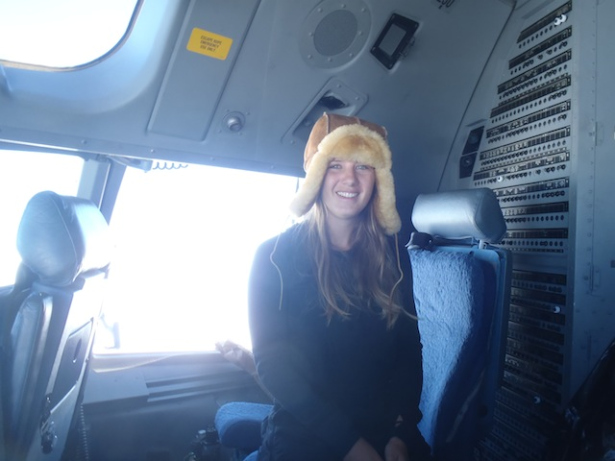 What is your job now? What is that like and what will you be doing?
My job now is to travel to Antarctica with a research team under the direction of Dr. Sam Bowser. We will be melting holes in the ice and diving to the sea floor to collect sedimentary core samples.  Dr. Bowser will then analyze the samples, looking most specifically for foraminiferans -- large, single-celled organisms.
How did you get into that job? 
I got this job by chance and skill. They don't just let anyone dive in Antarctica. As my parents were both SCUBA divers, so became me and my brother. I had my first SCUBA dive in Molokini Crater at the age of 11. Over the years I worked my way through the various levels of SCUBA. By the time I was 18, I was a full Dive Master. I then attended the University of Hawaii at Hilo and quickly got started in their diving program. I became an internationally recognized scientific diver. Getting this certification took lots of hard work and study. It also allowed me to put my foot in the door in the diving world.
However my journey to Antarctica started a bit before I started college. This story wouldn't be complete without naming a very important player. Her name is Kida.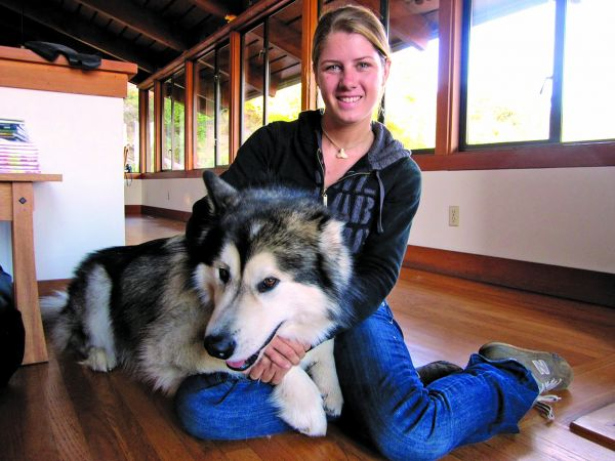 When I first met Kida, she was a six-week-old ball of fur running across the road in the middle of a snow storm up in Truckee, California. Through fate, and with the help of a very irresponsible roommate, Kida became a part of my family. However, I was ready to embark on my journey through college and felt that taking an Alaskan malamute to Hawaii was a cruel joke. And then fate acted again when it brought Henry Kaiser to me in Weimar, looking for an Alaskan malamute to adopt. Henry told me of his journey to Antarctica and showed me pictures of the diving he had done and I was blown away. I had no clue that anyone had ever even considered diving in water that cold.
---

MORE FROM THE SCUTTLEFISH:
Japanese Tsunami Debris to Hit U.S
NY Harbor's Guggenheim Treasure
Shark Fin Soup Tastes Like Nothing
---
Over my years at school, Henry came out to visit me in Hawaii. We did several dives together and after a few years, as I was getting into more scientific diving, Henry proposed that I may start working toward things that would help me get on one of the Antarctic teams. There were several qualifications that were necessary that I didn't have, most important being drysuit diving. Even if I met all the qualifications, I wasn't guaranteed to get the position. But after lots of hard work and emails with both Henry and Sam, I was accepted as a team diver.
How do the divers make holes in the ice?
We start making the hole by drilling a hole about 5 inches wide. Then the hotsy finger (the metal coiled thing) is lowered into the hole. This metal coil has a glycol mix in it that is heated by the hotsy (the big red box looking thing) There is a boiler that heats the glycol and a pump that circulates it through the hoses.
The hot finger then heats the water, causing it to melt and, after a very long time, you end up with a dive hole. To prevent the dive hole from refreezing, we put a cookie on top of it. This keeps the ice from fully forming.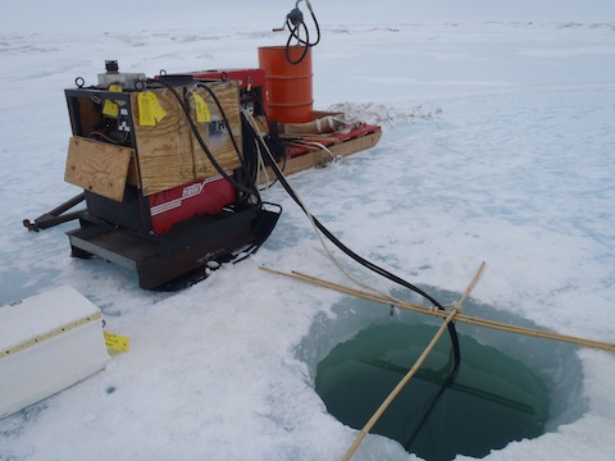 What was your first ice dive like?
The dive was amazing. We spent the first few minutes just working on buoyancy and making sure that everything was working well. The water was so cold against my face that after just a few seconds, my lips were numb. But in all honesty, I didn't care. I was so distracted by everything that was around me. The visibility was incredible, everything that they said it would be. There were really interesting creatures everywhere and they were huge. Lots of sponges with openings the size of dinner plates and starfish that looked like they weighed 20 lbs. I also got to see a sea spider, a.k.a. a pycnogonid. They live in several oceans and are usually smaller than the size of a dime, but in Antarctica they grow larger than my hand.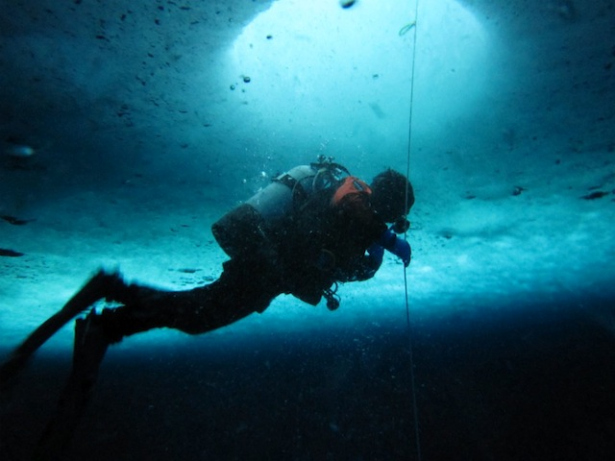 After I got over the initial shock of so many things to see, we started to head up to the fast ice. This is where the ice meets the land. As we got closer, the ice started to look like broken glass. Not only was it on the overhead ice, but the water was so cold that ice had also formed on the rocks along the bottom of the sea floor. It was weird to have ice above you and below you while you are suspended in water.
The dive lasted about a half an hour. That is a pretty typical dive time here just because of the temperature of the water (28.6 F). I was so excited to have completed my first ice dive. Cold, but excited. It was actually pretty easy to get warmed back up once I was out of the water. The only thing that kept me cold was my hair. It was suggested that I cut it all off, but I'd rather just be cold.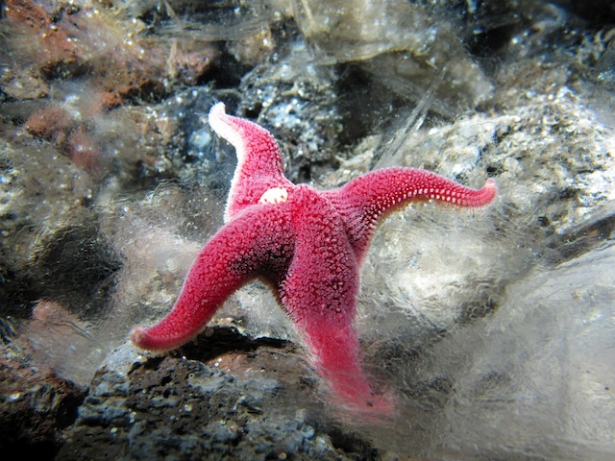 What's the most amazing ocean moment you can recall?
I don't know that I would consider this the most amazing ocean moment, but it was definitely the most life altering for me. When I was eight years old, a rough toothed dolphin beached itself in front of our condo in Maui. A team of volunteers was called out and I went out to help. But as you can imagine, they wouldn't let an eight year old help with such a large powerful animal. I sat on the beach all morning and all afternoon watching them walk the animal up and down the beach. The animal was finally transported to the Maui Ocean Center. I learned later that it was put down. I was originally told that the vet was not able to get there in time and that there were only four marine mammals vets in Hawaii and that all lived on Oahu. I thought that this was ridiculous so I decided that I would be the vet that would save the dolphins on Maui. Although that isn't where my career has led me yet, it is what has put me on this path to where I am today, it sent me to University of Hawaii in Hilo, and it got me involved in diving and marine mammal rescue.
Danielle is currently writing about her dives at Frozen Annie.
Here's a video tour of Antarctica under the ice by Henry Kaiser from the EG conference:
This post also appears at The Scuttlefish, an Atlantic partner site.
Images: Danielle Woodward