Harvest Time in Marijuana Country
In a legal gray zone on the West Coast, growers bring in the fruits of their labor -- and try to stay out of jail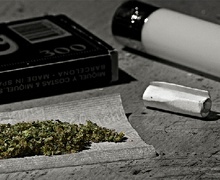 Reuters
Ask a local about the great State of Jefferson and he or she will likely designate America's unrecognized 51st state by these geographical contours: the fertile area that stretches up from Humboldt County in Northern California and east through Lake County in Southern Oregon. Lassen Volcano, Crater Lake, and Mount Shasta number among its natural treasures.
Official flag and Wikipedia page notwithstanding, the State of Jefferson is an imaginary idyll, an unborn neverland, more a statement than a state. Its territory is mostly rural and its population comprises an uneven, sparsely concentrated spread of gun-loving citizen-farmers. According to some Jeffersonians, their state is also a God-graced agricultural empyrean where the best marijuana in the country is grown. Much like their plants, growers flourish in Jefferson, a peculiar area where a streak of libertarianism resists the government regulation of crops.
Mid-November in the State of Jefferson marks the end of the marijuana harvest. At the culmination of the harvest--six weeks' effort of picking buds from their towering stalks and drying them--the process now yields to trimming, a task to last all winter. In the spring, amendments are added and the soil is prepared once again. Over the course of a decade, the harvest has come to resemble a new version of the California grape crush of years past, stimulating the local economy during autumn months and drawing workers in for seasonal jobs. Novices learn the craft. A community builds. A demand is satisfied.
The parallels to wine don't end there. In addition to meticulous cultivation, growers pride themselves on their blends, each strain with a specific taste and potency. The workers are both farmers and connoisseurs. For growers, a corresponding aspiration is that one day it will be legal not only to sell their crop like wine producers do, but to be taxed like wine producers as well.
"Seventy patients times six mature plants," James Bowman says with mischief. "How's your math?" For Bowman, who as a caretaker is permitted to grow 420 plants, this altered state of Jefferson has less to do with the borders of Oregon and California than the borders of federal and local law. These forces constitute the legislative gray zone in which he and other medical marijuana growers live and work.
Goateed and lanky with placid blue eyes, Bowman carries himself with a half-century's relaxed confidence. Iowa-born, Bowman considers farming to be part of his blood, the work a way of life. Like many here, he sees the world through one lens, often speaking of marijuana sacramentally and likening the struggle to legalize cannabis to anything from the American civil rights movement to the Arab-Israeli Conflict.
His fields, collectively called High Hopes Farm, are a picturesque drive away from the town of Ashland, home to Southern Oregon University, Jefferson Public Radio, and the internationally renowned Oregon Shakespeare Festival. Tucked away among the dairies and fishing streams in the aptly-named Rogue Valley, the farm services medical marijuana patients legally according to Oregon law but in defiance of federal law. Oregon employs a caregiver system, which allows growers to cultivate six mature plants per card-carrying patient. As a precaution, Bowman only grows about half as many plants as the law allows.
Since Oregon made the arrangement legal in 1998, federal forces had mainly kept out of the fray. This year's harvest was different. Alleging that medicinal marijuana from Oregon was being sold in other states, federal drug agents conducted four raids last month, seizing hundreds of plants and hauling them away in dump trucks.
While no arrests were made and no criminal charges were filed, growers today operate with the uncertainty that they may at any time end up in jail--as Bowman did for three years in the early 90s--as a result of their vocation. This reality resonates most during the harvest, a time when the intersection between the possible and the indictable stirs to its highest crest.
If allowed to bend your ear, a grower will make his case. According to a 2005 Harvard study by Jeffrey Miron, nearly $8 billion is spent annually enforcing the marijuana prohibition. The study also concludes that if marijuana were to be taxed along the same rates as alcohol, the crop would bring in more than $6 billion in annual revenue. At a time of high unemployment and widespread political peacocking about the deficit, many cannabis advocates believe that the legalization of marijuana and its taxation have never seemed more sensible.
Bowman, who estimates that legalization would create hundreds of jobs in the region, is currently developing a strategy to turn the legal marijuana industry from a pipe dream into a reality. He aims to forge an unlikely political alliance with pro-business Republicans to achieve his goal. "Give us the American dream and we'll show you the revenue stream," Bowman quips.
But the best case for marijuana may be the harvest itself. In Bowman's fields, workers raise sheep and chicken and rouse the ground to produce organic vegetables, melons and strawberries, and gardens of herbs, notorious and banal. During harvest time, the core group of workers at the farm swells from fifteen to thirty. The workers are young and mostly local, but among them are also artists, itinerant farmhands, travelers, and drifters. They come from the Rogue Valley and Ashland but also from Portland, Alaska, Massachusetts, and Europe. Meals are provided from what's grown on the farm. Patients drive down from all over the state to visit. The harvest has become an emblem both of tenuous opportunity and sustainability, community, entrepreneurial initiative, and eco-tourism.
At High Hopes, the knit is tight. The farm hosts a fantasy football league for workers and patients, farm dogs roam the range looking for scraps and affection, and a tractor named LeBron lies dormant in the field. The assembled group, some considered outcasts by their families, find a pocket where they belong. A farm of black sheep awaiting broader reception.
"One side effect of the crop is that my nieces will never come here," Bowman says. "My brother won't bring them." The cold of mid-November begins to sharpen. The harvest is over and the workers are inside a trailer, listening to a radio and trimming the crop. Outside, a parachutist drifts overheard, dangling lazily in the late afternoon sun. The dogs grapple over a downed frisbee. "It's perfect here. I wish they could see it."