Chart: States Squeeze Funding for Public Media
Savethenews.org
In the age of tight budgets and rallying cries for fiscal conservatism, public media has not fared well. During the spring and summer budget debates, one program facing the chopping block was the Corporation for Public Broadcasting, the entity which supports National Public Radio and PBS. While federal funds for public media remain safe for the time being, the truth is that public media have already seen large cuts in government spending. In the past four years, 24 states have either significantly decreased or zeroed-out contributions to local media.
This week, Freepress, a non-profit media advocacy group, published "On the Chopping Block," a report detailing the $202 million in funding cuts to local public media since 2008. Freepress reports,
In many states, the cuts are severe:

• Florida, New Hampshire, New Jersey and Pennsylvania have cut their entire state appropriations for public broadcasting.

• Since 2008, Alabama, Indiana, Kansas, South Carolina and Virginia have experienced cuts in state support of nearly 50 percent or greater.

• Over the same four-year period, stations in Georgia, Mississippi, North Carolina, Ohio and Oklahoma have seen their state appropriations reduced by more than 25 percent.

• Idaho, Indiana, Kansas, Maine and South Carolina have faced threats of multi-year phase-outs of all state funding.
Furthermore, many of the cuts are disproportionately large when compared to overall budget cuts. For example, Alabama's spending decreased .2 percent overall, but slashed the public media budget by 38.7 percent.
Despite these cutbacks, it's unlikely that public media will wither away without state support. According to NPR, federal, state and local governments constitute 5.8 percent of all revenue. The majority of station's money still stems from station members, corporate underwriters, and university assistance.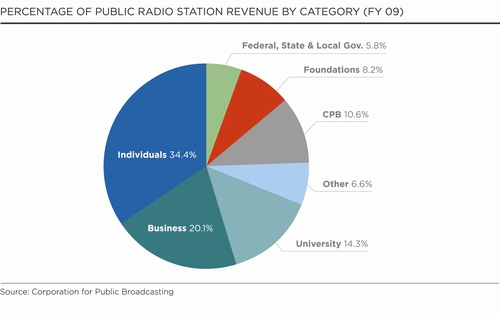 What it will affect, Free Press reports, are the affiliates' ability to produce original content, especially in smaller markets where there might not be the contributor and underwriter revenue to maintain support.
State funding cuts have had perhaps the greatest impact on stations' capacity to provide unique local programming, which is expensive to produce. In many rural states, the loss of state support could mean drastic reductions in locally produced programming and news. This would be especially devastating in areas that local commercial broadcasters have left unserved or underserved.
Stations can purchase PBS and NPR syndicated programming for a relatively low cost, but original local programming is much more expensive, requiring staff, equipment, and production expenses. With newspapers struggling, some see it as essential to have a public-supported news media. The Corporation for Public Broadcasting reports that non-federal revenues for local stations dropped 9.2 percent between 2008 and 2009, compounding the problem. For the time being, Freepress finds local stations are dropping programming and decreasing the scope of their operations.