A Conversation With Matt Petersen, Global Green USA President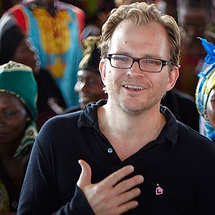 Most people are familiar with the Red Cross and its humanitarian aid efforts, but fewer know that there's also a Green Cross with a similar emergency response model for ecological issues. Matt Petersen is doing his best to spread the word.
A California native, Petersen leads the American arm of Green Cross International, an organization founded about two decades ago by former Soviet leader Mikhail Gorbachev. Green Cross has branches in 31 countries around the world, including Petersen's Global Green USA.
Through Global Green, Petersen fights climate change by helping to create greener houses, schools, cities, and communities. After Hurricane Katrina struck New Orleans, for example, he launched a design competition to build the first sustainable village in the Lower Ninth Ward, complete with LEED Platinum homes, a multi-family apartment complex and a community center. Internationally, Global Green also focuses on eliminating weapons of mass destruction and extending access to clean drinking water. Here, Petersen discusses the power of social media, the importance of thinking about the big picture, and how the environment would benefit if women were treated with more respect.
What do you say when people ask you, "What do you do?"
Well, I often have a tongue-in-cheek refrain for those who ask me what's going on, which is, "I'm just trying to save a world that doesn't want to be saved."
My less cheeky answer is that I run Global Green, an environmental group working to find innovative solutions and new approaches that help the Earth and people -- whether by greening schools, building low-income housing, or helping rebuild New Orleans. Our projects range from policy initiatives to high profile campaigns, such as our recent "I AM" campaign to address sea level rise.
My central focus, however, is inspiring people to become citizen entrepreneurs -- people who are part of the solution, take leadership, and join with others in making their neighborhood, school, or city a better place to live. We can all become a living, breathing solution to the environmental and economic crises we are simultaneously facing.
What new idea or innovation is having the most significant impact on how people think about sustainability?
While it's not new, whole systems thinking and design can be a game-changer. More people and more businesses are thinking about sustainability in terms of how the waste materials of our products can become the birth materials of something new. We also need to think about how we empower those in need and most at risk -- including protecting women and girls from violence and educating our children.
However, I have to say that social media is doing more than anything to impact how people think about - and do something about -- sustainability. With Occupy Wall Street, 350.org, and Tahrir Square, we have seen social media begin to move the needle for change. That's exciting. And so sorely needed.
What's something that most people just don't understand about what you do?
When they hear environmental group, some people think Global Green is just telling people to change their light bulbs and recycle. Or they remember how we sent celebrities to the Oscars in hybrid cars, attempting to make hybrids seem fun and sexy to drive. So perhaps people think I just hang out with influencers in Hollywood.
Truth is, I spend most of my time thinking of ways that we can help leverage change through ideas, projects, and people. That often means delivering impact through green community development and other channels not traditionally used by other environmental groups. My title is president and CEO, but I see myself as entrepreneur-in-chief at Global Green. One of our internal values is the nimble yet professional risk-taking entrepreneur. A mouthful, but it guides us.
What's an emerging trend that you think will shake up the sustainability world?
As we see more and more individuals change how they eat and grow food, I think we will also see more people make larger connections to environmental issues.
I see people taking environmental action in their neighborhoods and communities, and we need a strong government with clear rules and regulations to help support these initiatives, deal with climate change, and address other major environmental challenges. But we also need citizen action and individuals making a difference.
As I said earlier, we need more of what I call "citizen entrepreneurs" who don't just see themselves as consumers, but who reclaim our role as citizens by taking the "anything is possible in America" approach to solving the problems of our economy, our communities, and our Earth.
What's a sustainability trend that you wish would go away?
The era of the stovepipe mentality of sustainability -- problem/solution -- is over. There is no silver bullet; we need a silver buckshot that connects the dots. To deal with the biggest environmental and economic threats of our generation, we must embrace all solutions that address the entire systems at play: How do we not just create more efficient light bulbs but also change how we generate and transport the electricity that powers the bulb? How do we look to nature for answers on how we design systems and products? How do we mobilize capital to increase energy efficiency of existing buildings? How do we change how campaigns are financed? How do we value using less energy and stuff? How do we better respect human life? How do we empower more female leadership? These are all questions that are actually interlinked, and the answers can leverage change.
What's an idea you became fascinated with but that ended up taking you off track?
The greening of Las Vegas. A donor approached us to see how we could do it. It's a difficult task given the realities of Vegas. Our nation, and world, has a fascination with Vegas, and it's like going into the ultimate belly of the beast.
Oddly, Vegas has some selectively stringent water rules and a powerful water district. And lots of LEED-certified casinos that actually reuse and reduce a lot of water and energy on site, in relative terms -- I'd just hate to see the energy and water bills.
Given that Global Green is always looking at how we improve the lives of those in need while also protecting the environment, the project just didn't seem like our highest priority (though greening every city in America is critical).
Who are three people you'd put in the sustainability Hall of Fame?
Pam Dashiell: She had a vision of sustainably rebuilding New Orleans and the Lower Ninth Ward, and she played a huge role in making it happen. Just after Hurricane Katrina, her Holy Cross neighborhood (part of the Lower Ninth Ward) set a goal of becoming a carbon-neutral neighborhood, and they're making amazing progress. And that's what really allowed Global Green to decide to build our Holy Cross Project there. Sadly, Pam passed away almost two years ago.
Ray Anderson: Ray was more than a corporate environmental leader. He was also brutally honest about where we were going and what we were doing for future generations. He put his money where his mouth was and worked to change the course of business, aiming high to create a zero-footprint business. We lost Ray just recently.
Steve Schneider: One of the foremost experts on climate science, Steve did more than research and publish. He spoke out and tried to grab the world's attention to explain the profound challenges and opportunities facing us. Steve sadly passed away in August 2010.
All are true giants, and examples of heroic citizen entrepreneurs, who continue to inspire me.
What other field or occupation did you consider going into?
Politics, certainly. My proudest professional achievement to date is probably running my father's successful campaign for County Superintendent of Schools (he beat a three-term incumbent and served for 16 years to make a difference for kids, particularly those with special needs). I ran campaigns at the state and federal level as well. But my dream as a teenager was to open my own record shop. Given the current status of vinyl and CD sales, perhaps it was a good idea to forgo that one.
What's one website or app you wish more people knew about?
Vday.org. One out of every three women on the planet will experience violence during her lifetime, and we need to demand that it stops. Not only because these women are our mothers, sisters, and cousins, but also because there is a relationship between respect for women and respect for the Earth -- and both need to be protected. We need the new norms in our world to protect the Earth and women, and to literally stop raping both, as is happening tragically in the Eastern Congo right now. Global Green got a solar system donated to V-day's City of Joy in Bukavu there, and I'll be going with the Sunpower Foundation next January to help install it.
What song's been stuck in your head lately?
"Parlez vous Francais?," by Art vs. Science
Image: Global Green USA.