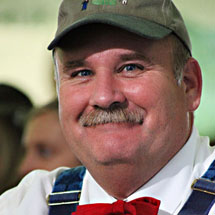 When he's not busy speaking on sustainable agriculture and its influence at culinary events, being interviewed for a new profile (he's been featured in the New York Times, Food & Wine, The Washington Post, and dozens of other publications), or judging a Food Network program, farmer Lee Jones can be found out in the fields clad in his trademark overalls and red bowtie. Jones is one member of The Chef's Garden, a family farm started by Bob Jones that has been focused on supplying restaurants around the country with the finest ingredients for decades.
Here, Jones discusses how his family farm, The Chef's Garden, uses PCR technology to test for food pathogens; why, in an increasingly competitive world, 90 percent of the produce being consumed right here in the United States comes from a third-world country; and how he likes to say that he farms soil -- not vegetables -- because that's where it really all starts for the best flavor and texture.
What do you say when people ask you, "What do you do?"
I am a farmer. I am part of our family farm, The Chef's Garden. I am a sustainable grower of specialty vegetables, herbs, microgreens, and edible flowers for chefs and restaurants all over the world. I am honored to oblige the tenets of the land and work to leave it in better condition for future generations.