A Conversation With Lee Jones, Farmer at The Chef's Garden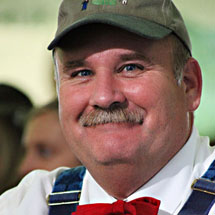 When he's not busy speaking on sustainable agriculture and its influence at culinary events, being interviewed for a new profile (he's been featured in the
New York Times
,
Food & Wine
,
The Washington Post
, and dozens of other publications), or judging a Food Network program, farmer Lee Jones can be found out in the fields clad in his trademark overalls and red bowtie. Jones is one member of The Chef's Garden, a family farm started by Bob Jones that has been focused on supplying restaurants around the country with the finest ingredients for decades.
Here, Jones discusses how his family farm, The Chef's Garden, uses PCR technology to test for food pathogens; why, in an increasingly competitive world, 90 percent of the produce being consumed right here in the United States comes from a third-world country; and how he likes to say that he farms soil -- not vegetables -- because that's where it really all starts for the best flavor and texture.
What do you say when people ask you, "What do you do?"
I am a farmer. I am part of our family farm, The Chef's Garden. I am a sustainable grower of specialty vegetables, herbs, microgreens, and edible flowers for chefs and restaurants all over the world. I am honored to oblige the tenets of the land and work to leave it in better condition for future generations.
What new idea or innovation is having the most significant impact on the sustainability world?
We feel the impact of technology and how it is continually changing life on the farm. We use new-world technology and fuse it into our old-world practices. In many ways we are trying to get as good as grandfathers were hundreds of years ago. But with technology we have the opportunity to retain those common-sense practices and enhance them with efficiency, productivity, and food safety systems. For example, we use a sophisticated bar coding system that tracks a seed all the way to the plate. It's fast, efficient, and allows our customers to feel safe about using our products.
The Chef's Garden employs PCR (Polymerase Chain Reaction) technology, which uses a DNA amplification process to test for food pathogens.
We also use media technology to promote our products to customers and educate them about how we are different from other growers. We recently held a live-streaming tour of our farm for a chain of high-end resorts. We also had the first ever live broadcast direct from our farm to our nearby Culinary Vegetable Institute, where we were hosting an earth-to-table dinner. As guests dined on 5-star cuisine they got to see me in the field talking about how that very food was grown and harvested just hours before.
What's something that most people just don't understand about your area of expertise?
The commitment and how complex it is. Sustainable agriculture is a blend of science, intuition, research, perseverance, and a constant stream of making mistakes at a faster rate than the competition so that we learn from them.
What's an emerging trend that you think will shake up the sustainability world?
Boy, that's hard to answer. Living and farming sustainably is a way of life for us, not a new trend. However, what I'm seeing now is that our regular way of life is the trend. Younger generations are embracing ideas, like water conservation for example, that can make a huge impact for the sustainability of our planet. Conservation is something being taught in primary school. The wars of the future will not be waged over oil (we'll have figured out alternatives for this energy source by then) but over natural resources for sustainability of our future generations. As a society, we must all play a part in conservation. We're excited to see that.
What's a sustainability trend that you wish would go away?
Well, what I wish would go away is the crazy notion that you shouldn't use something if it isn't grown within 25 or 50 or 100 miles. Local doesn't define quality. In an increasingly competitive world, 90 percent of the produce being consumed in the U.S. comes from a third-world country with an average of $1.35 a day for labor. The reality is that we are competing against a very cheap labor pool and to achieve sustainability we must have enough support to survive. Our farm and many other family farms are in rural areas -- that's where farms are. We must focus on reconnecting producers and consumers of like-minded sustainable philosophies more so than worrying about the number of miles between them.
I had an upstate New York chef who was a customer, but was then ordered to buy from a local purveyor. This "local" guy was filling his cooler with product from Chili, Mexico, Ecuador, and thus expanding his carbon footprint ten-fold versus buying direct from our farm 390 miles away. The product would go from our back door to his. The shortest distance between two places is always direct. It's about reconnecting producers of high-quality, sustainably-grown products direct to the consumer.
What's an idea you became fascinated with but that ended up taking you off track?
Hydroponics. Yes, for a brief moment we considered this path. The reality is that you can create an ideal environment hydroponically and produce a product efficiently. But our personal belief is that the closer we can work to a natural process the better. We grow in soil and like it. In fact, we have a saying that we farm soil today versus vegetables because that's where it really all starts for the best outcome of flavor, nutrients, and texture. Plus, from a food safety standpoint the water used for hydroponics is too great a carrier for E. coli, and it can move fast. Soil is where it's at for us.
Who are three people or organizations that you would put in a Hall of Fame for your field?
My dad, for being a forward thinker and a pioneer in catering to the needs of a niche group of people (chefs) who really have provided us with the privilege of remaining a part of agriculture. He saw the opportunity in a market that no one had thought of before. The Seed Savers Exchange, a non-profit organization dedicated to or the preservation of heirloom seeds. And the Bocuse d'Or Foundation, for inspiring culinary excellence and embracing traditions.
What other field or occupation did you consider going into?
None. I honestly never thought of doing anything else nor could I imagine ever doing something else now. No job could pay enough money for me to change my mind. I am my profession through and through.
What website or app most helps you do your job on a daily basis?
Due to the fact that I'm better with a tractor than a computer, I'd have to say that the advent of tools like my BlackBerry and Twitter have helped keep me connected. I have my share of typos, but I think I get my points across. These tools help me stay connected to customers, friends, family, and my team at The Chef's Garden.
What song's been stuck in your head lately?
"Streets of Philadelphia," by Bruce Springsteen.