A Conversation With Kevin Dooley, Sustainability Consortium Director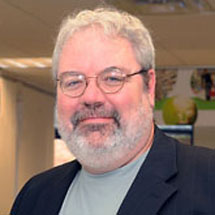 A professor of Supply Chain Management at Arizona State University, Kevin Dooley is considered an expert in helping organizations improve by applying lessons from complexity science. He has written over 100 research articles on the subject and co-authored the award-winning
Organization Change and Innovation Processes
. When he's not writing or teaching -- or earning patents (he has two) -- Dooley also serves as an academic director of the Sustainability Consortium and the CEO of Crawdad Technologies, a software company that focuses on text analysis.
Here, Dooley discusses how most people are largely unaware of the life cycle of products they purchase; how smart companies already know that the next competitive landscape is about being more sustainable; and why the Intergovernmental Panel on Climate Change deserves to be in a sustainability Hall of Fame for bringing attention to climate change and the need to act now.
What do you say when people ask you, "What do you do?"
I do research and teach at the W.P. Carey School of Business at Arizona State University. I am also one of the academic directors at the Sustainability Consortium, an effort involving academic, corporate, NGO, and government stakeholders in developing science to improve consumer product sustainability.
What new idea or innovation is having the most significant impact on the sustainability world?
I think life cycle approaches will bring about great strides in product and supply chain innovation as this approach becomes more widely adopted. While we have had efforts to reduce certain impacts in particular life cycle stages, this more holistic approach will help us grapple with the more complex problems that await us.
What's something that most people just don't understand about your area of expertise?
Most people are largely unaware of the life cycle of the products they purchase, and their environmental and social impacts. They worry about the packaging and whether it's recyclable, which is good, but are unaware of the effects related to the product's supply chain, from raw material extraction to manufacturing to distribution and retailing.
What's an emerging trend that you think will shake up the sustainability world?
Progressive manufacturers and retailers in some ways have taken over the regulatory activities of government institutions. It¹s a race to the top. Smart companies know that the next competitive landscape is about being more sustainable.
What's a sustainability trend that you wish would go away?
Climate change skepticism. It's frustrating that a small minority can have such negatively influence on our ability to make progress. And if you don't believe in climate change, do you also not believe in peak oil? Either way, we're in for some big changes.
What's an idea you became fascinated with but that ended up taking you off track?
I tell my graduate students there is a reason that "research" is spelled "re-search." I've had many research projects that haven't come to fruition, but they're all useful in developing future ideas.
Who are three people or organizations that you would put in a Hall of Fame for your field?
The World Wildlife Fund because they work so effectively to help communities develop the capacity to be more sustainable. The United Nations Environment Programme because they bring about convergence on environmental standards across the globe. And the Intergovernmental Panel on Climate Change because of the attention they have brought to climate change and the need to act now.
What other field or occupation did you consider going into?
Before I started college I wanted to be an astronomer, but engineering seemed more practical. I picked industrial engineering because the connection between technology and people sounded most interesting, and that interaction still drives my interests.
What website or app most helps you do your job on a daily basis?
I use Environmental Leader, a news aggregation site that gives me a summary of relevant business and sustainability news on a daily basis. I also have Google Alerts set for "climate change" and "Greenland"; I track Greenland because that's where we can see the physical, cultural, and economic impacts of climate change at a dramatic scale.
What song's been stuck in your head lately?
"Hell Yes," by Beck.