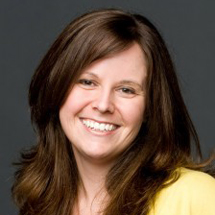 Formerly a senior editor at Contract magazine, where she wrote primarily about commercial interior design, Katie Weeks joined Eco-Structure as editor-in-chief in late 2009. "Katie is regarded as a leading expert on sustainability in the built environment," Eco-Structure's publisher, Russell Ellis, said in a statement that accompanied her move to the green architecture business-to-business publication owned by Hanley Wood. "Her knowledge and creativity will be a positive contribution to the magazine and eco-structure.com." Here, Weeks discusses biomimicry, or the practice of imitating nature's designs and processes; the growing importance of the post-occupancy performance of buildings; and why Ray Anderson deserves to be in a Hall of Fame for turning a carpet company into an eco-friendly model of sustainability.
What do you say when people ask you, "What do you do?"
Since our magazine it a business-to-business publication that goes to architects, designers, and other building professionals, and is not a publication anyone can pick up at a newsstand, I usually stick with "I'm the editor of a magazine about green architecture" and then drill down from there.
What new idea or innovation is having the most significant impact on the sustainability world?