A Conversation With Katie Weeks, Editor of Eco-Structure Magazine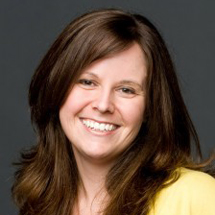 Formerly a senior editor at
Contract
magazine, where she wrote primarily about commercial interior design, Katie Weeks joined
Eco-Structure
 as editor-in-chief in late 2009. "Katie is regarded as a leading expert on sustainability in the built environment,"
Eco-Structure
's publisher, Russell Ellis, said in a statement that accompanied her move to the green architecture business-to-business publication owned by Hanley Wood. "Her knowledge and creativity will be a positive contribution to the magazine and eco-structure.com." Here, Weeks discusses biomimicry, or the practice of imitating nature's designs and processes; the growing importance of the post-occupancy performance of buildings; and why Ray Anderson deserves to be in a Hall of Fame for turning a carpet company into an eco-friendly model of sustainability.
What do you say when people ask you, "What do you do?"
Since our magazine it a business-to-business publication that goes to architects, designers, and other building professionals, and is not a publication anyone can pick up at a newsstand, I usually stick with "I'm the editor of a magazine about green architecture" and then drill down from there.
What new idea or innovation is having the most significant impact on the sustainability world?
For this, I have to crib my answer from Bill Browning, CEO of Terrapin Bright Green, as I recently asked him the same question and he nailed it: The concepts of biomimicry and ecological history. The former refers to the practice of learning from nature and imitating its designs and processes to solve modern problem. Can building material be created and structured to mimic the light-weight strength of a spider web, can the design of a termite nest teach us how to better ventilate a building, or can plants teach us how to clean water without using chemical processes? The latter refers to the idea of tracing the environmental history of site to see how future development can move toward returning the environmental impact of the site back to its more natural, undeveloped state.
What's something that most people just don't understand about your area of expertise?
That focusing on the environment is just a do-good, touchy-feely initiative. A well-designed building can cost less to operate and may reduce employee absenteeism and increase productivity. It is smart business.
What's an emerging trend that you think will shake up the sustainability world?
The growing importance of the post-occupancy performance of buildings. It's one thing to design and construct a building, and another to operate it continually to meet -- and, ideally, exceed -- performance targets.
What's a sustainability trend that you wish would go away?
The idea that green design cannot be great design and vice versa. There should no longer be a viable excuse for not combining sustainability and outstanding aesthetics and function in any space.
What's an idea you became fascinated with but that ended up taking you off track?
LEED certification. The U.S. Green Building Council's Leadership in Energy and Environmental Design (LEED) green building certification system was -- and continues to be -- a game changer for many reasons. It certainly deserves the recognition it has earned, but as it is the most well-known marker for discussing green building, it can be easy to get sidetracked by certification levels, instead of looking at the entire building and digging into individual attributes. I get a lot of pitches for projects that are LEED certified or LEED Silver, without any specific explanation as to what the designers have done to address environmental performance.
Who are three people or organizations that you would put in a Hall of Fame for your field?
Janine Benyus of the Biomimicry Guild and Biomimicry Institute. Quite simply, her work is amazing and am I pretty much spellbound every time I hear her speak. A true inspiration.
Ray Anderson, founder of Interface, Inc. He was a huge advocate for sustainability and his recent passing is a great loss. In 1994, he chose to redirect Interface, a carpet company and, by its nature, part of the petrochemical industry, to reduce the company's environmental footprint without sacrificing profits. The initiative was called Mission Zero, and the premise of it was to eliminate any negative environmental impact from the company by 2020. To have such a big company make this a key part of the operating platform was a significant development in the sustainable realm.
Alex Wilson, founder of BuildingGreen Inc. and Executive Editor of Environmental Building News. Without a doubt, Alex is at the very top of the list of trusted, go-to people regarding environmentally-responsible design and construction. In 2010, our parent company, Hanley Wood, along with The Hanley Foundation, presented Alex with a $50,000 grant for his work and it was extremely well deserved.
What other field or occupation did you consider going into?
Architecture (as a practitioner), politics (in an operational capacity, not as a politician myself), and music supervision (get paid to listen to music? Yes, please).
What website or app most helps you do your job on a daily basis?
Hootsuite to manage multiple Twitter streams and track several hundred others throughout the day.
What song's been stuck in your head lately?
"Cosmic Love," by Florence + the Machine.