A Conversation With Andrea Learned, Sustainability Strategist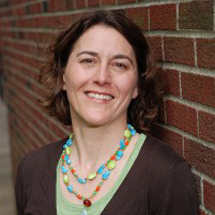 A Seattle-based marketing expert and author, Andrea Learned is best known for her work on the impact of gender on consumer behavior. "My expertise in that field has led to a deep understanding of the hows and whys of consumer behavior and the interconnections between consumer values, cultural trends, and decision-making," she explains on her blog,
Learned On
. Because she believes that gender and consumer behavior are subjects closely tied to sustainability, Learned has been working -- and writing and speaking -- more and more on sustainable business and organizational management topics recently.
Here, Learned discusses her "bizarrely unique" background in gender, human behavior, and marketing, and how that background helps her to help businesses reach broad audiences with news of their sustainability efforts; how the sustainability work of a brewery in Kansas -- or any other small business -- can be made more compelling by connecting it to larger cultural trends; and why we need to start paying more attention to relational traits, like communications skills and empathy.

What do you say when people ask you, "What do you do?"
In a general sense, I say that I'm a sustainability communications strategist. My day-to-day work is writing, connecting, and inspiring people with the "wow, they did that?" stories of sustainable business. More specifically, I use my bizarrely unique background in gender, human behavior, and marketing to help businesses reach broad audiences about their sustainability efforts.
What new idea or innovation is having the most significant impact on the sustainability world?
What could have an incredible impact in sustainability is something I am just seeing emerge: getting large numbers of citizens interested in sustainability through mass-influencing environments like university/college campuses, sports (pro and college) team operations, and urban transportation planning (specifically biking).
What's something that most people just don't understand about your area of expertise?
How thinking big about the connections of cultural trends, consumer behavior research, and other-things-that-don't-seem-to-relate-at-all can give meaning and help build momentum for even the smallest individual sustainable business steps. For example, the sustainability efforts of, say, a brewery in Kansas can become a more compelling story when tied to local agriculture and responsible water use.
What's an emerging trend that you think will shake up the sustainability world?
A new focus on developing relational traits -- like communications skills and empathy -- in business leaders. Pay as much attention to these as we do to the usual linear trait suspects and you'll see the leadership paradigm shift before your very eyes. (I was just researching this for a thesis, so it's fresh in my mind.)
What's a sustainability trend that you wish would go away?
The false hope for a single silver bullet solution that might make it easy to check sustainability off your business to-do list. It's not going to happen, so let's face/embrace the complexity of the challenge, and get cracking together.
What's an idea you became fascinated with but that ended up taking you off track?
I can get overwhelmingly interested in the "meta" human psychology behind every business decision or problem. Ninety-nine percent of my clients or editors don't care, because they, understandably, want to present the sustainability topic in a more universal, comprehensible language. I admit, I'm a geek and I have to control myself.
Who are three people or organizations that you would put in a Hall of Fame for your field?
For his business leadership influence: Ray Anderson, the founder of Interface Inc. who wrote several books and did much speaking on the topic of his own sustainability journey. He only recently passed away, and left an incredible legacy.
For their potential mass citizen influence: Green Sports Alliance, a newly formed non-profit group of professional sports teams, venues, and leagues working together to improve their sustainability, individually and collectively. With this sort of collaborative approach, GSA has the potential to reach a lot of sport fans, old and young. And People for Bikes. Their tagline is "uniting a million voices to improve the future of biking." I see biking as a major way to influence people toward more sustainable lifestyles, and it can be done without having to bang anyone over the head about "being green."
What other field or occupation did you consider going into?
I keep thinking I should have studied psychology or sociology, but I'm not sure I would have made my way to sustainable business -- which has become an absolute passion -- had I taken any other path than the one I did.
What website or app most helps you do your job on a daily basis?
This may sound boring, but, Twitter. It has been an amazingly helpful tool for getting to know the best resources, the key influencers, and the trends in the sustainability field. Also, it has helped me transition pretty quickly from being known for marketing to women to being recognized for my sustainability-related contributions.
What song's been stuck in your head lately?
Tired Pony's "Dead American Writers." The first verse:
Here's to every time that you rock a boat
Here's to every word that you ever wrote
There were clues but it was never clear
You've got to choose your own way out of here