Why Luck Isn't Necessarily Overrated
As one famous person's life proves, the right circumstances can have a dramatic effect on success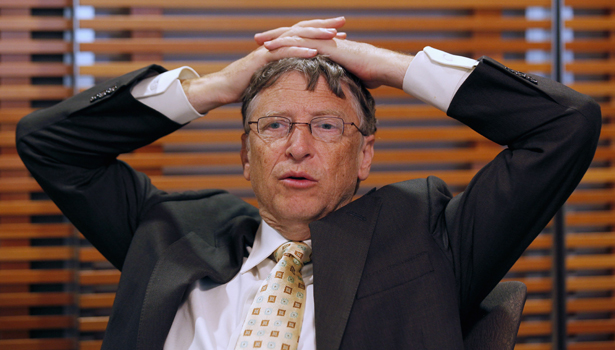 Reuters
Can luck be quantified? Jim Collins and Morton T. Hansen think so in an essay in the New York Times. Their poster child is Bill Gates, of course, and they rightly point out that many other affluent young white people had similar educations and early exposure to computing. And perhaps if you tote up all their "lucky" and "unlucky" events and weight them equally he was no luckier, they argue, his actual and potential competitors.
But some breaks are luckier than others. The authors mention Bill Gates' luck that negotiations between Digital Research and IBM to license the CP/M operating system broke down, but they don't cite another well-known break. From the same newspaper's obituary of Mr. Gates' mother, Mary:
She was . . . appointed to the board of the United Way of America; in 1983, she became the first woman to lead it.


Her tenure on the national board's executive committee is believed to have helped Microsoft, based in Seattle, at a crucial time. In 1980, she discussed with John R. Opel, a fellow committee member who was the chairman of the International Business Machines Corporation, the business that I.B.M. was doing with Microsoft.

Mr. Opel, by some accounts, mentioned Mrs. Gates to other I.B.M. executives. A few weeks later, I.B.M. took a chance by hiring Microsoft, then a small software firm, to develop an operating system for its first personal computer.

The success of the I.B.M. P C gave Microsoft and its MS-DOS (for Microsoft Disk Operating System) a lift that eventually made it the world's largest software company for personal computers. Sales now exceed $3 billion.
Yes, some lucky people fritter their breaks away with poor execution. And others rebound from adversity creatively through great execution, turning negative people to their advantage. As Larry Ellison put it: "I had very strong authoritarian figures, both in school and at home, which served as wonderful examples of how not to be." (I've called that schmentoring.)  Still even some brilliant, resourceful managers, through no fault of their own, don't find the right opportunity. Luck may be rarely sufficient, but sometimes it's necessary. And the Gates case, at least, shows it still helps to choose your parents wisely.