Why Jailing D.C. Motorists for Expired Tags Is Wrong
When a citation is sufficient to force compliance with the law, police shouldn't deprive people of their liberty, even temporarily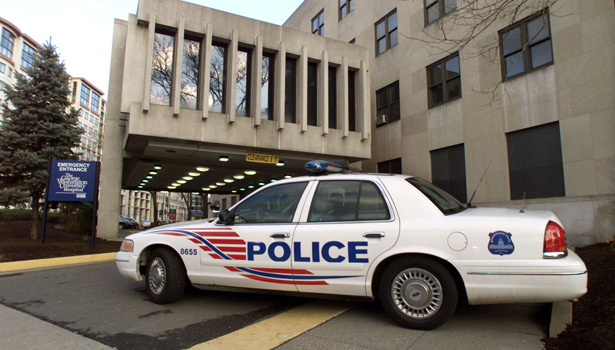 Almost a decade ago, a police officer I interviewed told me something that has stuck with me ever since: if you're ever thinking of passing a new law, remember that if someone breaks it, the ultimate consequence could be men with guns pursuing that person, forcibly arresting him, and imprisoning him.
His point was well taken, and I remembered it today when I read about the latest from Washington D.C.'s police force. "In a city that hosts its fair share of murders and terror plots, police are cracking down on another threat to the nation's capital -- expired vehicle registrations," Fox News reports. "To the frustration of forgetful drivers, Metropolitan Police Department officers are throwing people in jail for letting their tag renewals lapse. The practice provoked somewhat of a backlash last year after a local mother from Maryland was jailed for what in many places would be a routine traffic offense punishable by fine. But the department continues to reserve and exercise the right to throw drivers in the clink for missing the DMV deadline."
In one sense, this is an instance where the problem isn't the law so much as its enforcers:  vehicle registration is something almost every jurisdiction in the US requires. And being arrested for flouting that rule is fine as an ultimate consequence in extreme cases. But almost every police force wisely decides not to exercise its ability to lock people up for minor traffic infractions. Society depends on that good judgment -- it's impossible to write rules that cover everything.
In another sense, however, the D.C. law is overbearing: "According to D.C. Code, it is illegal to drive a vehicle without proper registration, punishable by a fine of up to $1,000 and/or imprisonment of up to 30 days." Am I correct in assuming that the vast majority of us would regard it as an injustice for someone to be jailed for 30 days on an expired registration? Yet the law permits it. There are, in fact, all sorts of municipal ordinances that impose maximum jail terms that seem crazy when you reflect on the fact that someone could actually receive that sentence.
The Fox News story goes on to state that "accounts from those who've been locked up suggest it is not just a tactic designed to give police an opening to hassle and root out bona-fide criminals. Townsend said in one case, police arrested a mother on her way to pick up her child from school, with her younger child in the car. In another incident, a D.C. resident on his way to meet up with his girlfriend was arrested and forced to spend the night in a series of holding cells."