The Big Year: 1 Man's Race to Spot More Than 745 Birds in 1 Year
Since January 1, John Vanderpoel has spotted more than 700 species of birds by searching from dawn until dusk -- but he's not done yet
After an unsuccessful morning of birdwatching this April, John Vanderpoel retired to his room at the Travelodge and told himself that he was done for the day, his last in Florida. To hold himself to this resolution, he threw all of his clothes into the laundry, save a pair of red gym shorts not fit for wearing in public. Vanderpoel wanted to take a nap. But first -- he couldn't help himself -- he checked an online "Bird Board" that reports rare sightings in Florida. Immediately, a glimmer of hope: a Fork-tailed Flycatcher -- a bird he had never seen before in his life -- had been spotted in Fort Lauderdale only an hour and a half before.
The flycatcher represented an opportunity. Normally found year-round between Mexico and Argentina, it is known to wander into the American Eastern Seaboard; on Vanderpoel's self-created scale of sighting probability, the flycatcher scores a 4 out of 6: "possible but unlikely." Vanderpoel threw on a green birding shirt that, luckily, had not made it into the washing machine, and sped to the scene in a car. But he arrived too late, finding only a crowd of dismayed birders. He decided to linger in Fort Lauderdale -- and sure enough, he was rewarded for his patience two hours later. He spotted the bird, its dainty body dramatically offset by a sharply bifurcated tail, perched on a wire above a cemetery.
The Fork-tailed Flycatcher was only Bird No. 474 of the year. But Vanderpoel had more than eight months left in the calendar year to increase this figure. A lifelong birder and the founder of a video production company (which created The Advanced Birding Video Series), Vanderpoel, 62, has committed 2011 to the completion of a "Big Year," an informal competition in which birdwatchers attempt to see or hear as many species as possible between January 1 and December 31. Vanderpoel, who had dreamt of doing a Big Year since the mid-1990s, has been named as a potential candidate to break the current North American record, and he has already climbed to third place. His quest has stirred excited discussion within the competitive birding community, and his personal blog -- which documents the sleepless nights, the primal thrill of discovery, the frantic chases (and, in the comments section, his wife's feelings about being a "bird widow") -- gets about 1,000 hits a day.
The Big Year competition is informal in the sense that there is no trophy, no grand celebration for the winner. It is simply a natural extension of the listing impulse so deeply ingrained in the birding community. Jeffrey Gordon, president of the American Birding Association, demurs at the word "administer" as a description of the ABA's role in the Big Year: at most, the organization has provided a framework for making such competitions possible. As the first issue of Birding, the ABA magazine, declared in 1969, "Life listing and annual listing, to say nothing of Christmas bird counts, big days, and the like, have become a matter of national competition and herein lies another important area for Birding to fulfill a leading role." Every year, the ABA publishes a special report showcasing members' list totals in different categories, including year lists. The organization crafted its own "recording rules" to define a legitimate sighting: for example, the bird must be "alive, wild, and unrestrained" at the moment of encounter, and the sighting must take place within the prescribed ABA area (including the 49 continental American states, Canada, and the French islands of St.-Pierre and Miquelon). Aside from this, what is most striking about competitive birding is its distinctly unregulated nature: Given the assurance of an honor code, nobody verifies lists.
Every year, the ABA receives around 50 entries in the year-list category, though the threshold of 700 sightings is rarely broken, according to publications director Bryan Patrick. The current North American record is held by Sandy Komito, a "legendary human bird-dog" as one newspaper called him, who traveled 270,000 miles and spent about $10,000 a month in 1998 to attain his 745 species. As of October 23, Vanderpoel has 728 species under his belt -- putting him only 18 species away from toppling Komito from his throne. To put things in better perspective, Virginia birder Bob Ake, who is second to Komito on the all-time year-list, reached the 728-mark in early December of his 2010 Big Year, which means that Vanderpoel is about seven weeks ahead of Ake's pace. While it seems likely that Vanderpoel will beat Ake's 731, he believes he has a "very, very slim" chance at surpassing Komito to grab the gold. "I'm thinking it would be very difficult," Vanderpoel says, "but not impossible."
Eighteen species may seem like a small margin, but things get harder as the species pile up over the months. Vanderpoel checked off 57 species on January 1 alone, and yet, it has taken him the last two months and more to cover the same number. To frame it somewhat differently, every bird in that first day's haul -- except two -- were of "certain" probability; species like the House Sparrow and Blue Jay are American regulars that most people, even non-birders, can see in their backyards without much effort. To have even the slightest chance of beating Komito, Vanderpoel cannot miss these sure bets; there are approximately 650 species that regularly breed in the United States, and he has only two left to find. The following tiers of species -- each more difficult to find than the previous -- are those that regularly occur but do not breed in the region (around 670), and vagrants that appear in specific locations at specific times of the year, some of which have only been seen once and perhaps will never be seen again (around 290). For those who take their Big Years seriously, these are the birds around which they shape their traveling schedules. Because the difficulty curve starts to incline sharply after a certain threshold, unique sightings become increasingly pivotal as the year progresses.
Getting these take dedication. Vanderpoel birds almost every day, many times from dawn to dusk. Unsurprisingly, he hasn't had as much time this year to devote to his company, Peregrine Video Productions. Mostly, he has been traveling across the country: he seeks out birds that inhabit specific habitats or regions, he strategically traces migration patterns, and he must do all of this while taking note of the changing seasons and the decreasing amount of daylight. "He's a meticulous planner, and he's been a full-time travel agent for this year," says Bill Kaempfer, the vice president of the Colorado Field Ornithologists and Vanderpoel's good birding friend. "He really attends to all of those details, plans things out, knows where he's going and what he's likely to see there, and gets the job done." As seen in the flycatcher episode, Vanderpoel uses the community of birders, including readers of his blog, as a source of instant reports of rarities ("Please call me if there's a mega rarity near you!" he urges on his site). Quick travel is a must. One major windfall: Vanderpoel enjoyed about a dozen free flights during the summer as a result of his son's internship with United Airlines. "I was just moving fast and furious," he says. "That was a huge advantage. From that point on, if there was a rarity, I'm going to chase it and I'm not going to worry about the cost."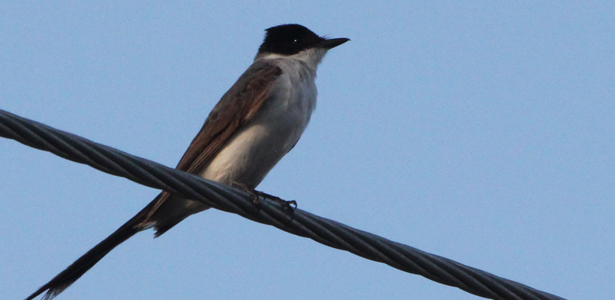 The concept of a Big Year is staggering on many levels. There's the sheer magnitude, the needle-in-a-haystack notion of seeing and identifying hundreds of birds -- many of which can be no bigger than the palm of your hand -- within a continental landscape. Next, the year-long commitment raises practical questions of physical and emotional stamina, not to mention financial solvency. The serious ones must become transients with no real destination but a number. Onlookers respond differently: some are awestruck, some are plain derisive. The feel-good fictional film The Big Year that came out this past month, starring Jack Black, Steve Martin, and Owen Wilson, attempts to capture these different strains of interpretation: the repeated quote "Those damn birds!" reflects a sentiment shared by the stoic father, the exasperated wife, and the suited colleagues who cannot fathom why the main characters choose to devote so much of their energy to such a quixotic quest. Even Kenn Kaufman, whose memoir Kingbird Highway recounts his 1973 Big Year, admits: "It can be a real pain in the neck at times, and you think, 'Why am I doing this?!' For the people who are actually going all the way through, they tend to be pretty focused, energetic, driven, and not quite normal. But in a good way -- I think normalcy is highly overrated."
The Big Year landscape has changed considerably since Kaufman, a renowned writer and editor of field guides, embarked on his trip at the age of 18. He says he was inspired by a footnote in Wild America, a book by naturalists Roger Tory Peterson and James Fisher documenting their 30,000-mile road trip: "My year's list at the end of 1953 was 572 species," Peterson wrote. After dropping out of high school, Kaufman hitchhiked his way across the country, lived on less than a dollar a day, ate dried cat food -- and set a Big Year record of 671. Kaufman says that he was able to "run with the big dogs" as a teenager and viably compete for the record because the information flow in those days did not necessarily benefit some more than others. While rare species make and break today's records, they were simply too difficult to find 30 years ago; even if one heard of a sighting, the information probably came too late for any productive response. It was simply the bread-and-butter, and a lot of luck. "We just didn't get news of anything," Kaufman recalls. "Now, there's instant communication. If somebody finds rare birds in California, I'll know about it five minutes later." Today's competitive Big Year participants, he says, need the resources -- travel, time, money -- to chase rare targets.
The Big Year and the broader listing culture certainly serve as useful educational frameworks for those interested in birds, Kaufman says. But he hopes that increased publicity of the Big Year -- especially in light of a major motion picture featuring it -- does not disadvantage other equally valuable ways of engaging with the natural world. As Gordon, the ABA president, says: "People have all different approaches to birding, and it's not like doing really well at Big Year automatically would give you the same kind of notoriety that writing a well-received field guide would, or starting a really effective conservation program, or introducing kids to birding. All of these different things would be legitimate ways of having a standing within the community." The makers of The Big Year, wanting to portray the competition as a determinant of the "best birder in the world," approached the ABA for templates of Birding magazine for a scene in which Owen Wilson appears on a cover in recognition of his Big Year victory. "That's not how it is," Gordon says.
For his part, Vanderpoel is in it more for the chase than for the glory of victory. His Big Year has not been solely about the record: he teamed up with Citizens for Conservation, which is involved in restoration projects, to raise pledges for each species he spots, and he has used the year to expand his sightings of mammals, reptiles, and amphibians (all of which are meticulously documented in Excel spreadsheets). "How am I going to feel if I don't break the record? I'm still gonna feel real good," he says. "I've met so many nice people, I've seen so many great birds, and I've had so many exotic adventures. This has been one of the most exciting things I've done in my life." But neither is Vanderpoel content to ease off in the competition's final stages: "I'm gonna go pedal-to-the-metal," he says, before preparing to ship off to Gambell, Alaska -- for the third time this year -- in pursuit of what he loves: those damn birds.
Images: 1. Aztec Thrush; 2. Fork-Tailed Flycatcher/John Vanderpoel.