Steve Jobs Was My Neighbor
The man who inspired the world with his technology anonymously inspired one writer with the simple beauty of his home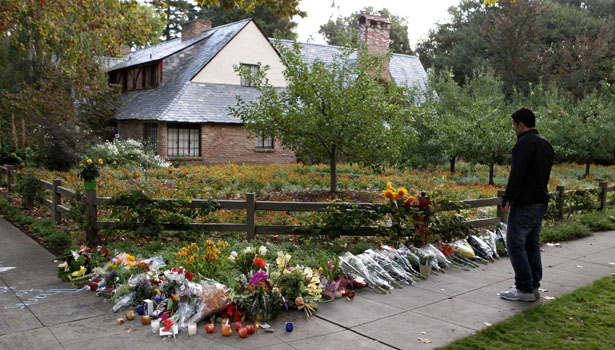 A Palo Alto resident looks upon the flowers, candles, and apples placed on the sidewalk outside Steve Jobs's home / Reuters
The world is mourning the loss of Steve Jobs this week, and with him, the inspiration he provided to so many innovators, technologists, designers, thinkers, and everyday consumers. But in perusing some of the news coverage of his death, I came across one particular photo that stopped me in my tracks.
It was a picture of Jobs' house in Palo Alto, California -- a low-roofed, brick and slate cottage straight out of some English or French countryside -- with bundles of flowers and memorials piled up against its split-rail garden fence. And it stopped me in my tracks because I know that house. Really well. It was, in fact, an important source of inspiration for me, for the 7 1/2 years I lived in that neighborhood. It's just that, ironically, the inspiration it and its owner provided had nothing to do with technology.
I moved to Old Palo Alto in the aftermath of the dot.com bust, when rents in the area plummeted to merely expensive, instead of stupid, ungodly, unbelievably expensive. I rented a small writer's cottage a few blocks away from where Jobs lived, although I had no idea, until I saw that photo, that he (or anyone else I might have heard of) lived anywhere nearby. The cottage I rented had been built by Herbert Hoover in 1937, after he moved out to start the Hoover Institution at Stanford University, a few blocks away. He built four small cottages on a piece of property near the campus for writers to live in while they worked with the Institution. I'm even told that General Douglas MacArthur lived in my cottage while he wrote his memoirs.
It was, in other words, quite literally a writer's cottage -- which seemed appropriate, seeing as that's what I do for a living. But when the muse didn't speak, or some personal or professional setback got the better of me, or I needed to de-stress, or I just felt too unhappy to produce anything useful.... I'd go walking in the neighborhood. Because Old Palo Alto is one of the most beautiful neighborhoods the city has to offer.
I heard somewhere that the eclectic designs of the houses there stem from the fact that the professors and professionals Leland Stanford recruited to teach at the new Stanford University, at the turn of the 20th century, all built homes there that reminded them of the various places from whence they'd come. That explanation might or might not be true, but the diversity was certainly there. Strolling under a canopy of grand and leafy old trees, I might pass an English Tudor house, and then a Dutch Colonial, followed by a southern Georgian, which would be next to a California Craftsman, which might be next to a mission-style hacienda, which might be next to... well, a medieval English cottage, compete with tousled and carefree-looking shrubbery and gardens.
The corner where Jobs lived, however, was my favorite corner and block in the entire neighborhood. If I was really upset or stressed, I might walk up and down the two blocks that framed his house multiple times, just because it was so beautiful, and somehow so calming that I'd always leave there feeling better. Reminded, in some wordless way, of the simple beauty in the world that existed before, after, and beyond career or relationship mishaps. And on more than one occasion, freed of the writers' block that had driven me away from my desk in the first place.
On numerous occasions, as I walked around that block, I would also see a slender man moving around inside the house. Unlike many houses in the neighborhood, the windows of that house were, at least on one side, almost right up against the sidewalk. Close enough for me to admire the furnishings, anyway, and see anyone walking through the rooms on that side. I never did anything but glance that way, but I honestly used to wonder what that man did for a living, that he'd be there in the late afternoon, calmly going about his business in that lovely and soul-soothing cottage.
I'm actually glad, now, that I didn't know. Because if I had, I couldn't have looked at that cottage, or the man walking around inside it, the same. Even if I'd tried. As it is, I find it both ironic, and oddly fitting, that the man who inspired the world with his technology anonymously inspired me, instead, with the simple beauty of his garden and his home. After all, simplicity and beauty were the two trademark qualities Jobs brought to all the personal technology he designed. It makes sense that a man who valued those things so highly would surround himself with them in his home life, as well.
The seemingly calm man I glimpsed as I walked down that block might not match at all with how the people who worked with him remember him, of course. But that's okay. They can have their Steve Jobs. I have mine. And I like being able to remember him that way: quiet, calm, and anonymous, surrounded by simplicity and beauty that changed with the seasons, but were always, somehow, inspiring.