In building urban communities and rethinking cities, it is imperative that we always remember first principles, such as the wheel and shelter
Just imagine an efficient scene of shuttle transit from a large parking area to your destination, a compact service district. At the end of the shuttle, medical services, a bank, food, drink, entertainment, and public restrooms greet your arrival. The spirit of human activity and community are everywhere.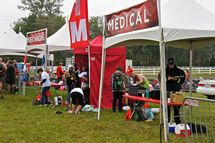 We know these qualities as the ideal characteristics of urban density, of transit-oriented development, and of successful, traditional, or new "infill" neighborhoods. We also know these qualities as reflective of simple and basic underlying human needs.
And that is exactly the point, as the description above is not of a city, but of the staging and administration area for the obstacle course known as Hell Run, "the most kick-ass mud run on Earth".
Participation in a temporary gathering place, whether it is the staging area for Hell Run, Burning Man, or a county fair, remind us of the fundamentals of human settlement, and the framework elements we are trying to recapture in rethinking cities today.
In fact, several authors have addressed the more purposeful creativity of Burning Man, and have debated the urbanistic standing of temporary or nomadic encampments, or, as Nate Berg has noted, city-like places.