I was sad to hear that Robert Pierpoint died yesterday in California, at age 86. But I have to smile when I think about him.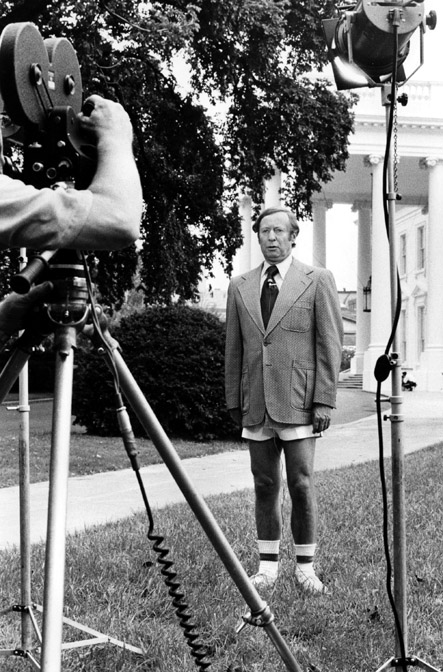 Bob Pierpoint was a mainstay of CBS News during the golden age of that organization. He was part of the Murrow team and covered the Korean War while in his 20s. He became a White House correspondent during the Eisenhower Administration and stayed on that beat through the time of Jimmy Carter and beyond. It was some time in the 1970s that the picture above, which delighted him, was taken. He was an avid tennis player and had just come from a match on the White House court when he had to do a standup, obviously framed from mid-torso upward. I first saw that picture in Barney Collier's book Hope and Fear in Washington (The Early Seventies), and I believe it was the jacket photo on Bob's own book, At the White House. I got it from the collection of his papers at his alma mater, the University of Redlands.
When I was growing up, Bob Pierpoint was the most glamorous product of my home town in California. (That was before Redlands's own Brian Billick went on to win the Super Bowl, and Landon Donovan became Mr. Soccer USA.) He would come back and tell our public school assemblies what it was like to cover the Kennedy or Johnson Administrations; this was as close as we came to first-hand contact with national politics. He was patient, generous, and non-big-shot-ish in a way I noticed then and admire more in retrospect. He was two days older than my father, and a good friend to my parents and tennis rival to my father when he was in town. When my wife and I first moved to Washington he and his wife Patty served in loco parentis for a while.
He will be remembered, and should be, as a connector to a different, prouder era in broadcast news. But he was also a good friend, husband, and father. Our sympathies to his family.