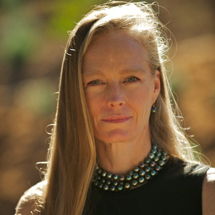 You may remember Suzy Amis Cameron from The Titanic -- she played the granddaughter of modern-day Rose -- or from her roles in Fandango and The Usual Suspects. These days, the former Hollywood actress is trying to make an even bigger name for herself, this time in the sustainability world.
Two years ago, Amis Cameron created a sustainable dress-design contest for the Oscars, inviting the winner to strut down the "green carpet" at the Global Green pre-Oscar Party. Amis Cameron herself wore the winning dress on the Red Carpet with her husband James Cameron, the directing giant responsible for the eco-conscious film Avatar. The contest raises money for another one of her projects: a set of green schools that helps children love and respect the environment. The school project, called MUSE, includes one campus for Burmese refugee children in Thailand and another for students in California, where Cameron lives. The campuses go to extremes to achieve the most toxic-free environments. They have their own gardens, and children eat locally grown food on china and silverware instead of disposable dishes. Organic cleaning products are also the rule -- Amis Cameron hired a resident falconer to take care of a rodent problem at the California campus, rather than using harmful chemicals.
Here, the Hollywood-turned-sustainability star discusses the importance of eating well, how trash can actually clean up the environment, and why sometimes it's the little things that count most.
What do you say when people ask you, "What do you do?"
It's kind of a loaded question, because while I don't act anymore I've taken on so many different roles. I'm a full-time mom; an environmental advocate; and the founder of MUSE School CA, MUSE Global, and the Red Carpet Green Dress competition ... and a very proud wife!